Death Disco Open Air Festival 2023
Details

Category:

Written by

Akill
Rue Oberkampf is the point where EBM, electro collides with dark techno!
---
When 3 DJs decide to bring their mixing experience from the booth to the stage the result can only be explosive. With a huge love to the danceable beats, the obscure and goth atmosphere and the synthesizers, Oliver, Julia and Damien share their dark roots and express their high energy through catchy dance beats and synths. Rue Oberkampf formed back in 2016 and in the two full length albums, "Christophe-Philippe" released in 2019 and "Liebe" out in 2022 they perfectly combine the rapture of 80's electro beats and sounds with intense ambience of urban dark melodies and minimal techno, EBM. The soundscapes are set somewhere between France, UK and Passau, Germany built upon the seductive trilingual vocals of Julia.
Rue Oberkampf will perform live in front of the Athenian and Greek fans during the hottest dark event in the country, the first Death Disco Open Air Festival, next to some of the greatest names of the dark wave, dark electro, post-punk worldwide, like The Sisters Of Mercy, VNV Nation, Absolute Body Control, ACTORS, Sad Lovers & Giants, Selofan and many more. All this will take place on 22nd-23rd of July in Technopolis, Athens. Find all the details in our Death Disco Festival section and the official festival's FB page. 
ES: Hi Reu Oberkampf. You will be in Athens and Death Disco festival this July but before going into this, would you like to introduce Rue Oberkampf to our readers? How did you meet amd what drew you into forming the project?
RO: Basically, we're all from Passau, a small city at the German/Austrian border. There used to be a goth night every week at a club called CAMERA. Thanks to that place, we've known each other by sight since the late 90s/early 2000. However, it wasn't before ~ 2014 that the three of us really got to know each other. At that time, we all had been DJing in Passau, Munich or other places in Bavaria.
Damien had been playing and gaining experience with synthesizers since quite a while before Rue Oberkampf. He and Oliver, who had a growing interest in synthesizers, too, met one day to randomly work on some sounds. Oliver had been playing the drums on some indie / alternative bands in his youth, but they really didn't have any plans to start a band.
One or two sessions later, they asked Julia to join them in a session, maybe for adding some vocals . At that time, Julia had been producing one song, called "D" with her solo project SUNDAY VICTIM (which we later completely reworked to turn it to our first own Rue Oberkampf song CAMERA (guess where the name is taken from…)).
In order to make it easier to create a song and to deepen our knowledge of the hard- and software, we started to cover a song we all loved: Melting away by Absolute Body Control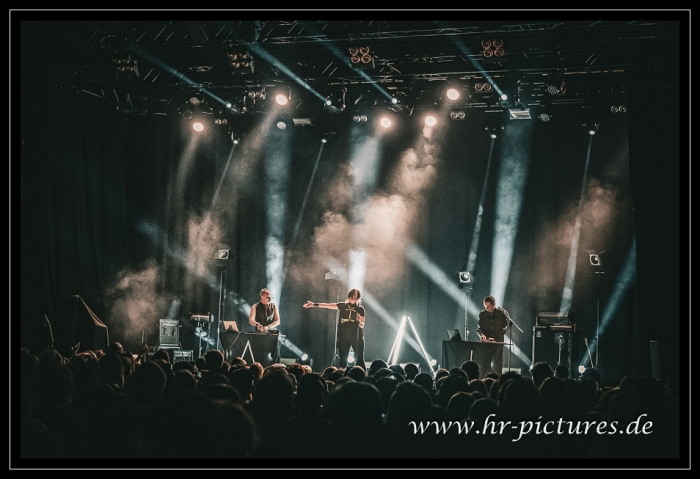 ES: Rue Oberkampf. Although you are based in Germany there is an enormous refernce to France included in your music project. How did this come about? What is your relation to France?
RO: Julia is half French and was raised bilingual.
ES: All of you, have a long experience as Djs. Did this help during the process of creating your own music as a band?
Oliver: That's right, we've had several DJ projects by ourselves or also together - mostly in the dark underground. For my part, I also had my own Soul and Mod event in early 2000. As a DJ, I sure get my energy and motivation from the crowd on the dancefloor.
Julia: As a DJ in this scene (at least in southern Germany), you have to know your crowd very well and learn to predict which songs will work. You have to be able to do a right mix for all the lovers of those different sub-genres - at least if you're interested in a full dancefloor. The less "goth" the crowd is, though, the less do people only dance to songs they know - that's my experience.
Damien: When we're producing new tracks, we automatically think about how "danceable" a song is. Both because we love to dance and based on our experience as DJs.
ES: This summer you will perform in Greece on the occasion of Death Disco festival. How do you feel about it, since it is your first visit in Athens and on a special occasion, that is the first Death Disco festival and first dark wave, dark electro, industrial open-air in Greece?
RO: We're thrilled to play in Athens! A bit afraid of the heat of Greece in July. But really looking forward to experience Greek culture and the scene.
ES: What can the audience of Death Disco festival expect from the Rue Oberkampf performance?
RO: Some say, a Rue Oberkampf live gig is a transformative experience. A magical ceremony. Our goal in making music has always been to play the tracks live and electrify the crowd.
ES: What is your opinion for the dark and electro/industrial scene in Greece?
RO: Don't know a lot about the Greek scene, since we've never experienced it live. However, we do know bands like Selofan, Odos55 and we feel like goth really fits to what we've heard about the Greek soul in general: we've heard it's very dark.
ES: Talking about live shows, as a performer or as a member of an audience, what show has been the most memorable for you?
Oliver: Rammstein & Panther Modern
Julia: Belly Hatcher & Slipknot
Damien: Laibach & Wovenhand
ES: Your sound is a blend of minimal synths, electro beats, dark techno arrangements and EBM vibes. What led you to this soundscapes?
RO: For sure our background as DJs. Also, each of us has a specific taste in music. But we share the same dark roots.
ES: Which would you say is your favorite track, if any, of your whole work to date? Is there a song that you enjoy listening or performing, the most?
Oliver: Solitude and Control
Julia: Negativraum, Glycine and Solitude
Damien: Tokyo, Solitude and Glycine
ES: Rue Oberkampf has alredy two full length albums and several EPs and singles. "Liebe" was released in 2022. Is there any new material coming up, a new full length perhaps? What are Rue Oberkampf's future plans?
RO: We're currently working on some new singles, maybe an album.. there's one remix coming, that we did for a very special project, but it will be the last for a while, since we need to focus on our new stuff.
ES: Thank you very much for this chat. Is there anything else that you would like to say to the people that will come at your Death Disco festival show?
Bring your sunglasses.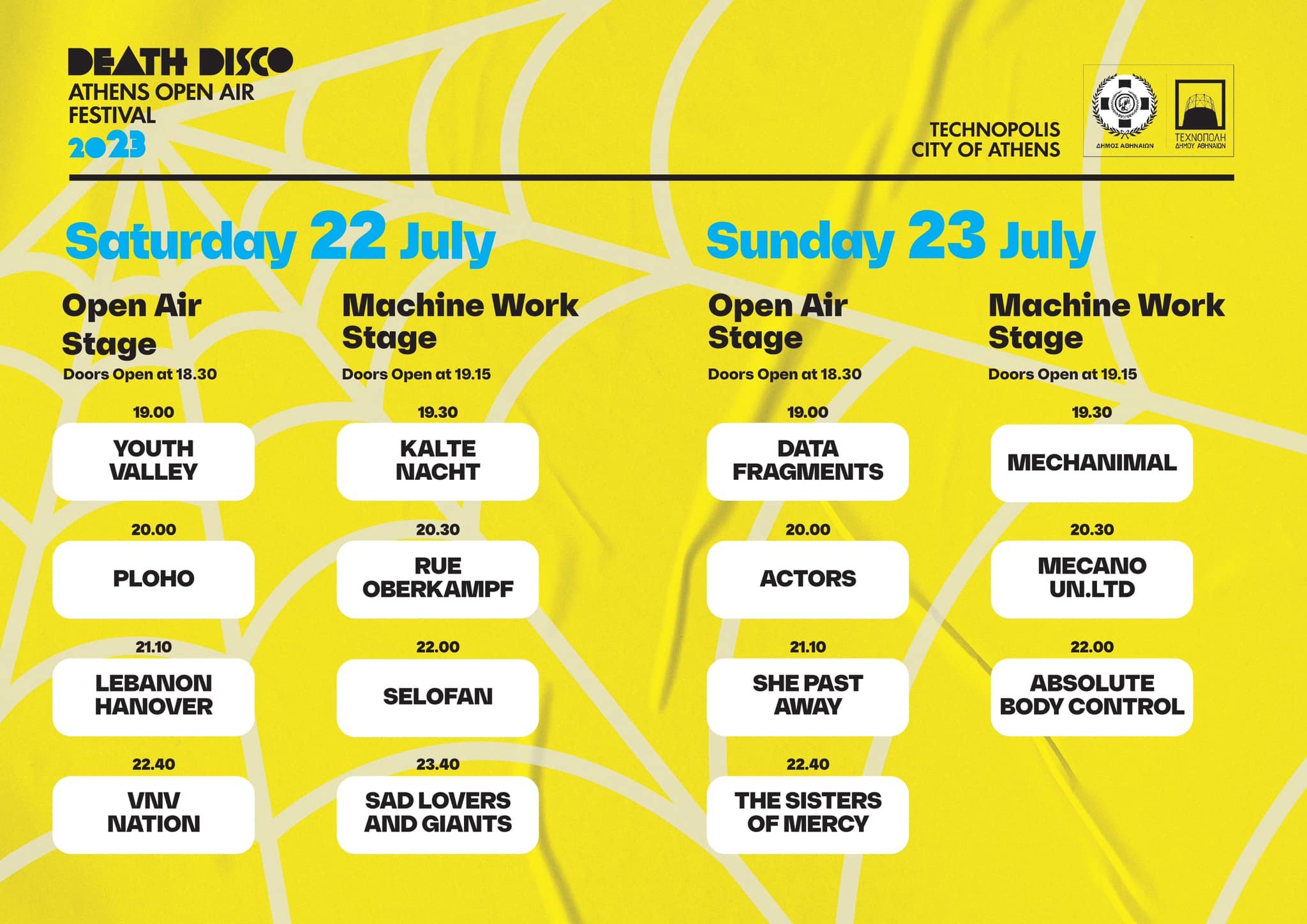 Info:
https://www.facebook.com/RueOberkampf
https://rueoberkampf.bandcamp.com/