Concert Reviews
Details

Category:

Written by

Akill
Death Disco MiniFest 2k19
VNV Nation
In The Nursery
The Frozen Autumn
Whispering Sons
Fuzz Live Music Club, Athens, Greece
Saturday 23 February 2019
---
This night was long anticipated. For different reasons to anyone. To me, Death Disco MiniFest 2k19 had the perfect recipe in order to be a successful event. Excellent choices of ingredients, and I mean the bands that were invited and performed in front of us, excellent ticket price for such an event and in a beautiful venue such the Fuzz Live club.
There was one major issue that could make this event not as successful as it could be and that was the weather on the festival's day. Really discouraging forecasts for that night that lead many people to second thoughts about whether they would come or not. However the weather terrorism was not enough to make us stay at home that night.
The doors opened at 19:00 and that was a relief for the crowd standing outside, since it was really cold. Time was already 19:30 and Fuzz Club was almost empty. And that is the only thing that the bad weather conditions managed. To make people arrive later than the start time and some of them even lost the first band, Whispering Sons.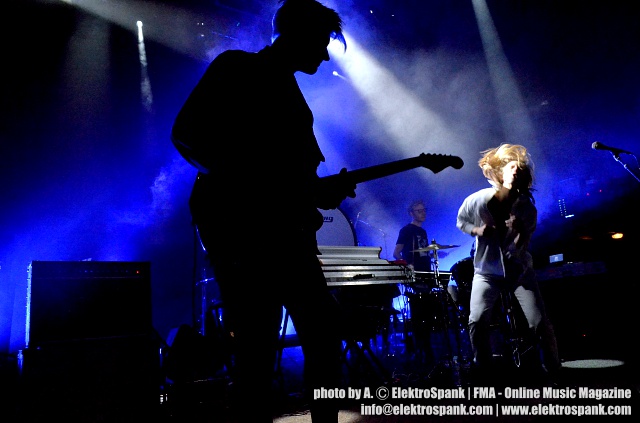 Whispering Sons was on stage 1,2 minutes after 19:30. I have already written my opinion for the young Belgians. They are a band, which I believe they are originally and spontaneously dark. And so is their compositions and their live performances. The lead singer, Fenne Kuppens, has an amazing deep emotional voice which fits absolutely to the band's profile and creations. This voice and music is accompanied with a beautiful appearance on stage, expressed through the passionate eyes and facial expressions of Fenne, along with her dancing moves and the way she stands on stage. Therefore I insist that they are "the next big thing" in post-punk / dark wave scene. With their sound influenced from the dark and post-punk of the 80's and bands like Bauhaus, The Cure, The Sound etc., Whispering Sons was the perfect band to start such an event. And I am sure that even the people that hadn't heard of them before, they will, definitely, remember them and look up for them and their next moves. 
Whispering Sons performed live the tracks of their first full-length release "Image". Among others they performed "Hollow, "No Time", "Alone" and even some older tracks like "White Noise" and "Performance".
Fans were still arriving at Fuzz Club when next band came up on stage. The Italian duo, The Frozen Autumn, took place on stage and started firing their cold/synthwave riifs on the air. The Frozen Autumn is a band which is really bound with Greece and their Greek followers and fans. They have performed live in front of Greek audience several times and there is an absolutely good connection and "chemistry" with each other. And this is more obvious when they call Greece their home. Their show begun with Diego Merletto on vocals and Froxanne on synths, tuning "Tomorrow's Life from their latest album, "The Fellow Traveller". To be honest, it seemed to me that Diego did not stand really good on stage and I mean vocal-wise. During their set Diego and Froxanne were changing postions, song by song. So next was Froxanne on vocals with an old hit "Silence is Talking" and things got really better for The Frozen Autumn. Diego returned on vocals, clearly, with better feeling and the set was beautiful until the end. The Frozen Autumn is a really experienced band and did very well, even if they did not start that good, at least at my ears. A great setlist, mainly, focused in their latest release since they performed four more tracks from "The Fellow Traveller", but including and older hits like the megahit "Is Everything Real?".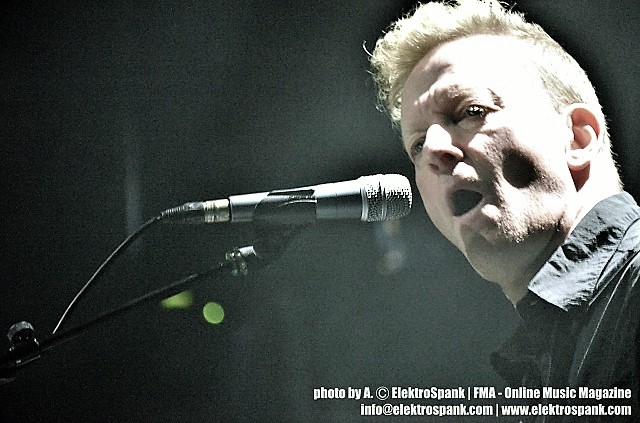 By that time, Fuzz Club was almost full and was obvious now that the bad weather conditions could not kept the crowd away from an amazing event and from favorite bands like the one that had already taken their positions on stage. The legendary neoclassical dark wave In the Nursery is a band that someone has to see, at least once. With a long history and background, starting from 1981 and influenced by Joy Division quickly adopted a sound and an atmosphere really unique. Including martial industrial elements and combined with a lot of theatrical atmosphere and music, their sounds and compositions stood out and made a difference in the scene. Apart from the great songs that the two brothers Klive and Nigel Humberstone has given to the dark wave scene throughout these years, equally admirable is their offer on tv and film music. ITN's music has been used on numerous film soundtracks and trailers including Game of Thrones, Gran Torino, Beowulf, The Aviator, Interview with the Vampire, Along Came a Spider and The Rainmaker as well as the La Femme Nikita TV series. Therefore INT were long expected and definitely a band which with their performance was taking the whole event to a higher level.
I would rather not to write or mention any particular song of their set, since, to me, watching In The Nursery on stage is a unique experience from the very first hit of their drum until their last note to play. With a full drum setup on stage they just gave us a show that we had not seen for a long time. Their setlist included several hits from a very long discography and some of them are "Crepuscule", "Sixth Sense", "Artisans of Civilisation", "Rainhall", "L'Esprit". An amazing show and experience which I wish it could last even more!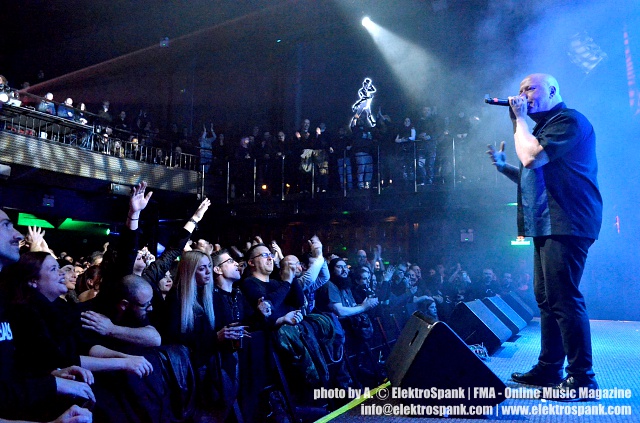 And the time that most of the people who were in Fuzz Club this night expected had come. Future-pop pioneers VNV Nation were on stage and one of the best performers in the scene stood in the center and started singing. Ronan Harris is a man, an artist, who can make everyone cheer up and dance, really easy and quick. This is one of his characteristics through all these years and one of the reason that VNV Nation's shows are known. Obviously this fact, alone, could not make VNV Nation what they are today, since their energetic live performances are supported by great songs and compositions along with the unique voice of Ronan Harris. Personally, I am a fan of their early years and I would prefer more songs from that era to be included in their sets but this could not kept me away from watching them performing live once again. I know that they ,and especially Ronan, always give their 100% on stage. And it is exactly what they did once again in Fuzz Club.
VNV Nation started with the "A Million" taken from their latest album "Noire" with Ronan smiling to everyone on the crowd and starting a party. A party which last almost two hours with everyone dancing. Even the crowd on the balconies of Fuzz Club. A long setlist with many new hits from their latest releases, like "When Is The Future?", "Retaliate", "Control", "Nova", "God of All" but even with some megahits of the past like "Epicentre", "Honour" (my favorite moment in the show) and "Standing". VNV Nation closed their set with "All Our Sins" from "Noire" and when the lights turned on Ronan called all bands on stage for a final applause and greeting to the crowd.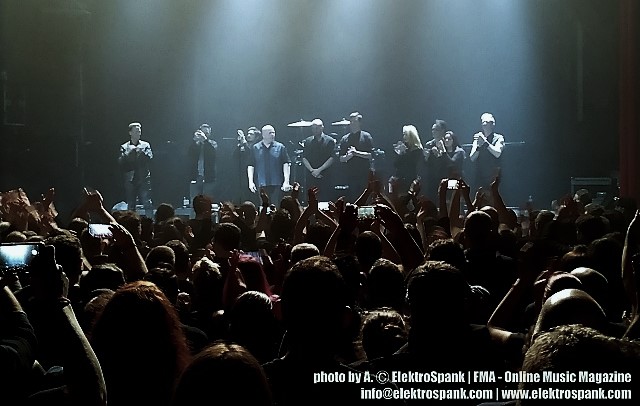 As I wrote in the beginning, that MiniFest was condemned to be successful. And it was. All the bands were amazing. The audience responded well, despite the weather conditions. Looking forward to a next version, in DeathDisco MiniFest 2K20. The same successful "recipe" with different but equally great "ingredients".
 -- All photos by A. Ⓒ ElektroSpank | FMA - Online Music Magazine --