Concert Reviews
Details

Category:

Written by

Akill
Anima Triste presented their new album "Humanity" on stage!
---
Although they have already performed live many times, this was only the second time I watched Anima Triste on stage. 
I was already sure from the first time that I showed them that this band is going to be one of my favourites local bands and not only.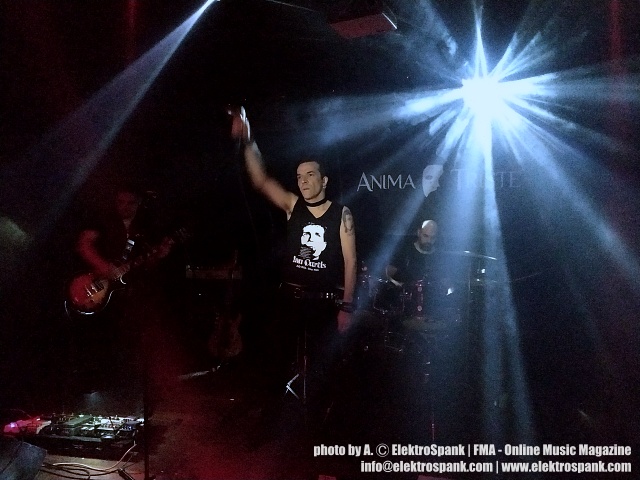 This performance of Anima Triste was on the occasion of the release of their second full length album, "Humanity". Additionally, the date was May 18th, the day that Ian Curtis of Joy Division passed away, 39 years ago.And this made that night even more interesting, since the feelings of the band members were mixed. Ian Curtis and Joy Division is one of their biggest influence, so there was a tense atmosphere on stage. However, they could not hide their feelings for the release of their second "child", the new full length album, "Humanity".
Anima Triste is well-known for their passionate live appearances. And that is exactly what they did on Death Disco's stage. The dark rock, post-punk band from Greece have, once again, given their best and their souls on a show.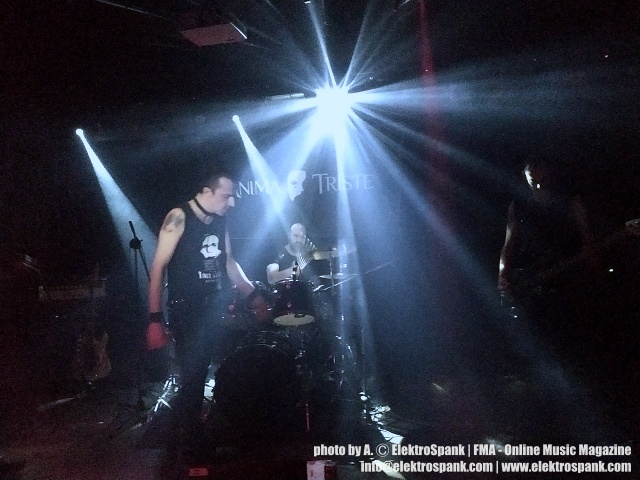 Anima Triste got on stage a few minutes after 22:00 and started presenting their new album, song by song. A beautiful album with really mature post-punk moving towards to darkest sides of rock, with compact compositions and extremely emotional songs. Their setlist included the whole "Humanity" album and started with the already known, same titled, "Humanity", followed by "The Underratted Mob", "Hades", "Scars of the Moon", "Shadows". Next came "Uoy" the first single out of "Humanity", released in June 2018. For "Uoy" the band was joined by Corvus Necro on backing vocals.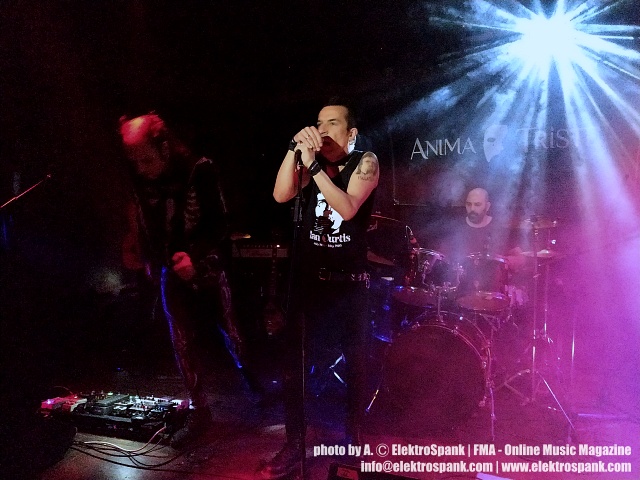 The rest of their new songs followed with "Everything Tasteless", "Falling", "Intoxication" and "Face in a Mask".
New songs were presented with a unique appearance and performance from all members. As I said, a great dark rock album including influences from several artists and bands.
It was time for the tribute to Ian Curtis and the first Joy Division cover started. The sound of "Shadowplay" filled the club and the audience have seen a beautiful cover of this dark wave anthem.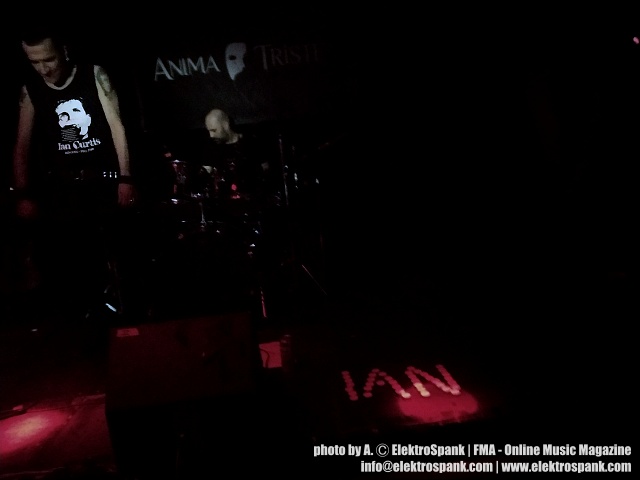 Anima Triste continued with a selection of songs from their first album, "Anima Triste" and the crowd was totally into this by that time. Songs like "Idiocracy", "All of You", "Misery", "Believe in Nothing", "Nightmares" and "You Don't Belong to the Stars" along with all the emotions and powerful appearance of the band made this night even better.
The second part of the tribute to Ian gave us an intense cover of "24 Hours".
While the show was almost to its end a completely new song that is planned to be included in Anima Triste's third album was performed, while the show was closed with the same titled "Anima Triste".
I will not say anything less than what I have already written in Anima Triste's interview, some days ago, here in ElektroSpank | FMA. Anima Triste is one of the bands that obviously cannot fit in the narrow borders of our country, Greece. Additionally is a band, or an act, if you'd like, that does not fit to a music genre or label. Anima Triste is a dark rock, post-punk phenomenon.  Just make sure to get their albums and see them performing live.