News
Details

Category:

Written by

Akill
Lefki Symphonia released a new song with a new video, "Like the Sun(Σαν Τον Ήλιο)", out from the new album!
---
Lefki Symphonia, the Greek legendary post-punk band, released the new single, taken from their upcoming 5th full-length album. 
"Like the Sun (Σαν Τον 'Ηλιο)" is about the changes needed in someone's life and the chances that are lost. A beautiful post-punk arrangement with the exceptional sharp guitar riffs of Kostas Michalos. Riffs, that reminds the, late 80's - early 90's, sound of the band, but using all these modern elements they had, already shown to us, with the first single of the new album, "Until Death (Μέχρι το Θάνατο)", some months ago.
Lyrics by Thodoris Dimitriou and inspired by a romantic Greek poet, Romos Filyras, and his poem "Δεν Έφτασα Ψηλά" (Den Eftasa Psila).
Music by Thodoris Dimitriou and Diogenis Chatzistefanidis, all orchestrations, arrangements by Lefki Symphonia.
 "Like the Sun (Σαν Τον 'Ηλιο)" official video is filmed in black and white, presenting in an emotional way the hope and the search of light. Directed by Giannis Karabelas, video is perfectly matched with the lyricism of the song.
"Like the Sun (Σαν Τον 'Ηλιο)" is the song that gives the title to the new, 5th, album from Lefki Symphonia, which will be released in digital format during Februry and in vinyl and cd edition, in March 2020, from Labyrinth of Thoughts and The Lab Records.
The single is available in the following digital platforms:
SPOTIFY: https://open.spotify.com/artist/40FjcrqaN8KcC8HZNAKr2p
iTUNES: https://music.apple.com/gr/artist/lefki-symphonia/423359869
GOOGLE PLAY: https://play.google.com/store/music/artist?id=A2gxqhnt3uvzhitttog65i4krsq
DEEZER: https://www.deezer.com/en/artist/5457753
BANDCAMP: https://lefkisymphonia.bandcamp.com/track/m-until-death
Lefki Symphonia will play live on Gagarin 205 stage, co-headlining the DeathDisco MiniFest 2k20 - Post Punk Edition, together with Data Fragments, Soviet Soviet and The Chameleons. The band will perform their first ever full length album, "Mistikoi Kipoi", in an exclusive set.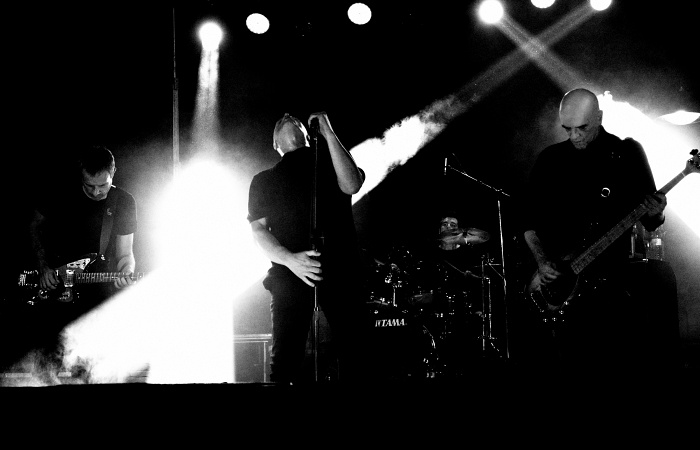 Lefki Symphonia are Theodoros Dimitriou(vocals), Kostas Mihalos(guitar), Diogenis Chatzistefanidis(bass), Vangelis Tsimplakis(drums). 
"Like the Sun (Σαν Τον 'Ηλιο)", recorded in Ektoras Tsolakis's studio, hd.factory and Soundflakes Recording Studios
Mixing and Mastering by Ektoras Tsolakis, Produced by Ektoras Tsolakis and Lefki Symphonia.
Video directed by Giannis Karabelas
Video Production: Higher!Higher!
Featuring Dimitris Kapetanios
Graphics by Melanie  Merges-Dimitriou
Lyrics in English by Thodoris Dimitriou and Melanie  Merges-Dimitriou
Lefki  Symphonia  Live Photo: Giorgos Nimas
Info:
https://www.facebook.com/lefkisymphonia
https://www.facebook.com/groups/799871203496678/
https://twitter.com/LefkiSymphonia
https://www.instagram.com/lefkisymphonia