CD Reviews
Details

Category:

Written by

Akill
Hocico - Artificial Extinction
July 2019
Out of Line
---
Hocico is back with a great album, "Artificial Extinction"!
Since this album arrived, it has been in my player, almost like being played in repeat. I am trying to decide whether "Artificial Extinction" could be nominated as the best album of those harsh industrial pioneers. It is really difficult for me since I love the early years of the band and albums that defined the term harsh industrial, like "Signos De Aberración".
Hocico, Erk Aicrag (lyrics & vocals) and Racso Agroyam (synthesizer, programming), are coming from Mexico and was formed back in 1993. Their first demo albums released in 1993,1994 and 1996 presenting the dark, aggressive industrial mood they would follow in all their future albums. After a number of single, EP, and full length albums, each one with several dark dancefloor hits, the time has come for the duo to release their 12th album.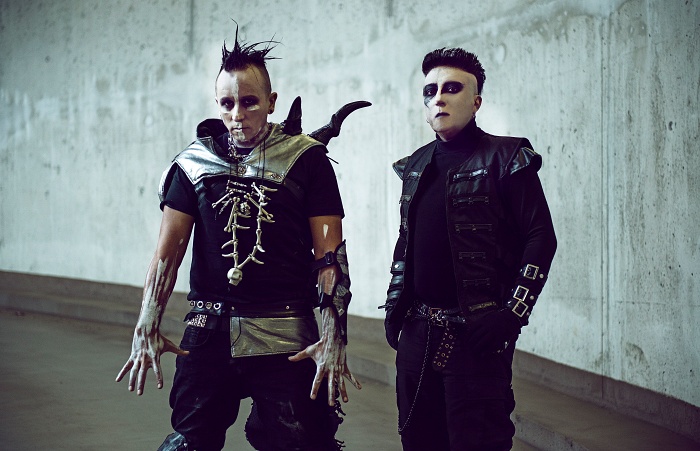 "Artificial Extinction" is one of the albums that were really expected for this year, since Hocico is a band with a huge fanbase in dark industrial scene. Well, the return of the duo shall satisfy their fans and the majority of industrial bands. Hocico's new album has all the characteristics that made the band what they are today. Powerful, pounding beats, aggro synths and mood, the haunting vocals of Erk Aicrag. Along with these known characteristics, the listener can find new elements into the songs, going to some dark'n'bass fields, creating a more aggressive sound. And among these, you will find some more melodic and theatrical parts, keeping the ambience really frightening and dark.
"Dark Sunday" opens the "battle" with a dark, quite low in tempo, electro beat. Already heard before, since it was the first single released, from "Artificial Extinction". A really good dark electro song, with equal lyrics and female melancholic voice in the intro. "There is no god here, today". A perfect start for such an album. "El Ballet Mechanico" is one of these Hocico compositions, in which, the listener can just close his/her eyes and let the imagination create the scenery. Dark atmosphere, cinematic synths and melody and tripping beats, distorted and intense as the music goes on. Same titled, "Artificial Extinction" is getting the beat higher again with enough distortion in parts and synths.
"Blinded Race" is another atmospheric instrumental track continuing the acoustic, artistic form of "El Ballet Mechanico". "Shut me down" is hiding even more aggression and anger in those powerful beats and the deep, distorted vocals. "Psychonaut" is another one of the previously released as single, songs of "Artificial Extinction". This one could be the "Poltergeist" of 2019 for the younger fans of the band. Equal rhythm with the one of this massive hit of the past with a sense of more techno mood. In "Damaged" there is even more distorted parts, while keeping the bpm high enough and using some "dark'n'bass' techniques. "Breathing Under Your Feet" is a dark, haunting electronic composition, with an almost ghostly mood, synth melodic parts, a beat that is matched to the song's atmosphere and deep, dark vocals .
"Cross the Line" is again aggressive using some really pounding beats. This one was released back in May 2019 in a different version, crossing the lines and presenting a metal side of the band with the band Tragedy of Mine featured. "Palabras De Sangre" is one of these songs that brings memories of the early 00's releases of the band. Powerful harsh industrial with synthlines that sticks to your head. "Quite Zone (in dead silence)" is the perfect closing track for this album. Slow industrial beats, catchy synths with melodic parts and beautiful lyrics. "My mind is gone forever, I can't speak a word, I am all alone, In the quite zone". Perhaps, my favourite out of this album..
"Artificial Extinction" is an album I was waiting to listen to from Hocico, for some years now. One of the best industrial releases in 2019, compact sound and songs. Harsh, aggressive elements that the duo had introduced to many industrial fans combined with new dark, hard styles and the well-known vocals from Erk Aicrag. Dark melodies completes this sound puzzle and creates a haunting atmosphere with high tense in moments while tripping and ghostly in others. 
"Artificial Extinction" is vailable as CD, Double Vinyl Edition in blue and silver and boxset limited on 1000 hand numbered copies including an exclusive Bonus CD with remixes and collaborations, bracelet and certificate of authenticity.

Tracks:
1. Dark Sunday 
2. El Ballet Mecanico
3. Artificial Extinction
4. Blinded Race 
5. Shut Me down! 
6. Psychonaut
7. Damaged
8. Breathing Under Your Feet 
9. Cross The Line 
10. Palabras de Sangre
11. Quiet Zone (in dead silence)
Info:
https://www.facebook.com/hocicoofficial/
https://www.outoflineshop.de/hocico-artificial-extinction-cd.html