CD Reviews
Details

Category:

Written by

Akill
System Noire - Throw the Dice
Danse Macabre
May 2019
---
System Noire, harsh industrial from Germany releases new EP.
 System Noire is a dark electro tri0 coming from Hannover, Germany and consists of Björn Miethe (vocals), Daniel Gosewisch (Keys) and the newest member, Alessa Kreuzkam (drums).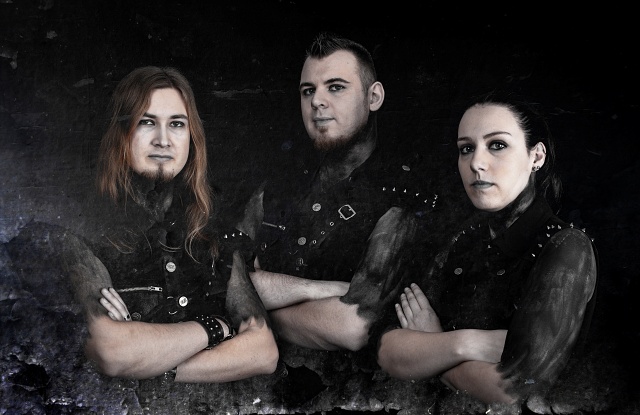 System Noire is a new band but already has released a single, "On the Other Side", a full length album, "Do Not Pass that Door" and an EP with the title "Dead Inside", in 2018. This year the trio from Germany returns with a new EP, "Throw the Dice".
"Throw the Dice" is coming out on Friday, May 10th from Danse Macabre. The new release includes 6 songs, Starting with the same titled track, "Throw the Dice" which is also remixed by Reichsfeind, God Module and Desastroes. "Throw the Dice" song is a powerful dark electro, with absolutely catchy synth riffs and strong beat. A track that is going to hit the dancefloors with all its versions included in this EP. "Throw the Dice" includes the haunting vocals of Bjorn Miethe, as well. Perfectly matched and making the atmosphere even darker. 
"Throw the Dice" remixes are all equal to the original, with each artist and band putting their own specific tone and mark. All in high tempo and upbeat, ready to make it in the top selections for club djs. Reichsfeind remix is in quite darker mood, while God Module just do what they are known for. Harsh electro, industrial with heavy and filthy beats and voclas. Desastroes remix stays in the same, high, beats with an interesting alteration in the chorus.
Along with the same title track, in System Noire's new EP, we 'll find the "Virual Infected", a dark electro song featuring Croona from Menschdefect. Dark ambience and beautiful vocals. Closing track is "Arroja los Dados" featuring Alien:Nation.A dancefloor hit with the influence of Alien:Nation. Spanish lyrics and vocals in a hard techno version of the title song "Throw the Dice". Really good addition.
System Noire will definitely become a part of clubs and DJ's selection with this EP, "Throw the Dice". 
Along with the digital release on May 10th, "Throw the Dice" will be out as a limited edition of 50 CDs as Digipack incl. Numbered autograph card. This includes a total of 13 pieces featuring Toal, Acid, Monosapien, Ruined Conflict, Eggvn and Evo-Lution.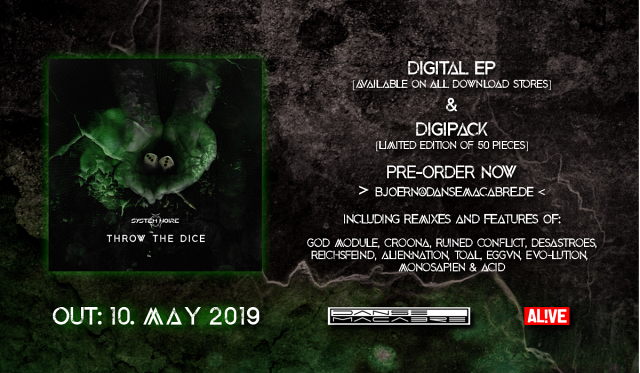 System Noire - Throw the Dice - Teaser 6/13 EGGVN Remix
Info:
https://www.facebook.com/SystemNoire/
http://dansemacabre.de/artist/system-noire