Stories
Details

Category:

Written by

Akill
Wayne Hussey's special moments in his music life. the things you need to know and a glimpse of what you will read and listen in "Salad Daze"
---
Wayne Hussey, an artist who has given a lot to what we all know as gothic rock music will be on Second Skin's stage, Athens, Greece, on Saturday, October 19th.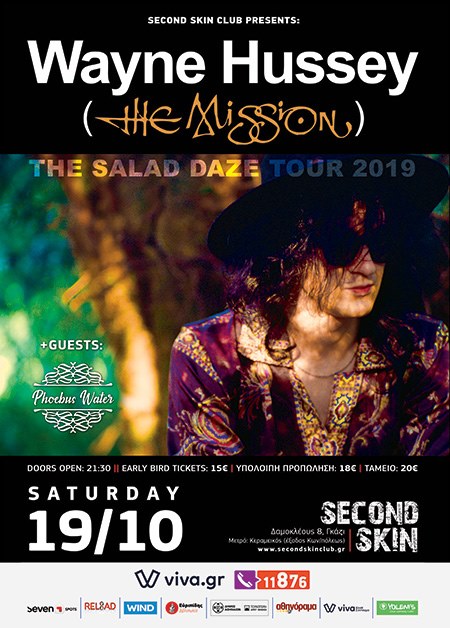 ElektroSpank collected some interesting points from Wayne Hussey's life. Things he writes in his book, "Salad Daze" and he said in his latest interviews!
8 years since his last visit in Greece he will perform in front of the Greek audience and fans as a part of his "Salad Daze" tour. An acoustic tour and an acoustic show where Wayne will perform many of Mission's massive hits but not only these. A number of songs that influenced or affected Wayne during all these years of music experiences and life.
"Salad Daze" tour has begun earlier this year in order to promote a new release from Wayne Hussey. This time is not a solo or a Mission album. It is his autobiography book, "Salad Daze". A new experience for the great singer, musician, lyricist. The book came out last May and in its pages you will find many interesting points of Wayne's life, starting from his childhood and going until the formation of The Mission.
A music view of all these stories will be presented at Wayne Hussey's live performance, on Second Skin's stage.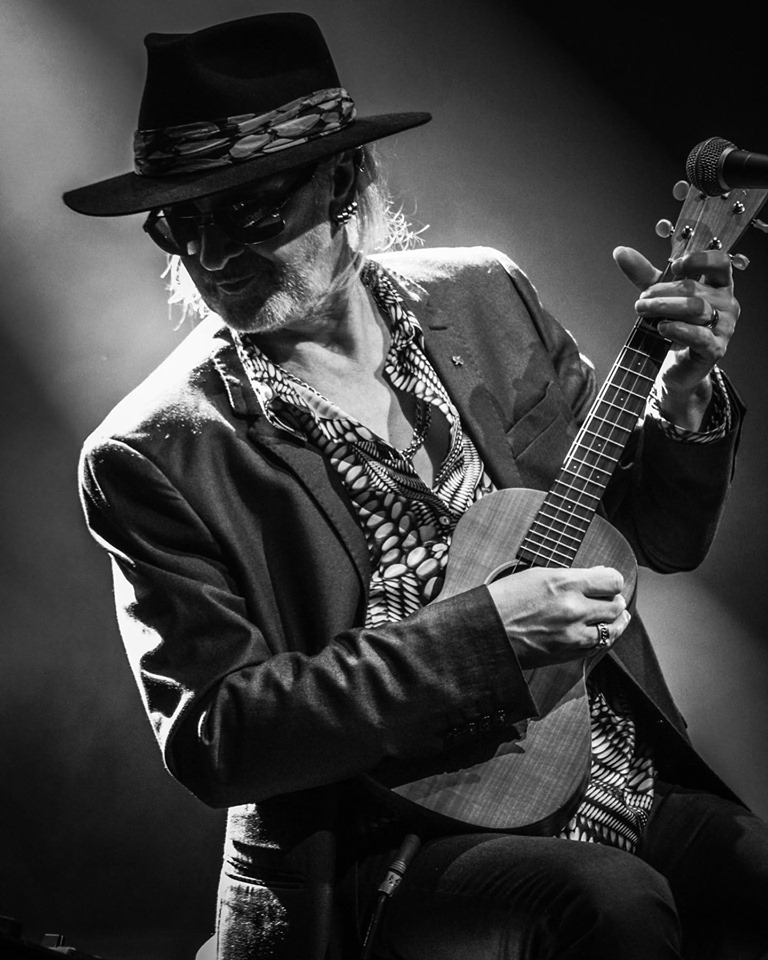 Below you can read some interesting facts about Wayne Hussey, as he has described them in his book and interviews!
- Wayne's favorite instrument is a twelve string guitar. He used to play with such guitar while he was a member of Sisters of Mercy, during the first years of Mission and he used it again in the latest album, "Another Fall from Grace"
- Wayne never listen to his own music after an album is released. Unless, he needs to, while on tour.
- Wayne Hussey's first ever band was a band called Rough Justice. They never released anything.
- First ever Mission gig took place in "Alice In Wonderland" club, in London, where Wayne was so anxious, that he almost forgot every word from the lyrics. They soon got really better, as we all know.
- Most of the songs from Mission's debut album was written while Wayne Hussey was with The Sisters of Mercy. The album was recorded really fast for that time since the band was on tour and they wanted to go back on the road again.
- When he was young he didn't really care about the lyrics, since he just loved to play the guitar. However, lyric-wise, he loved Bob Dylan, John Lennon, Leonard Cohen and Nick Cave.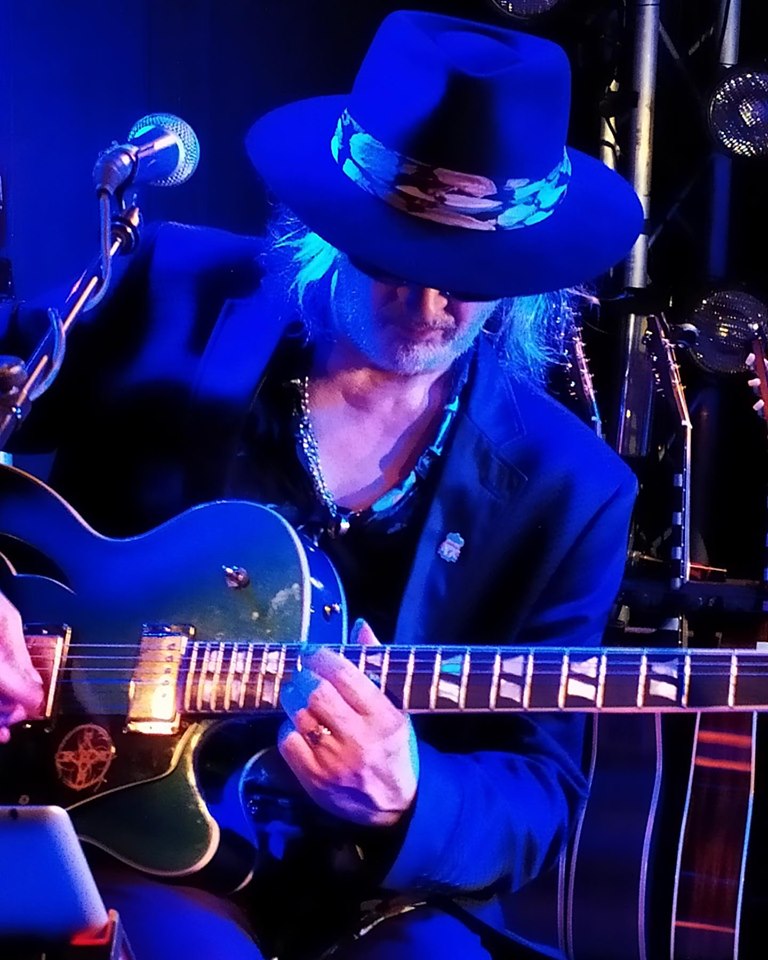 - While recording "Masque", Wayne Hussey was into dance music and that was something that was obvious in this album. In Neverland he returned to the traditional rock-band formation and style.
- Wayne doesn't like the way his voice sounded in 1995's album, "Neverland".
- On the 25th anniversary, reunion tour, it was Wayne's manager, the person who invited Graig and Simon to join Wayne in this tour, without asking Wayne. We all know the result since it was a successful tour which led to Mission's new albums.
- In his autobiography book, "Salad Daze", Wayne write about his half of his life and until the time he and Graig departs from the Sisters of Mercy.
- For every chapter of "Salad Daze"  book there is separate playlist on YouTube, with the most of the songs that being referred to each individual chapter. (Link in Info section, below)
- Before getting into music, as a child, Wayne always believed that he would be a football player, and that he would be playing for Bristol Rovers.
- During his residency in Liverpool, he used to hang out in Eric's club where he had many experiences with the punk genre at this time and he met many of the famous bands of that period, like Echo and the Bunnymen, Iggy Pop, OMD, The Cure, The Pretenders and more.
- While he was a member of Ded Byrds, they played some shows with Joy Division. Wayne says that Joy Division were really friendly and laughing a lot before going on stage. However during their time on stage they were really serious with this cold kind of stage presence.
- The night before the legendary Royal Albert Hall's show with the Sisters Of Mercy, he was invited by Ian Astbury to go out and see Killing Joke with a friend. This friend was Lemmy and at the bar he was introduced by Lemmy to another legend, Jimmy Page.
- The first ever "taste" of how Mission was going to sound like, is found in Wayne's first recording with the Dead Or Alive, "Whirlpool".
This is for now! You can find out and read a lot more about Wayne Hussey in the "Salad Daze" book. But first, make sure you will be in Second Skin club, on Saturday, October 19th!
Source:
http://www.peek-a-boo-magazine.be/en/interviews/wayne-hussey-2019/
https://louderthanwar.com/wayne-hussey-salad-daze-interview/
https://www.loudersound.com/features/sisters-wizards-and-boozing-with-lemmy-an-interview-with-the-missions-wayne-hussey
Info:
https://www.facebook.com/events/2484817025132935/
https://www.themissionmerch.com/product/salad-daze-deluxe-edition-webstore-exclusive
https://secondskinclub.gr/2019/06/06/wayne-hussey-the-mission-acoustic-show-19-10/
https://www.youtube.com/channel/UCIi6kSxJi40wBDwqnLW3V5Q/playlists