Death Disco Open Air Festival 2023
Details

Category:

Written by

Akill
On Saturday 22 and Sunday 23 July 2023, Death Disco is organizing the first Greek post punk / synthpop / darkwave festival in Technopolis - City of Athens.

Dates: Saturday July 22 & Sunday July 23 2023
Event: Death Disco Athens Open Air Festival 2023
Venue: Technopolis City of Athens
---

THE SISTERS OF MERCY
SHE PAST AWAY
THE SOFT MOON
ACTORS
ABSOLUTE BODY CONTROL
MECANO UN.LTD
SELOFAN
RUE OBERKAMPF

More bands to be announced, stay tuned!
2 days, 2 stages, 14 bands!
Ticket pre sales are on!
Technopolis City of Athens:
100 Piraeus st., 118 54 Gazi - Athens
Τel: (+30) 213 0109300, 213 0109324
E-mail: This email address is being protected from spambots. You need JavaScript enabled to view it.
www.athens-technopolis.gr

How to get there:
By metro - line 3 (Blue line): Kerameikos station
By trolley: No. 21 (from Omonoia station), Fotaerio Stop
By bus: No. 049, 815, 838, 914, Β18, Γ18, Fotaerio Stop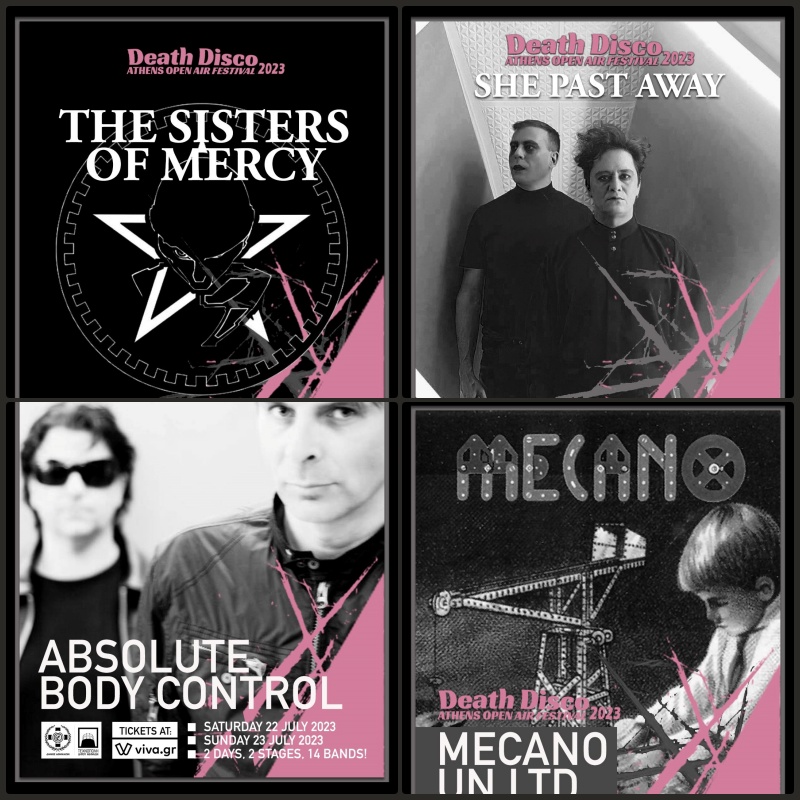 THE SISTERS OF MERCY

With only three regular albums to their credit, for more than 40 years they have been considered one of the most important - counted on the fingers of one hand - bands of the post-punk scene. After last year's excellent performances in Crete and Thessaloniki, The Sisters of Mercy are coming to Athens this year to prove to us that they are going through one of the best phases of their turbulent career. Temple of Love, Μore, Alice, Lucretia (my reflection), Dominion / Mother Russia, Vision Thing, This Corrosion and so many other old ones that together with their new songs, and of course the mythical figure of Andrew Eldritch on stage, will set Technopolis City of Athens on fire. The first Death Disco Athens Open Air Festival has on its marquee the heavy and unassuming name of The Sisters of Mercy and that alone is enough to make us very, very proud.

SHE PAST AWAY

There aren't many modern bands that came out after the 80's and are qualified to play ball in the first national darkwave category. She Past Away is one of them. Being in the power of "our" Fabrika Records, they have been walking their own path since 2006 and with their gothic sound perfectly worked to the last detail as well as the characteristic vocals in the Turkish language, in just a few years they managed to acquire millions of fans around the world. And they deserve it even more.

ABSOLUTE BODY CONTROL

They started in Belgium in 1980 influenced by D.A.F. and Suicide and since then they are considered one of the cornerstones of the minimal synth edifice which, although it didn't get the recognition it deserved at the time, came at some point the era of recognition. Led by the versatile Dirk Ivens (Dive, Sonar, Klinik) and their quiver full of catchy synth-pop songs based on the very simple rule of not consisting of more than four sounds, they are coming to Greece for the first time for a concert that we have been waiting for decades.

MECANO UN.LTD

With the painter, poet, revolutionary and incurable romantic Dirk Polak as their eternal guide, Mecano is one of the most special stories in our beloved music. Their cult status among old "freaks" of our country, but also among fanatical collectors and music lovers everywhere, takes mythical proportions. Starting from punk rock on their first release, they have since established themselves as one of the most beloved hidden gems in a narrow circle of people, thanks to their unique blend of post-punk, art punk, new wave and art pop of the following years. At the Death Disco Athens Open Air Festival, Dirk Polak returns as Mecano Un.Ltd and reassembles Mecano's tracks (Links, Untitled, Escape the Human Myth etc) on stage.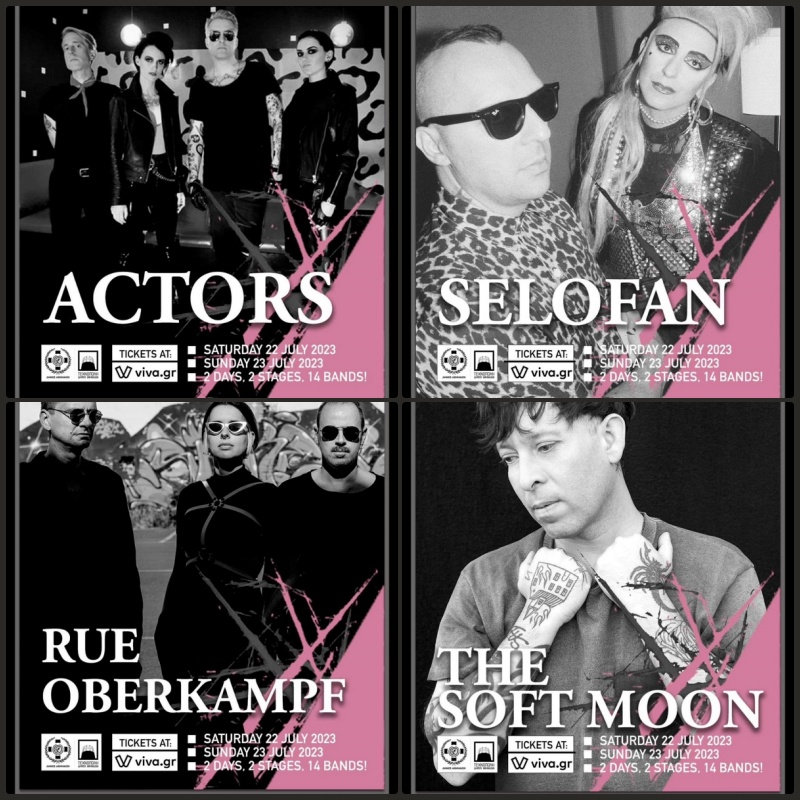 ACTORS

They are heading from Vancouver, Canada, and with their two masterpiece albums they are considered the most rising form of the Darkwave, post punk scene, climbing rapidly in the hierarchy of European dark alternative festivals. And this is not just a result of luck. The quartet of Actors pays attention to the last detail, be it the video clips, the dress code and even more so their sound, since Jason Corbet, the driving force of the band, is also one of the best modern producers. They are visiting Greece for the first time and are one of the bands that Death Disco recommends not to miss for any reason.

SELOFAN

Selofan is the #1 exported product of the Greek darkwave scene on the planet. With innumerable tours around the world, a rich discography and with one of the most important record companies in their possession (Fabrika records), Joanna and Dimitris have made the whole world look at them. At the Death Disco Open Air Festival they will present one of their rare appearances on Greek soil and in fact, this will be their first participation in an Athenian festival. And how could they be missing from this one anyway?

RUE OBERKAMPF

Rue Oberkampf is pure ecstasy. "You have to see them live," says – among others – rcn Magazin in 2019.
Founded at the end of 2016 by three DJ*s, the band combines 80s ecstasy with the atmosphere of fog- shrouded, strobe-lit dance temples of the techno era. The combination of urban electronic music's gritty drive with Julia's French-German vocals reminds some critics of a more forceful version of Anne Clark, Fisherspooner and Kompromat - yet at the same time it creates something entirely original. Rue Oberkampf forges a bridge between cold wave, synthpunk, EBM and techno. Their live shows pull audiences into a maelstrom of sound, neon and storms of light.

THE SOFT MOON

It would not be an exaggeration to say that Luis Vasquez with the Soft Moon carried a significant part of the darkwave and post-punk revival in the late 2000s. Their self-titled debut in 2010 shook the waters of the alternative scene and was the harbinger of a remarkable discography, full of highlights, which will hopefully reach its fifth part in late 2022 with the album Exister. There are no points of repetition or stagnation in the path of Soft Moon. The sonic evolution and the constant effort of Luis to externalize and exorcise his troubled past always creates a fascinating effect that watching him on stage seduces you into a vortex of emotions and primitive instincts.

Info:

Facebook Event: https://www.facebook.com/events/1212139756091583
2 days, 2 stages, 14 bands!
Ticket pre sales are on!
Technopolis City of Athens:
100 Piraeus st., 118 54 Gazi - Athens
Τel: (+30) 213 0109300, 213 0109324
E-mail: This email address is being protected from spambots. You need JavaScript enabled to view it.
www.athens-technopolis.gr
How to get there:
By metro - line 3 (Blue line): Kerameikos station
By trolley: No. 21 (from Omonoia station), Fotaerio Stop
By bus: No. 049, 815, 838, 914, Β18, Γ18, Fotaerio Stop

Two-day early bird tickets are already on sale in the viva network:
https://www.viva.gr/tickets/music/tagfest/death-disco-open-air-festival-2023