News
Details

Category:

Written by

Akill
Between punk rock and post-punk with dark mood there is the strength of Stockhausen & The Amplified Riot debut EP, "Have We Lost Our Mind Or Have We Found Our Soul?"
---
Stockhausen & The Amplified Riot is the solo project of Paul Sanchez (guitar, vocals, drums programming) who creates raw punk, post-punk sounds and psych riffs enriched with his lyrics. Chavez discourages reading too much into the content as he often composing them as sounds first and wording second. When stuck for content, Chavez would turn to a deck of Oblique Strategies cards and work around whatever he drew.
Formed during the early days of the pandemic, initially as a three piece but now a solo effort, Stock & Tar's mission was to create long, metronomic jams under the axiom of "three chords good, two chords better, one chord best." Influenced by the teutonic rhythms of Can, Kraftwerk, and Suicide while harboring a lust for loud, driving guitars – the group posted livestreams of their rehearsals and started working on a set lists.  However, as the pandemic started to lift – members got busy with other projects and moved on, leaving one member, Paul Chavez, to carry on with guitar, vocals, and drum machine duties.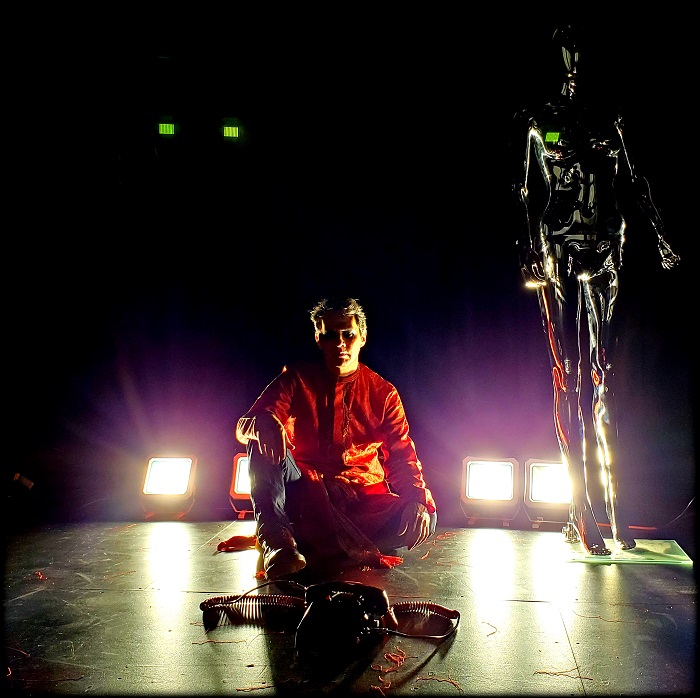 The EP showcases the early days as well as the next direction of the band: "Animal Night Train" and "Grinding Teeth" is more post-punk and one of the first songs the band wrote together, while "Ghost Notes" hints at the psych material coming down the line. Throughout the EP, the band's core is evident – steady, driving rhythms with guitar hooks a plenty. 
Stock & Tar unveils the official video of the first single off the EP, "Animal Night Train", where lo-fi and conceptual elements are displayed. "Animal Night Train" is a track where power chords and distorted riffs makes Stock & Tar balancing over the point where psychedelic influences meet punk power and electro-rock mood. It is actually firing-up immediately and hard-hitting intro for the 5-track, "Have We Lost Our Mind Or Have We Found Our Soul?".
"Have We Lost Our Mind Or Have We Found Our Soul?" has strong roots into the psych rock while Chavez blends hard elements of post-punk. In the second turn of the EP we find "Ghost Notes" which is going deeper to the psychedelic side of the project in a 5 minute guitar driven trip. "Griding Teeth" brings the back the intense atmosphere with powerful guitars. "Monophonic Tuberculosis" starts in psychedelic tones, while there is a piece of that creates a mood of travelling in space, in between the distortion. "Take My Hand Dear Lord" closes the EP with some ear pounding, melodic and strong, at the same time, guitar riffs.
Below you can listen to "Have We Lost Our Mind Or Have We Found Our Soul?" EP in its entity in an exclusive world premiere!
 "Have We Lost Our Mind Or Have We Found Our Soul?" is a modern psych rock debut EP where Stock & Tar combines the strong paths of the genre with moments of lo-fi ambience and filled with raw power in post-punk lines. Chavez experiments with straightforward riffages and tripping melodies.
Stockhausen And The Amplified Riot "Have We Lost Our Mind Or Have We Found Our Soul?" (EP)
Release date: October, 22nd 2021
Label: Artificial Head Records
Distribution: Tunecore and CDBaby (digital), Artificial Head Records (cassette)
Genre: Garage, Post-Punk, Psych Rock
Format: Cassette, Streaming, Digital Download
Tracklist:
1. Animal Night Train (1:56)
2. Ghost Notes (5:00)
3. Grinding Teeth (2:22)
4. Monophonic Tuberculosis (3:40)
5. Take My Hand, Dear Lord (5:03)
Recording and mixing by Jacob Rodriguez at King Benny's House of Sound. Mastering by Paul Cox and Studio 226. Artwork concept by Paul Chavez, designed by People Who Can't.
Info:
https://twitter.com/stockandtar
https://www.instagram.com/stockandtar/
https://artificialheadrecords.bandcamp.com/album/have-we-lost-our-mind-or-have-we-found-our-soul