News
Details

Category:

Written by

Akill
Pink Turns Blue returns with a new single coming out of their highly anticipated new album, "Tainted"!
---
Post-punk, dark wave pioneers, Pink Turns Blue releases the new single "You Still Mean Too Much To Me", taken from and foreshadowing their new full length album, "Tainted", expected by the end of September via Orden Records.
"You Still Mean Too Much To Me" touches a variety of things that do mean so much to anyone. Emotional, melodic with lyrics where anyone can view and adopt his/her own thoughts, questions, feelings. Pink Turns Blue have given us a good taste of their new album, since, beside "You Still Mean Too Much To Me", there are already available two more singles out of "Tainted", "There Must Be So Much More" and "So Why Not Save The World". As with the previously released singles, the band focuses to humanity, comments on people's relationships and they, strongly, use their dark, melancholic sound to create images and soundscapes echoing the world's needs, the climate change, its effects, world's reaction. isolation, health state, financial instability.
"You Still Mean Too Much To Me" is a song that , also touches and questions the unknown fact of falling in love and the lack of understanding why does love end.
"How to overcome the grief / pain of lost love, torn between hate, very bad feelings and, at the same time, not being able to let go at all. As there is no understanding why you fall in love with someone in the first place, there is also no reason / understanding  why love does end or your love of life starts to feel attracted to someone else. It all dissolves into nothingness," says Mic Jogwer.
Sad melody based on guitar chords, Pink Turns Blue build a melancholic, post-punk song, starting with a low-tempo arrangement which is getting higher based on the vocals of Mic Jogwer and the addition of the synths, the bass lines and the drum beats, making the emotions and tense grow inside the listener. There could be a sense, in all three singles, that Pink Turns Blue may have soften their sound since their latest or the early releases. I would say that "Tainted" is going to be a really dark, melancholic collection of songs, a beautiful post-punk, dark alternative sound, based on the elements that made the Berlin based band, pioneering the genre and making their name standing equally next to legendary bands like Clan Of Xymox and The Chameleons.
"Some melodies and moods just call for certain sad themes and touch old wounds that never seem to heal. Normally love stories don't seem to have a connection to me and my life. But then, when I find a sad melody with some sad chords it all gets stirred up and comes to life. Maybe love really never ends."
As of July 30, 'You Still Mean Too Much To Me' will be released everywhere online, including Apple Music and Spotify. The 'Tainted' LP will be released on September 24. It will be available digitally and in two physical formats - a CD with a 16-page booklet and on black vinyl, strictly limted to 500 copies, with an 8-page booklet. Both can be pre-ordered exclusively via the band's website (see Info below).
Pink Turns Blue is Mic Jogwer (vocals, guitar), Reubi Walter (bass, keyboards) and Paul Richter (drums). Inspired by Joy Division, The Sound and The Chameleons, Pink Turns Blue plays alternative rock heavily influenced by 80s post-punk and new wave. On 'Tainted', the band added an electronic element to their classical vocals, guitar, bass and drums. This album is the result of time well spent this past lockdown year writing, recording, mixing and mastering the new album in their Berlin recording studio.  The album title itself relates to the state of our world: climate change, its effects, the reaction to it, the split within society, isolation, health risks and financial uncertainty.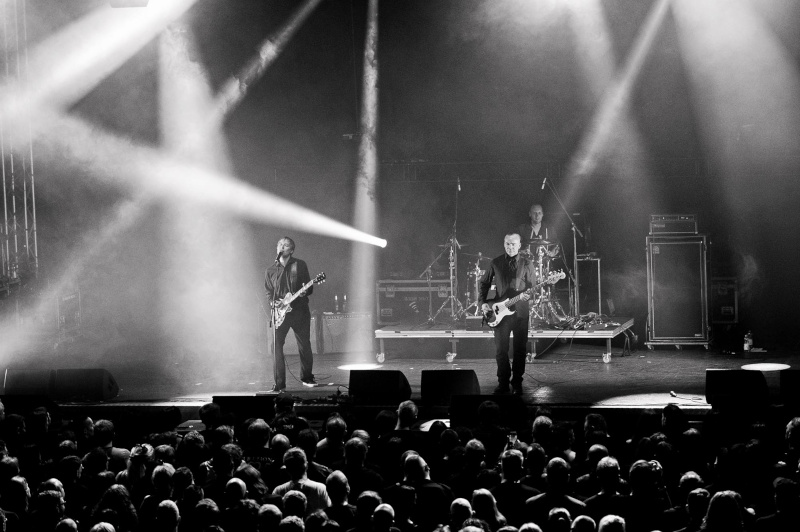 Among the first generation of gothic rock in Germany, Pink Turns Blue formed in 1985, originally as a duo consisting of Mic Jogwer and Thomas Elbern, plus a drum machine. Naming themselves after a Hüsker Dü song, their sound was initially inspired by The Chameleons, Clan of Xymox, and The Cure.

Their debut album 'Two Worlds Kiss' brought dark undertones into their new wave sound, essentially advancing the darkwave sub-genre while becoming a seminal album in the post-punk genre. Amidst fear and uncertainty in a divided Germany during the Cold War era, the band longed for a more romantic element. They went on to release eleven full-length LPs, the latest one being 'The AERDT – Untold Stories' in 2016 via Orden Records.
Info:
https://www.pinkturnsblue.com/
http://www.pinkturnsblue.com/shop
https://www.facebook.com/Pink.Turns.Blue.Official
https://www.instagram.com/pink.turns.blue
https://twitter.com/PINK_TURNS_BLUE
https://www.youtube.com/channel/UCr8Nwk5wWHoMZ_IRxropPQA
https://music.apple.com/us/artist/pink-turns-blue/49237864
https://open.spotify.com/artist/47oP5alMot58ggzcFwldky?si=H17iiq_kQ1y1C5GhGdZp_w&dl_branch=1