News
Details

Category:

Written by

Akill
Haunting dark synths from Italian duo, Cirque D' Ess!
---
Cirque D' Ess releases first digital single, "A Spooky Host", out from their upcoming full-length album"Black Synthetic and Dense". New single is out via Cold Transmission, on February 19th, and it is the first sample and idea of what Cirque D' Ess new album will sound like.
Ritual wave is the appropriate title for the Pisa based duo and "A Spooky Host" is exactly there. Witching ambience through electronic arrangements and cold, dark synths. Whispering vocals creat the mysticism need to strengthen the dark atmosphere. With a rising tense, in sound and voice, the duo's influences can be distinguished, ranging from darkwave, synthwave to EBM, techno while touching shoegaze notes.
 Cold Transmisiion will premiere "A Spooky Host" video tonight via their Facebook page.
Cirque d'Ess is an Italian Ritualwave band from Pisa, formed in 2017 by Valerio "Ryo" Girmenia (Guitars, Synths & Samplers) and Martina "Miriam" Bufalini (Vocals & Industrial Sounds). Cirque d'Ess takes inspiration by a wide range of music styles including Dakwave, Synthwave, Shoegaze, EBM and Techno. Under a black hood, driven by liturgical atmospheres and sustained by punchy dance floor sounds.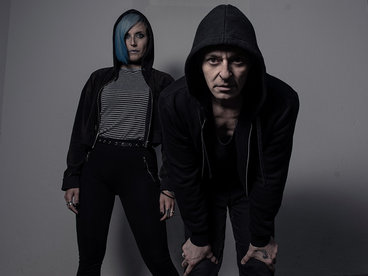 Info:
https://cirquedess.bandcamp.com/album/a-spooky-host
https://www.facebook.com/cirquedess/
https://www.instagram.com/cirquedess.official/
https://www.youtube.com/channel/UCv6-aj8mI1htxHQEfuurnow
https://www.coldtransmission.com/
https://www.facebook.com/coldtransmissionmusic