News
Details

Category:

Written by

Akill
 A classic that marked the history of harsh industrial is out in a new version!
---
Suicide Commando and Johan Van Roy is definitely one of the pioneers in dark electro, industrial music with a very long history and perhaps the most dancefloor, club industrial hits.
Back in 2000, Suicide Commando released a song that was meant to mark and, probably, define a new era for the dark electro and harsh industrial music. "Hellraiser" was out and until today, we can say it is one of the most played harsh industrial hits in every dj's setlist. 
"Hellraiser" was included in one of the best albums of the genre, "Mindstrip", along with a number of other hits like "Love Breeds Suicide". "Hellraiser (Psychopath 01 - Version)", as it is its full name, defined the term "hellectro". 
Now, a new version of this massive hit is out, on August 9th, from Out Of Line Records, absolutely modernized, while, included, we can find the original version of 2000, a new version of "Mindstripper" and a "b0side" from "Comatose Dellusion" single, "Kevorkian"
"Hellraiser 2019" is out in a limited edition picture vinyl.
Tracks:
A1 Hellraiser (Post Mortem - 2019)
A2 Mindstripper (Re-Stripped - 2019)
B1 Hellraiser (Psychopath 01 Version - 2000)
B2 Kevorkian (Original Version - 2000)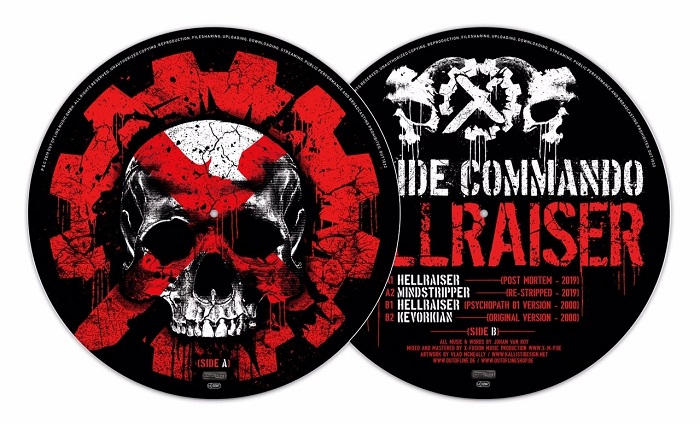 Out Of Line
In the year of 2000 after Christ the demons of hell gained possession of Suicide Commando and made Johan create a classic that still is without comparing. Its name was "Mindstrip", and hell followed within. On the dancefloors of the world this album set standards that found thousands of copycats without ever been reached again.
It is time to return to the roots of the music that became famous worldwide under the term of Hellelectro. A whole generation danced until their feet were bleeding for nearly 20 years, now a new generation shall be lead into sin. "Hellraiser 2019" is the perfection of the song that catched the end times mood of the millenium as no other did: The technic is modernized, but the spirit is the same. On limited Picture Vinyl including an also brandnew version of "Mindstripper", the original version of "Hellraiser" and the Non-Album-Track "Kevorkian" (from "Comatose Delusion"-Single).
Info:
https://www.outoflineshop.de/suicide-commando-hellraiser-limited-edition-picture-vinyl.html?cookies-okay=1&fbclid=IwAR19FeIBVq36cSCV60oFXggWY2LPxjNmvQ8DFZFKwLhT5TpxtnGMifVB1KA
https://www.facebook.com/IIXIII/