Interviews
Details

Category:

Written by

Akill
 Kalte Nacht will be back on stage after two years and we discussed everything about this show and their music. Opening act for the show, the amazing Blakaut!
---
When I think of modern dark wave, dark analogue synths, there is a band that immediately pops in my head. And this is Kalte Nacht. A duo that captures the fragility of humanity, the coldness of a soul ant interpretes it to an electronic, analogue trip from darkness to light and back again.
Kalte Nacht is the dark, synth wave duo from Greece, consisting of Nikos Konstantinidis (synths, bass & backing vocals) and Myrto Stylou (vocals). Having started as a solo project of Nikos Konstantinidis, the puzzle was completed in 2018 when Myrto Stylou joined in and taking care of the vocals. A charismatic duo that expressed their energy and inspiration to what seems to be the modern dark wave and synth wave sounds. The dark lyricism in the voice of Myrto Matches perfectly the analogue cold sounds and arrangements of Nikos.
Kalte Nacht will be back on Romantso Rooftop stage, Athens, on Saturday, September 11th, after two years since their last live appearance. A long-awaited show where the duo will have the chance to present their debut album, "Kalte Nacht", along with their latest single, "Our Moments Are Answers and a lot of new material. The show will open the minimal synth electro project, Blakout.
Kalte Nacht released their debut album in March 2020 via Geheimnis Records which was highly accepted by dark music fans and media all over the world. A year later and while being already in quarantine due to the global pandemic, they released the digital ingle, "Our Moments Are Answers" and currently they are finishing their second album.
I had the pleasure to have a really interesting chat with Nikos and Myrto about their upcoming live show, their music and many, many more... 
*Live photo by Odysseas Michalakis
*Wall photo by Nikos Chantzis
*Floor photos by Marilia Photopoulou
ES: Hi Kalte Nacht. First of all, thank you for accepting our invitation. Would you like to introduce Kalte Nacht to our readers? How did you two meet?
Nikos: Hello from us too! We really thank you for this invitation! Kalte Nacht is a band that begun as my personal project on 2017 without any particular idea or goal. However, after the first songs as a solo project, I felt the need for female vocals to be included. That's when we met with Myrto during 2018 and have been a duo ever since!
ES: Kalte Nacht, as a name, seems that perfectly suits your image and mainly your music. How did you end up with this name?
Nikos: To be honest, it has always been hard for me to name a song, let along to find a band name. In this case I believe, I just thought of two things I like a lot: winter and its nights. That's when I had some of my most beautiful experiences, so that's pretty much how cold night was born.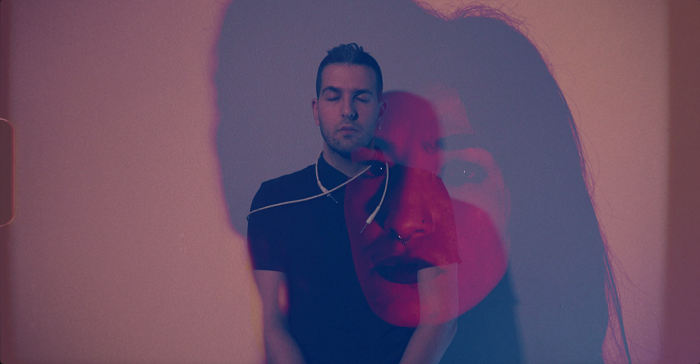 ES: After a long period of uncertainty and cancelation of so many concerts for many bands, we will, finally, have the chance to see you performing live, on Saturday, September 11th. How do you feel about this upcoming show? What can we expect from Kalte Nacht on stage after two years of waiting?
Nikos: Yes finally! For us it's been exactly two years since our last show in Athens! Although the circumstances are not yet ideal, we are thrilled that we will be up on stage once again and even more so, as we are sharing it with our friend Blakaut for the first time!
After a very harsh period for all of us, we were waiting for the right moment to present something beautiful to our hometown. Also, it's the first time that we will play live our debut album, since because of COVID we did not get do it when it got released!
Myrto: It's truly super exciting, as Nikos said, because we never got to present our debut album "on our terms" since its release on March 2020! Getting to perform again on stage and exchange vibes, looks and feelings with people, is something we both can't wait to experience. This time, you can expect loads of energy, new and old material to be presented and maybe some.. mini surprises, as we're always dedicated to creating unique performances!
ES: In March 2021 a new single was released, titled "Our Moments Are Answers". It came out during a dystopic reality we were all living since early 2020. Did this period affected you in creating this single?
Nikos: Of course this whole situation affected us. There was an undeniable need to release new material after 1 year. The circumstances in which we were living in, but also the great distance that separated us, all contributed to us creating 'Our Moments Are Answers'. I think the lyrics capture in a great deal our thoughts and this whole inner journey that we experienced both individually and as a group during this period of time.
Myrto: Creating this single, both the song and its video, was not just an amazing challenge, but also a precious journey for us. It definitely made us stronger, bonded us even more as a duo and of course served as an outlet to express our stormy insides during the continuous uncertainty we were all globally at the time. The distance (Athens-London) also helped in its own way by making clear that there are no boundaries or obstacles, if you really want to make something happen.

ES: In a comment you wrote with the release of "Our Moments Are Answers" it seems that the key to go through such situation is the acceptance and understanding of ourselves and inner shadows. Do you think that something like that would be achieved by the most of the people? Or there will only be isolation and negativity left? Did this situation make us any better?
Nikos: Our life is a hard and great journey full of experiences and emotions. We are all hiding inside us beautiful, but mainly rugged and dark paths. But, since this journey is a one way street, the only way to keep on progressing, is to accept our own self. Because then we will be able to move on towards life, towards the light. Clearly it is something hard and it takes time, since all most people do is trying to survive, and others waste incredible amounts of time in pointless situations. But the answers is always there. In the feelings that it creates inside us. Our each and every moment provides us with these answers, as long as we open our eyes, accept them and then externalize them.
Myrto: Accepting and understanding our dual nature, I believe that's the key. It's not just light, it's always dark too. And that's okay. Even if our current societies are built on addiction to fear and running away from the "bad" or dark. I strongly feel it's a choice to start embracing both. To acknowledge whatever comes from our inside that is difficult or awkward, by facing it with a direct intent to achieve balance of the soul. Our inner shadows are there to remind us that not everything is light and that we need our darkness to be whole, no matter how hard sometimes even this realization might be.
I'm not saying it's easy, it all sounds too perfect in theory, but if we all take baby steps towards improving, striving to be better each moment, respect each other, take responsibility and mostly care for ourselves to then be able to care for others, we may reach a point where interacting could be peace and constant motivation.
I'm surely not to say if this pandemic made us any better, but I choose to look at the good things that emerged. I observed some changes in our priorities regarding our friends, family and environments, and what was harsh sometimes but truly necessary, was that it forced us to ground to the "here and now", to reevaluate our needs, wishes and goals for the future. So in this way, each and every moment of ours, becomes an answer, all we have to do is open our hearts to it and use it to soften our edges.
ES: "Our Moments Are Answers" came out a year after your debut album. Is there any more new material coming up? A new album perhaps? Are you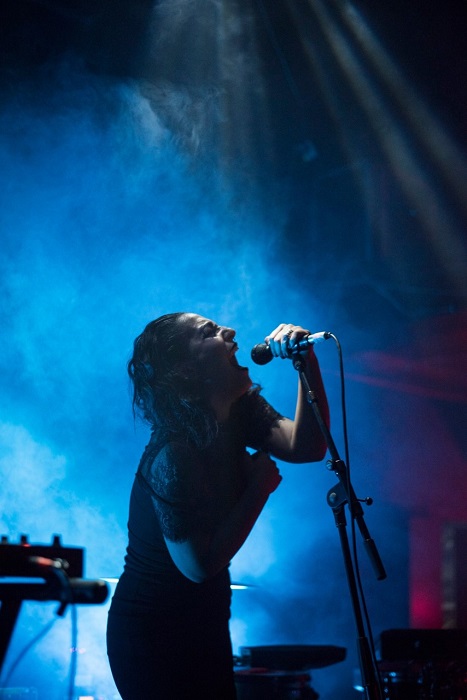 going to present more new material in the upcoming live show?
Nikos: Of course there is new material which we are working on right now! I feel we are going through a very creative period so, after our summer break, we are already tuned in to complete material for our new album within the next months. We will have to wait and see, taking into consideration the circumstances as well, when exactly it will be ready. For this Saturday's live performance we will definitely present to you a taste of this material!
ES: Kalte Nacht's debut album released in 2020 via Geheimnis records and was sold out. Geheimnis Records is one of the most successful independent labels in Greece and in Europe? How was it working with Geheimnis and will this collaboration continue to another successful chapter?
Nikos: For me personally, when we are referring to a collaboration, the most important things are honesty and communication. In this context, collaborating with Geheimnis is truly ideal! It's now an established label with great growth over the last years. Also, we are very good friends with Panos Dread, the man behind all this venture, and we will always appreciate him for trusting us and believing in our vision right from the first moment.
ES: Music-wise, Kalte Nacht, seems to be influenced from cold sounds, dark synths or even post-punk and punk outfits of the past. I think that your music is a mixture of cold emotions expressed with dark vocals and lyrics, dressed with modern analogue dark sound. Which would you say are the sounds and artists that influenced you the most? What led you to use analogue sounds and instruments and which do you think are the main differences between analogue and digital sound?
Nikos: The description you give to our music indeed wraps up all the elements we want our sound to have! As far as the influences, they are really so many I have a problem distinguishing them and remembering them all. I think my base is located somewhere along the 80's classic bands of this genre, local and foreign, but really the bands of today are the ones that provide the final shape to our sound. This way we have a timbre that combines old analogue sound along with fresh modern elements. Luckily, we are going through a very creative era in the dark scene globally and this helps a lot.
I am personally composing on an analogue sound for the only reason that this is the way I have learned how to create music. Plus, it feels more alive, more natural. However, I think that right now, there isn't such a big difference of analogue and digital sound at the final outcome. Also, they can be beautifully combined. What's enough for me is to appreciate music without caring about where it comes from.
Myrto: Although, Nikos covered most of my ideas regarding your question, I'd like to add that as we are both very open into exploring sound and where it leads, lyric-wise, we also agree on not only observing our fragile selves but also getting in touch with these cold emotions and then bringing them in the surface as a useful tool to progress. I'm happy that we are both "on a silent mission" to not just reproduce sounds from the past but to also insert ourselves in them through an analogue sound that's allowing us to experiment and create our unique textures.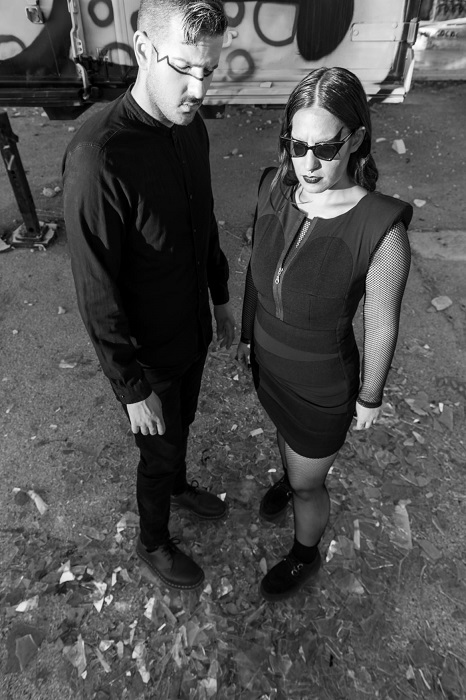 ES: Apart from your latest single and its influence by the pandemic and isolation, I would say that most of your lyrics are balancing between darkness, love, death and humans. Which are the things and themes that inspire you while writing the lyrics?
Nikos: I believe our biggest influence is daily life. Experiences, emotions, human relationships and how all of these are fused into a hard and dystopic society of everyday battle, as well as material and emotional survival.
Myrto: Everything is inspiration. Life is an inspiration. A look, an opinion, how interconnected we are, a social change, a hug, nature, our interactions, and as you pointed out all these huge concepts that have puzzled humans since the dawn of civilization. All of our actions and reactions have a hidden meaning behind them, and the more I observe the more I understand and can't help but being in awe of our complex nature. Isn't that worth writing about?
ES: In 2020 Greek dark alternative scene was really productive with some really interesting releases, getting the attention of several media around the world. A great tribute covering all these new remarkable bands can be found even in the pages of the Swedish magazine Svartpunkt, where there was a special reference to Kalte Nacht. How do you feel about it? Do you think that these unusual situation that we all faced gave inspiration to new artists and led them to some darker paths?
Nikos: For sure this era of confinement was ideal for a lot of artists so that they have the time to get inspired and create very beautiful music. It was one of the positive things during this crazy situation. So, I think that the Greek scene, which is already very strong and remarkable, gave us lots of new releases, and I believe that many others are coming up that simply did not got to be published yet!
Myrto: Being included in the Swedish magazine Svartpunkt felt awesome! Getting to be next to amazing bands on our first steps as Kalte Nacht is just another warm feeling of support and acknowledgement. It serves as further motivation to keep expressing and exposing our art to the world. This unusual situation of the pandemic definitely led to a global opening in music where people from Sweden, Germany, Turkey, Mexico got to listen a Greek band while in their houses. This is really exciting for us and gives us more opportunities of sharing our vision with more ears and souls. For the artists, there was more time, a huge drive to express and a need to resolve the darker issues that emerged. Ideal circumstances for giving birth to new material!
ES: During last summer, some of the biggest wildfires have burned huge areas of land, destroying properties while it is certain that many of the wild animals in the flames. You had an immediate reaction as a band offering the proceeds from the sales of your album at that time to help those who needed it. I would like you to tell us how you feel about all this climate intervention and the dramatic changes that are already happening? I would also like a comment on the reaction of people to this action of solidarity of yours?
Nikos: What we went through this summer, globally, but also in our country, was something really unprecedented. I have no words while thinking this whole natural disaster, a true hell that ruined people, animals, nature and properties. And who knows if ever the balance will be restored or if we are just heading towards our greatest fall?
What we did was simply what would anyone would do. As a band, the least we can do is to contribute in any way that we can. But solidarity does not stop there, there are always more things to be done.
Μyrto: I can't really begin to describe the thoughts and feelings that came with this unending nightmare of days that we all went through while the wildfires were raging. I can't even imagine how people in the areas of the fires must have felt. Our act was a small act of help with the least we had to offer, in a time where we felt tiny in front of the flames and with solidarity being a ray of light to this tremendous tragedy.
It seems appropriate now to mention a phrase that marked me and made me think a lot during this period of time, that came in the middle of the wildfire days from Brian Eno, whom I respect and admire a lot.
A day before his live performance in Athens, he was rehearsing at the Herodes Atticus theatre, where more and more ashes were falling, gradually covering the stage while playing.
He said he thought: "Here I am, at the birthplace of Western civilization, probably witnessing the end of it."
ES: Well I think there are so many more that I could ask you but I will keep for a future conversation along with your new album release. Would you like to add anything else? Any words for our readers, your fans?
Nikos: Thank you so much for this wonderful conversation. We are definitely going to talk again in the future! I truly hope that we get out of this hard situation and start living again with no fear!
Myrto: We really appreciate the opportunity you gave us to share some more of us! Cheers to the next gatherings, dances, hugs and songs that make us stronger and more exposed! We'll meet at the end of the hall my dears!
ES: Thank you very much. Looking forward to seeing you on stage and listening to more of your new material.
  Info:
https://kaltenacht.bandcamp.com/
https://www.facebook.com/KalteNachtDuo/
https://www.instagram.com/kaltenacht_
https://www.youtube.com/channel/UCxgV-yGAgdfBZEMlHdxeocA
https://open.spotify.com/artist/1vEt4NXN7Vs9nmYLA7HwyU