Interviews
Details

Category:

Written by

Akill
Ariel Maniki & The Black Halos plays with dark emotions contrasts in their new album, "Black Light! 
---
Hailing from Costa Rica, Ariel Maniki & The Black Halos released their 5th full-length album, "Black Light", on August 23rd, out via Deepland Records. With "Black Light", Ariel Maniki & The Black Halos are taking their traditional, old school gothic rock influences and they create an emotional goth rock album balancing between darkness and light. Along with this balance, comes a 15 track dark, gothic rock album that is full contrasts and diversities in music, in ambience, in lyrics. 
Ariel Maniki & The Black Halos are going deeper into the dark sounds using different elements in each song, ranging from catchy gothic rock riffs, to dark synths, electro parts and complete haunted dark hits. While they had to postpone their live shows in 2020, because of the pandemic, the goth rock trio took the chance and turned this period into a creative time, expressing all these conflicts with one's self and the need to redefine things.
"Black Light" is the fifth full length album for Ariel Maniki & The Black Halos, who were formed in 2014, inspired by the 80's post-punk, gothic rock, dark wave sounds and bands like The Chameleons, The Mission, Clan Of Xymox, Bella Morte and the Latin Americans Caifanes. Currently the band's line up consists of Ariel Maniki  (vocals, guitar, synths, bass, programming), Janice Black (Synths/keyboards), Eva Red  (bass).  
On the occasion of "Black Light" release I had the pleasure to have this deep discussion with Ariel Maniki about the diversities, the contrasts, the influences, the music and many more...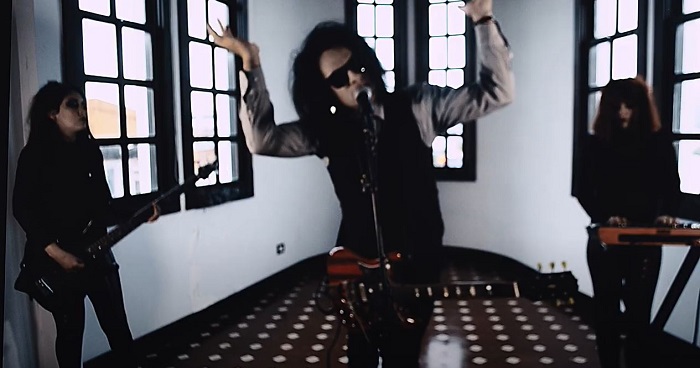 ES: Hallo Ariel Maniki & The Black Halos. A new full-length album is already out and before going into details about it, would you like to tell us something about you? Would you like to introduce the band to our readers?
Ariel: Thank you for having us, so Ariel Maniki and the Black Halos it's a music project from Costa Rica, formed 7 or 8 years ago, mostly influenced by the usual suspects of gothic music of late 80s and 90s but with at least a hope for freshness. We've released a nonsense bunch of albums and eps and performed in few cities in Latin-America and Europe. It all started as a solo/studio project by me back in 2013 and over time other musicians have been on and off, specially for live performing and random collaborations. As it is today, I am joined by Janice on keyboards and Eva on bass.
ES: "Black Light". An amazing new album, a gothic rock journey with 15 turns, reflecting several emotions, influences and stories. How would you describe the new album? What is the concept behind "Black Light?
Ariel: I don't know if I can explain it as a single concept, but the core idea is that you as a person are not just one thing, one mood, one emotion; instead we're all made of contrasts and contradictions, there are even things we don't like to accept about ourselves, but there they are, we are flawed, we are corrupt, we are sad, we feel fear, we love, we laugh… all of that comes into the album, which is a bit about embracing all of those different parts of one self. So with that idea each song explores different emotions and thoughts.
ES: "Strangers" was the lead single of "Black Light" and one of the most powerful moments of the album. It came out along with a video on which you commented as "the happiest video you've ever made". However, having watched the video, I can say that there is a contrast in emotions along the video or the song itself. And I think "Strangers" is not that happy after all, since it describes a situation that someone needs to run and escape from his/her reality. Could you share with us some insights about "Strangers" and the feelings behind it?
Ariel: Well yes, the "happiest video we've ever made" thing is more like an inner joke, but to describe it more clearly, I would say this is a song about a happy moment that is not meant to last or that is just an illusion or a dream, something you can barely grasp while been hold back by a dark reality. The day I wrote that song I was literally laying on the sand by the sea with my significant other beside me and I remember thinking - this is it, I should stay here forever, in this moment - and then quickly realized than that is not possible, and that is the feeling the song talks about.
ES: "Emptiness" came out as the second single and video. Although quite different, music-wise, since there are more electronic and synth parts in it, the theme and video are expressing a sort of depressive emotion when someone is facing a difficult situation or even death. Would you like to tell us about "Emptiness"? Have you ever experienced a situation like this, in which you felt so close to "Emptiness"?
Ariel: There are moments where I have experienced what I can only describe as lack of empathy and enjoyment of any kind, moments when I feel like any sort of emotions are just ideas, but I can't really feel anything, this is a very scary thing when it happens, it may last for a couple of days and then goes away. Actually, I don't feel very comfortable speaking about that, but that is what the song is about. Then the video builds on top of that about how death is there at every step we take in all stages of life. Somehow both concepts blended well together in the video.
ES: "Black Light" is an album that can be characterized from its contrasts in many forms. Emotionally, lyrically, music-wise. There is a variety of influences and different elements in it, beautifully mixed. Would you consider "Black Light" as a form of experimentation in Ariel Maniki & The Black Halo's music horizons? Could this be a result of the strange period in which "Black Light" songs were written?
Ariel: To me the whole idea of the band itself is somehow about experimentation, and about pushing the limits just a tiny bit out of my own comfort zone. For example, our first album it wasn't intended to be an album in the first place, it was just a collection of different tracks I had been doing for studio gear, synths and plugins testing purposes, and then someone said: hey you should go out, play that stuff, and put all those tracks in a CD; and so I did. With Black Light I was consciously trying to go back to that place bringing a bit of the experience and skills acquired so far.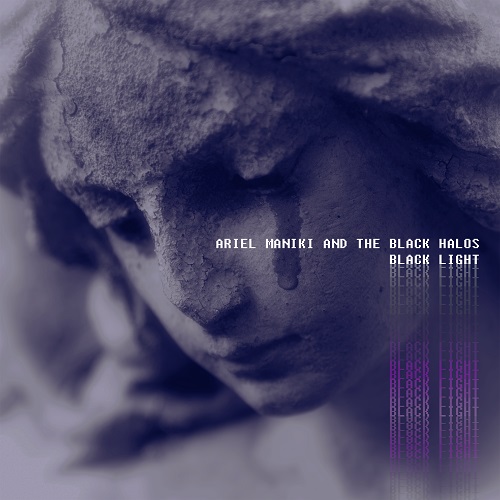 ES: It seems that in "Black Light" there are moments and touches from all members of the band, leading to this beautiful variation of sounds. Could you tell us some things about the processes followed while writing the album? Are there differences with the previous albums?
Ariel: Yes there are differences. In previous albums it was absolute dictatorship where I would record most of the parts myself or be a real pain in the butt for it to be exactly as I want it. In Black Light I still wrote the big majority but when it came to arrangements, I would bring my bandmates and have them come up with ideas or let them mess around until we find something we like. In general, we took the whole production with a more relaxed approach than in the past.
ES: I can't avoid speaking even more for the diversity between the 15 tracks of the album. I would refer, for example to the darkness of "Absence" or the haunted atmosphere of "Nine", where we, also find a collab with Nino Sable from Aeon Sable? How do you manage to blend those diversities into a 15 track goth rock album, keeping the listener on alert and making this album a non-stop listen from track 1 to 15?
Ariel: Well, I personally prefer listening to albums that are diverse and take risky turns from one song to the next, but I don't know what the secret is to make it work, maybe we are just lucky, and I know for a fact it doesn't work for every listener. I think we do have a defined underlying structure that is similar in all songs, like for instance the type of synth sounds we use or preferred guitar tone and effects; and then we stretch and shrink that structure as we want to touch on different emotions, playing with different styles and rhythms, while this structure helps the listener providing a sense of familiarity and continuity along the album.
ES: We referred to Nino Sable's contribution to "Nine" but there some other interesting contributions like the one in "Oh, Milena!" where we find the saxophone of Ashes Fallen frontman, James Perry. Can you tell us about the collaborations in "Black Light"?
Ariel: Sure, sometimes I just get to a point where I don't feel like I can provide what a song needs and there's where I look around for ideas that sometimes end up with collaborations. With "Oh Milena!" I had done a few takes for a guitar solo but I wasn't convinced, then one day I was on facebook and I stumbled with this lovely picture of James playing his Sax and something clicked in my head, what if we do a Sax solo? James accepted and next thing I knew he was sending me that beautiful recording. Then for "Nine" it was similar, I did this little piece all with synthesizers and I had no idea how to continue… should it be longer? Should this be just an intro? Or should I add vocals? And how? I just wasn't sure what to do, so I handed it over to Nino with whom I'm regularly in contact as we've been doing other stuff together, and he just did his magic. Just like that, I am really happy with the results of both songs, and I think they are too.
ES: After five full-length albums Ariel Maniki & The Black Halos can be considered as one of the bands that reflects the modern gothic rock sound. How do you feel about it? What is the feedback you have after these years of action? And what is coming next for Ariel Maniki & The Black Halos?
Ariel: Well, it's clear we are not coming out with anything new, all we do is taking little pieces out of the wide variety of music we like and smash them together. I am satisfied with the fact that we are not trying to replicate any other specific band's sound and people seem to notice that. This is a really good thing for some listeners and bad for others who advocate for 'proper gothic rock' only. Either way this is something I take pride in. Moving forward I guess we'll just keep on making improper gothic music.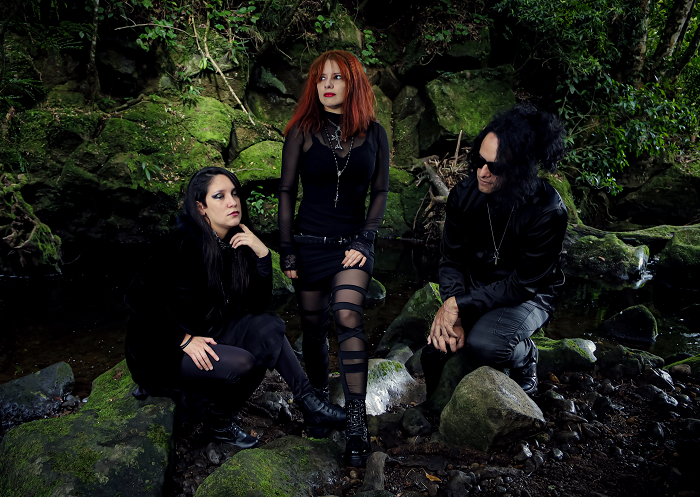 ES: We've seen that you love being on the road and tour with the band since you used to do so after every new release. And being on stage is one of the reasons that Ariel Maniki turned to full band. Are there any concerts coming up? Could you describe us how do you feel when you are on stage, performing live in front of your fans? Which are the strongest emotions?
Ariel: We hope to get back on the road and play some gigs when the time is right. We would love to play back in Europe and have a few alternatives already, but right now is not suitable as there are still bans and closed borders in some places due to the pandemic. And yes we do love touring, mostly because you get to know new places and venues and people, but to be honest I personally have a strange relationship with the stage and I get too stressed. Not nervous, but sometimes there is just too much going on to care about, or maybe I just care too much. Anyways, it is always a great thing to have the opportunity to perform in front of new audiences and we are definitely looking forward to it.
ES: The global pandemic situation led to the cancelation of every live concert around the world. Since, being on stage is one of your things how did this affect you as a band? Did you try to find other ways to interact with your fans? How would you say this situation affected the bands and their fans, negatively or positively?
Ariel: This is funny because in 2019 we decided that 2020 was going to be our little break, the deal was not recording, not gigs, nothing… but also I was supposed to focus 100% on the production of this little festival we do in Costa Rica where we bring bands from abroad, which of course was cancelled, and because of that change in plans we ended up making a live acoustic performance and releasing it as an album. So for us it was the other way around from having no plans to making the album "Live Under Will"; and then for the rest of 2020 we focused on what ended up being "Black Light ''. I guess every band has its own experience, but of course the most affected ones are those who have financial dependency on their music projects. We don't, if that was the case we would have starved to death years ago.
ES: I believe "Black Light", through all these we've discussed, is, perhaps, the most compact album of yours. Would you like to add anything else? A message to our readers and your fans?
Ariel: I loved doing this interview, and I just want to say a big fat THANK YOU to everyone supporting us, buying our stuff, promoting our music, working with us… every little bit of support means a lot to us, so thanks! Hope to see you soon
ES: Thank you very much for taking the time to talk with ElektroSpank. I wish you all the best and hope to see you soon on stage!
Info:
 https://arielmaniki.bandcamp.com/
https://www.facebook.com/ArielManikiMusic
https://www.instagram.com/arielmaniki_bh