Interviews
Details

Category:

Written by

Akill
 Cyborg Amok released their debut full length album "Cyborg Amok" last June and we talked about their music!
---
Gothic/Post-Punk duo, CYBORG AMOK have recently unleashed their debut, self-titled LP. The album covers conflict, hope, loss, betrayal, estrangement and depression, looming in the darkness on the fringe of the gray. CYBORG AMOK is Greg Bullock (synths/vocals) and Brydon Bullock (drums/vocals).
CYBORG AMOK resides somewhere between the brilliance of twilight and the apocalyptic darkness. Their gothic infused synth-rock sound delivers the listener to a panorama of synthetic waves, twisted organic tones and a slightly pop crust!
Their debut album is a compilation of two previously released Cyborg Amok EPs (Order Of Dis-Order and TOO). "Cyborg Amok" creates scenes of life experiences brought to life with the duo's compositions and writings and delivering soundscapes of melodic goth, post rock and post-punk riffs blended with psych synths and guitars.
We had a really interesting chat with Greg Bullock about Cyborg Amok and their debut album!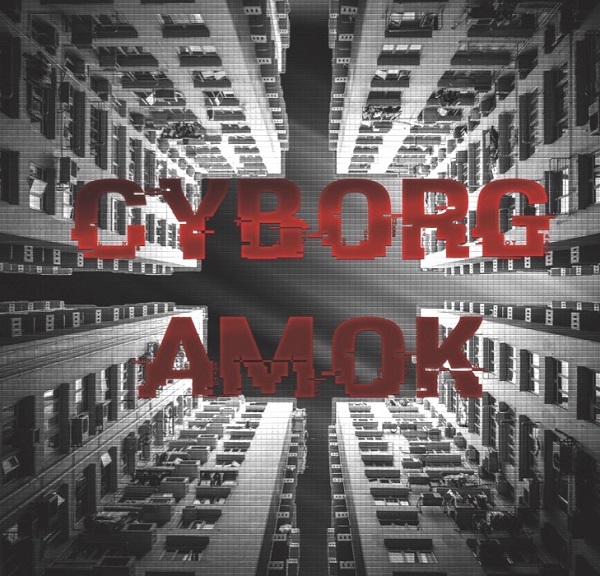 ES: Thanks for taking some time with Elektrospank today. We noticed on your Bandcamp page that you have some side-projects. Can you talk about the difference between Cyborg Amok and these?
CA: I have been producing my own music for some time in various solo projects. Umbra was an early moniker I would create releases as, and most recently I reverted to just using my own name. Cyborg Amok is a partnership where we have taken the songs I have available and approach them as a "live" band, as opposed to strictly using drum tracks and performing all the parts in the studio with my synth collection.
ES: Was there a reason you decided to delete the Eps and put them in both in a full-length album? How do you feel about going forward as some do, by issuing singles and EPS? Or do you think you'll lean toward full-length albums?
CA: The original incarnation of Cyborg Amok included Daniel Simoes as guitarist. We recorded four songs with Dan and released it as the "Order of DisOrder" EP. Then COVID hit. After Dan's departure Brydon and I continued recording music with studio guitarist JD McGibney (Angels In The Battlefield). We were looking for a more metal/industrial approach to guitar and JD nailed it. Brydon and I released it as the EP "TOO". In the end I decided that our music would be better presented as an LP of all 7 songs rather than the two EPs. As our own record label (GABWorx, llc.), we simply put the EPs out of circulation, then compiled "Cyborg Amok - Cyborg Amok" as an LP, and released it. I think it makes it much easier for fans to find our music now. They only have to search for one LP instead of two smaller EP releases.
In the future we are discussing releases as singles verses EPs or another LP. We have the songs in the catalog to create another LP and we have also talked about writing new Cyborg Amok music together from scratch. Brydon is much more on the page of releasing singles, even if they are part of an LP overall. I'm more old school and like to release complete projects. I suspect we will meet somewhere in the middle.
ES: Can you give us an "inside view" of your studio and what you use to create?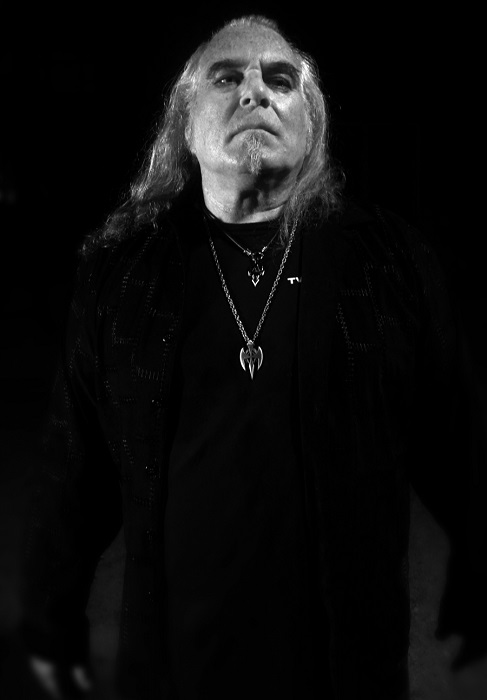 CA: My studio (GABWorx, Studio B) is a small hardware/software based writing studio that I have built up from a 4-track recorder many years ago, to the high end DAW set-up I have now. I use a lot of plug-ins while building songs I am writing. In our studio we have an electronic drum kit and an array of synthesizers to work out our arrangements, but initially I'll use sequencing and loops to develop a framework to a song idea. I add synth bass tracks, rough synth guitar tracks and some basic synth layers. Together, Brydon and I will go into an outside studio to record live drums and vocals. We have had studio guitarists take my basic guitar tracks and create them live, and Adam Vaccarelli who owns the studio we work in for the "live" vibe and my go to engineer, plays live bass on our tracks.
ES: The name Cyborg Amok brings to mind images of cyber or sci-fi photography or films. Are you influenced by a range of media for this project including sci-fi films or books?
CA: I can see how you'd relate our name to the sci-fi realm … the Terminator, etc. But interestingly the name comes from a conversation Brydon and I had at the dinner table one evening. I was reminiscing about my two knee replacements and a shoulder replacement a few years ago, and he commented that, I am a cyborg. We had been trying to come up with a name for the project, and "cyborg" seemed a good fit. Later on we added "amok", because at the time we were in very dark, out of control times with the state of the pandemic and the two words just clicked together. The significance regarding the name is that the music is in many ways dark and apocalyptic, while combining both electronic and organic elements in its makeup.
ES: You have a pretty intriguing video for "Another Turn" on your page. What can you tell us about that?
CA: At the time of the release of our first EP, we needed a video to put out for one of our songs. I chose Another Turn and sat down with the computer to create something that would represent what I thought the songs was trying to say. For me, the song came from retrospect of a darkness and resilience. I'll leave the interpretation up to the viewer.
ES: You have a track called "Dancing on the Floor of the Sea of Tranquility." What's the idea behind that song?
CA: I was working in the studio one night in 2006. I got a phone call from my dad to tell me that he had just been diagnosed with cancer. I immediately dealt with my emotions by writing a song about how I was feeling about the news. A song about what I thought I would feel if the worst outcome were to come to fruition. Which it did in fact. The follow-up song is Beyond Me which I wrote post bereavement.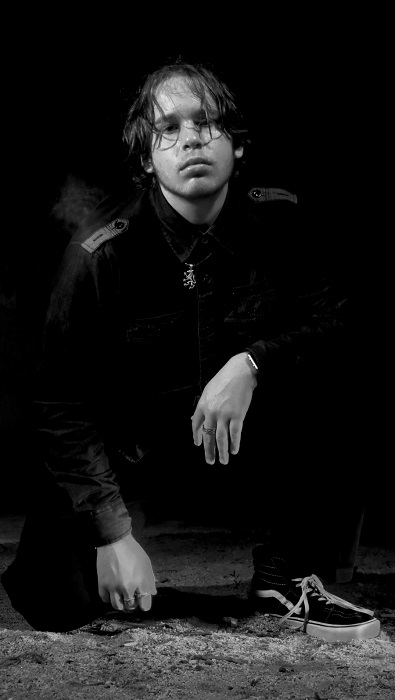 ES: The pandemic has left a lot of opposites between individuals and society. In other words, there have been some very positive and very negative things coming to the surface. How do you think if has affected you both positively and negatively?
CA: Negatively, I am most surprised at the divisions between factions of our society. That aspect has been quite disappointing. On the positive side, I have seen so many people step up and help each other under the most insidious conditions. Humans being human. That's promising.
ES: Let's talk about the creative process. How, typically is a Cyborg Amok song constructed? Is most of it written on the spot? Lyrics or music first? A melody in your head perhaps?
CA: Part of this question I answered in an earlier question, so to expand on that … most commonly the music comes first. Usually I'll find a chord progression or a riff that I like, lay down a basic arrangement of ideas, and build up layers from there. I'll start thinking about lyrics as I'm feeling the mood of the song. Themes come to mind and I'll try and find phrases that work for the choruses, then I'll go in and tell the story with the verses. Sometimes I'll build a bridge to add to the interest of the overall song. I don't consider myself a great singer. My vocal melodies are very basic, but that works for our music. Once I feel the song has it's basic framework, Brydon and I massage it until we are ready to take it to the final stages and do our "live" recordings.
ES: What's next for Cyborg Amok?
CA: For the remainder of 2021 we are rehearsing our live show and planning on doing some shows to present our music to a live audience. In 2022, we are looking at doing more shows, as well as, recording and releasing more music. Whether we release the songs as singles, or in a complete project, remains to be worked out. We have a fairly deep collection of songs we have not recorded yet, so doing another recording project is inevitable.
ES: Thanks for your time.
CA: You're welcome … And, thank you for talking with us.
Info:
https://gabworxllc.bandcamp.com/ 
https://www.facebook.com/CyborgAmok