Interviews
Details

Category:

Written by

Akill
"Prince of Darkness" comes through as a haunted story: dancing in the moonlight, under old school gothic rock riffs and emotions! Black Angel unveils the secrets behind their new album!
---
Black Angel is a band that gives a new freshness to goth rock. The band is back with their third full length album, "Prince Of darkness" and it sounds even more mature and builds a strong gothic rock ambience. If you haven't already listened to "Prince Of Darkness" I suggest you do so right away, while reading the insights of the album, as Blank Angel describes it in our beautiful conversation.
"Prince Of Darkness" was created to make you feel like you are in a story coming out from a film that combines elements from well-known vampire movies like "Dracula", "Interview with A Vampire" or "Underworld". It is being built with a sense of actually being in a theater including the "Intro", the "Interlude" and the "Outro".  It is a gothic rock novel which evolves sometime in the 10th century. While the Prince Of Darkness causes chaos, he is also expressing strong love emotions to the woman he loves.
"Prince Of Darkness" stands among the exceptional gothic rock albums with its feel of old school gothic rock bands, sharp guitar riffs, strong basslines and melodies, mostly in an up-tempo goth mood. The album and band are obviously Influenced by 80s dark, goth rock icons like The Cult, Gene Loves Jezebel or, I would dare to say, The Mission.
ElektroSpank speaks with Black Angel about "Prince Of Darkness" and the stories behind it.
ES: We understand that the new album is 'Prince of Darkness.'  What can you tell us about the story behind this title?
BA: This was an interesting album to do for sure. I have been a avid film buff for many years and I I've worked in the film industry for the last 30 years so I am always influenced by things I've watched, - recently I was watching the Underworld vampire series and also Monty Pythons Holy Grail -  I thought wouldn't it be a cool idea to have a vampire set in old England in 932 A.D. it kind of transpired from there.  I think it's really important to have a story and not just a collection of songs, it should be a journey from the beginning of side A to the end of side B.
ES: Regarding the Intro and Outro to the album, indeed they are very intriguing.  Can you tell us more about them and how you recorded?
BA: For sure, this was the first time I've actually tried this, I always firmly believe that an album, especially when it's on vinyl is a journey, one  that starts at beginning of Side A and continues to the end of Side B -  so this album I thought it would be cool to introduce the album, have an interlude where the listener can take a quick break and then to have a track to sum up the story of our protagonist. I guess in the way this album is may be inspired by a more theatrical feel, maybe more like a musical, I wanted to there to be a story thread throughout the whole record. Essentially it was pretty easy to do, I had a couple of tracks that weren't gonna make it on the album as full length tracks so I use those as the instrumentation and then wrote some passages that I had Corey record, he has the perfect voice and timbre for the record as he is also a great actor so to have him to turn on this type of performance was easy for him I'm sure. I think it worked out really well and gives it a more unique feel the album.
ES: "My Love" is a track on the new record and has a little different feel than some of the others.  What's this one about and how does it relate to the story?
BA: Good catch, it does, on every album I try to dedicate one of the songs to my wife Catherine, so in this case 'my love' was the one, in fact it wasn't called my love when I started. I still think it has that goth vibe but I think it lands a little bit more to filmic score type songs, I hope people like it, the reaction so far to it has been really strong and we are going to release a video for it in August when we pre-release our blood red vinyl on August 16th.
ES: What came first on 'Prince of Darkness'..  the lyrics, theme/story or the music?  And is that the usual process?


BA: Started with the same, it normally does, I decide on the direction of the songs, they are all going to be Gothic rock in some form but some are going to be more up-tempo and some are going to be more intricate, if I can pull that out of the bag:)
A process starts with and always has the music, I need to create a guitar or bass riff that gets me excited. Once I've written something I'll come back to it in a few days time and if I'm not instantly drawn to it and wonder how and where did that come from I will normally junk it and start again - I need to surprise myself or at least be surprised and wonder who is that and where did it come from. The last stage of the process is the lyrics, on our first album 'the widow' I would ask other writers to collaborate on the lyrics and vocal melodies, and then for 'kiss of death' there were just a few songs that I collaborated on with other writers and then for this latest album Prince a Darkness I did everything myself. I think my lyric writing and vocal melody composition is getting stronger and I'm actually now enjoying the process rather than dreading it.
ES: "Secretly" might be a favorite of ours on the record.  What can you tell us specifically about this track?
BA: I guess if anything specific needed to be really special with the music, Siouxsie and the Banshees are one of my favorite bands and one of the most clever but simple guitar riffs in Gothic music history is for sure they're song  'Happy House'. I didn't want to copy it but I wanted and was for sure influenced by it and I just wanted to come up with something really clever, I didn't achieve that, but, it got me into this song and then turned into what is the track you hear now.
I'm really glad you guys like it too, it's definitely one of my favorites.
ES: How do you feel the new album is a progression from your earlier works?
BA: Every album in my opinion gets stronger musically, I'm always learning, experiencing new things, and hopefully becoming a better producer, that part of it is really important for me. And a better write too hopefully:) after our second album "Kiss of Death" the pressure was really on to come out with something that was better than that album, I'm not sure if this one is better I definitely think it's equal to it though. I never put out a product I'm not 100% behind so it would be  interesting to see if other people thought there was progression in the albums?
ES: We hear a little influence in your music with the likes of Adam and the Ants and perhaps Gene Loves Jezebel.  Is this accurate?  What others do you credit for your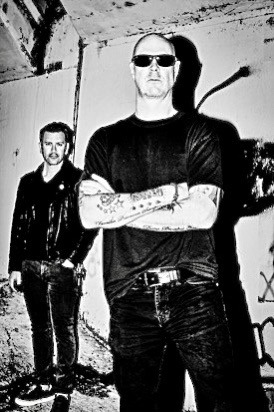 earliest influences?
BA: That's interesting that you hear Adam And the Ants! I've not heard that one before, I'm a total fan though, my first ever vinyl album was kings of the wild frontier, I still have it, it's a great album. Gene Loves Jezebel for sure - there is a track on the album called 'Serene' that one is definitely a nod to those guys, their  80s track 'Desire' is and was a huge favorite for many many years. I guess the staple influences for me are the Sisters of Mercy, Siouxsie and the Banshees, Bauhaus , the Damned and of course The Cult, they are probably my favorite. Those records they produce sound just as fresh today as they did back then and no one has come even close to producing what those guys did.
ES: Are you involved in any other projects or is Black Angel your only one?
BA: Are used to have a bunch but kind of got dismayed with the whole thing-  I was writing and producing music for the wrong reasons, I started Black Angel and found contentment in my music making process, I'm a very creative person and I need to be well, creating, all the time and with Black Angel I promised myself that the only person I needed to make happy would be me-  and thankfully it is making me happy and lots of other people too.
ES: Do you feel your music requires more introspection or is it more influenced by the world as you interpret it outside of your own?
BA: I'll be honest, it's not that deep! I started Black Angel as I wanted to re-create that feeling for other people as I did when I used to go to goth clubs in the UK in the 80s, there's no better feeling than hearing the start of a song, loud, in a club -  and you just want to run to the dance floor and jump up and down, that's all I wanted to do with this project. Now that the clubs have opened up a few very nice folks have been sending me videos of people dancing to our songs in those clubs, there's no greater feeling I can tell you that 100%.
ES: What do you want Black Angel to be remembered for many years into the future?  
BA: That's a very good last question, ideally I'd like black angel to be remembered as a band that tried to continue the 80s Gothic rock sound with a new fresh approach to it, that is going to be my plan anyway, whether that works, I'm not sure just yet, right now I think we are not even close to being worthy of that music - but - for sure music is very subjective and who knows what the future holds, watch this space!
Info:
https://blackangelmusic.bandcamp.com/album/prince-of-darkness-2
https://blackangelmusic.bandcamp.com/
https://www.blackangelmusic.com/
https://www.facebook.com/blkangelmusic/
https://www.instagram.com/black_angel_music/
https://www.youtube.com/channel/UCWoe99Wj7W59OPb9pUJQtbQ