Interviews
Details

Category:

Written by

Akill
Statiqbloom is the line where early industrial and EBM tunes are combined with haunting atmosphere and vocals.
---
2020 is a year that has been really strange for everyone and especially for those who live in the art and music. However, there are bands like Statiqbloom, which despite all the difficulties, they have offered to the dark wave, dark electro lovers an amazing album, an album which will definitely will be among the best industrial albums of the year. "Beneath the Whelm" was released in July 2020 and it is an in industrial album where someone will find the grittiness of old school electronics and industrial, perfectly bound with hard beats and disorienting vocals to create pulsing raw post-Industrial electronics.
Statiqbloom started back in 2013 as the solo project of Fade Kainer (words, voice, electronics), while in 2016 Denman C Anderson (electronics, backing voice) joined Fade. We had the chance to have had a really interesting chat with Statiqbloom about their last album, the music, the past, the present and the future...
ES: Hello Statiqbloom. I'd like to thank you for this interview. Before going into the details for the band and your last album, would you like to introduce yourselves to the fans and to our readers?
A: Hello! I'm Fade from STATIQBLOOM.

ES: Well, a new album this year. "Beneath the Whelm" released last July. Can you tell us some things about the album?
A: I'm happy with this new album , it was an opportunity to explore some new territories for Statiqbloom ,I feel the album is more a vulnerable in a lot of areas than previous records. i feel i allowed myself to be a little more naked with the vocals. and allow more space in the music for the heaviness to live .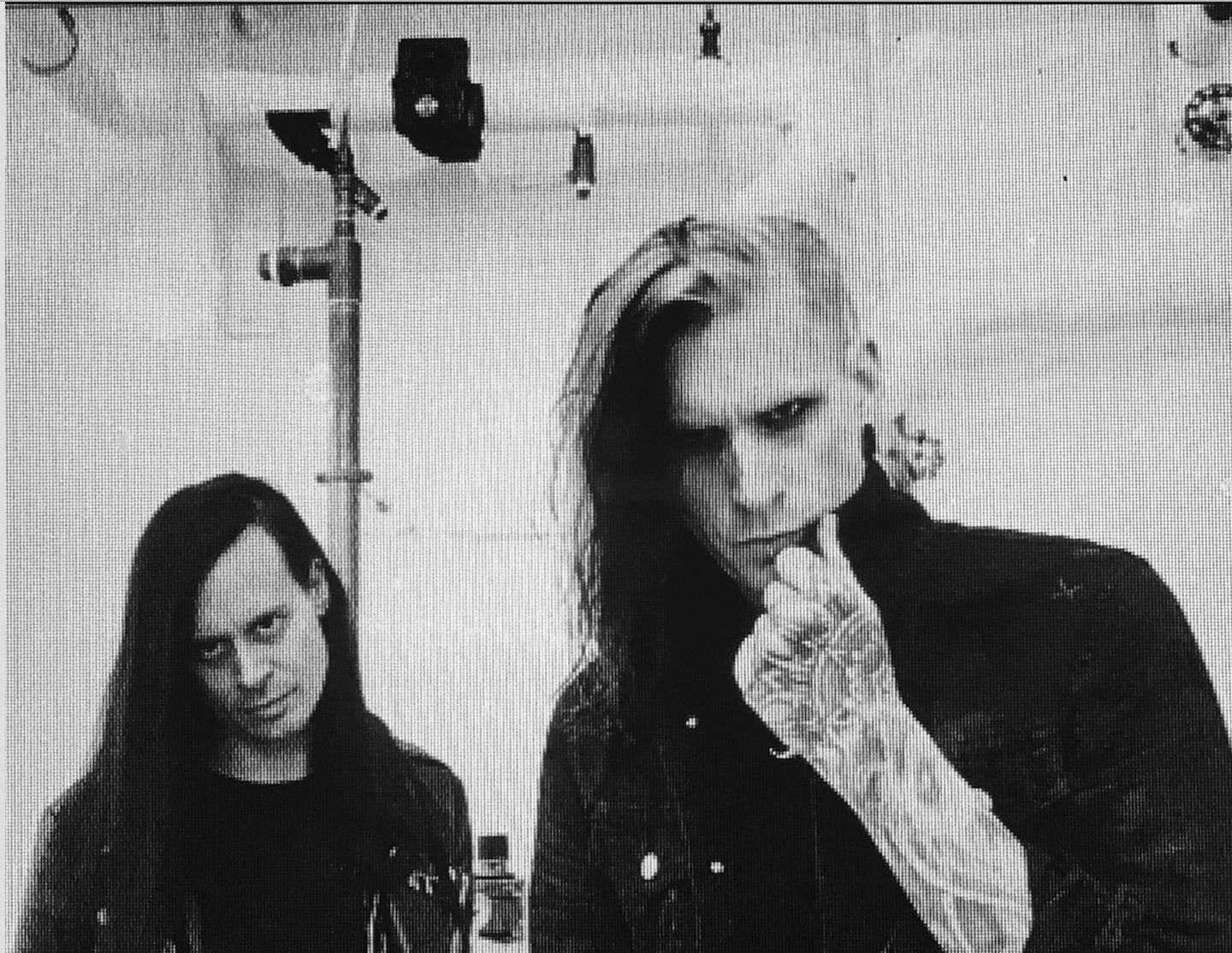 ES: What is the concept behind "Beneath the Whelm"? Were there any specific facts that affected you while writing the album?
A: I was dealing with a lot of Death while writing the album , The death of my father and a love relationship . i was not close with my Father so there where a lot of feelings that came after his death that I was not prepared to deal with a lot of it was confusing on how to process , and then there is the heartache of a relationship dissolving and you don't have control of the situation and you have to accept all the feelings its like a big mirror being put in front of your face a lot of the time. and asking a lot of questions that may never have answers. i think writing music is a big way i process my life and feelings.

ES: Lyric-wise, "Beneath the Whelm" gives the sense of some strong emotional stories with a touch of desperation in many aspects? Which were your inspirations while writing the lyrics?
A: Relationships ending and saying goodbye to things and people , dealing with all the letting go, and self reflection looking at all the death and having realizations on how fragile everything can be sometimes .

ES: "Beneath the Whelm" came almost a year after your previous album "Asphyxia" which was greatly received by both media and fans. Was this a motivation to continue writing and composing? Which would you say are the main differences or similarities between the two albums?
A: I am very grateful for the the good reception that "Asphyxia" received , but making and releasing music is not influenced by good or bad reception , its a basic need for me to do , its like Breathing for me. I'm constantly writing music and making art it just part of my DNA its a physical need for me to express myself , im not asgood at expressing things and feelings in conversational words . as a child i built alot of walls around me for protection , so it's much easier to express myself with music or images .

ES: To me, "Beneath the Whelm", is even darker and mystic than "Asphyxia" and, of course, than your earlier works? Would you say that this style fits better to you and in what you represent and want to express? Any favourite moment out of "Beneath the Whelm?
A: Yes I can Agree with that , yes I think there is a lot of Darkness in me and I feel expressing it is constructive not destructive . its hard for me to pick a favorite moment on the record , it changes often i guess because I'm too close to it it's part of me , and sometimes you appreciate different parts of yourself more than others and sometimes it's uncomfortable to look at. I tend not to listen to my own music unless I'm performing it.
ES: During these years that you create music, which are the main influences music-wise and where do you get your inspiration from lyric-wise?
A: I have so many music influences. I love so many types of music , most of it is on the dark or sad emotional side or its very percussive textural music . I get influenced a lot by film scores or even strange sounds and drones coming from machinery on the city street. it could be anything that invokes a mood in me . as for lyrics this album is probably the most non abstract lyrical approach I've had. I think that is a part of trying to be more vulnerable with this record . I tend to really like things that are vague and abstract or cutup things that can have 2 meanings. I find it interesting when the reader can make their own meanings. I'm into a lot of poetry. Sylvia Plath is one of my favorites.

ES: Which are the bands and artists that you used to listen to, when you were young, and made you think that, in the future, you will write and create that kind of music?
A: Christian Death , Skinny Puppy , Coil, Autechre , Aphex Twin , Tear Garden ,Cocteau Twins , Sisters of Mercy , Ministry

ES: 2020 has been a very difficult and strange year for everyone involved with the music industry. How much, do you think, this has affected you as Statiqbloom, and other bands, musicians or labels, in general?
A: it has been very Difficult , I had to give up my apartment in Brooklyn , i'm currently in the UK looking to move to Germany hopefully soon , I'm high risk for covid with a lung condition i was born with so these are scary times. I've done some live stream shows which were very strange and awkward, its a new way to perform and i will probably get more comfortable with it , but it is not at all a substitute for playing a show . I've been doing a lot of remixes for people and working on new music , I've also made a music video myself for the track "Restless" off the new record, which was a learning experience and i find making video stuff very interesting and rewarding.

ES: What would you say will be the future consequences of the situation we are living into this period?
A: I hoped it would makes people come together more and in a lot of ways it has , i don't know if its made the pendulum swing farther to each side opening or closing people's hearts , it's hard to see so much hate and separation and insanity grow from the pandemic with people being isolated and afraid. i know for myself it's made me much more grateful for the people and things i have in my life .

ES: What would you want the future to bring for Statiqbloom? Which are the next steps for you?
A: Keep exploring , creating ,pushing myself to new levels , hopefully what i do touches people, I'm working on some Hard industrial influenced techno tracks , maybe an EP we will see .

ES: Closing this really interesting chat, is there anything else that you would like to add and say to your friends and fans?
A: to everyone reading this and listening to Statiqbloom , thank you so much! thanks for your support and time! be good to each other!
Info:
https://www.facebook.com/statiqbloom/
https://statiqbloom.bandcamp.com/album/beneath-the-whelm
https://statiqbloom.bandcamp.com/
https://twitter.com/statiqbloom
https://www.instagram.com/statiqbloom
https://www.youtube.com/channel/UCAqdAgeaYaXZUN8X32Eu4DA