Interviews
Details

Category:

Written by

Akill
Blackline, the project featuring Douglas J. McCarthy and Bon Harris of Nitzer Ebb, music producer and engineer Cyrusrex (Cyrus M.) and Ken "hiwatt" Marshall, music producer, engineer and composer, from Skinny Puppy!
---
Last November, Blackline, the music project of Nitzer Ebb's members, Douglas J. McCarthy and Bon Harris, Cyrusrex and Ken "hiwatt" Marshall (Skinny puppy) released their second EP "Layers", taken from their full length album, "Treason, Sedition, and Subversive Activities".
Being one of the most powerful tracks of the album "Layers" was chosen to be the new release, including the original version along with three unique remixes. 
Blackline creates a soundscape with elements taken both from the EBM styles and the electronic music views of its members. All of them, with great experience in the genre, they join their inspiration and music ideas under the Blackline collective.
On the occasion of the latest EP release, "Layers:, we had a really interesting conversation with the members of Blackline.
ES: Hello Black Line. Although I am sure many of our readers know you, would you like to introduce yourselves and Black Line? Could you give us some words on the idea behind the project?
Bon Harris: I'm Bon Harris. I'm founder member of Nitzer Ebb and Maven, producer for artists such as Marilyn Manson, Billy Corgan/Smashing Pumpkins. I also am a remixer, film composer, sound design teacher and animator. When I started with Black Line, the idea was to expand the previous project from Cyrus and Douglas into a larger collaboration including various artists. The result was Black Line.
Ken "Hiwatt" Marshall: Hi, I'm Ken 'hiwatt' Marshall, member and co-producer of Black Line.
Cyrus M.: Cyrus here, initially met Douglas about 10 years ago, started working together the first day we met and its been nothing but fun since. Black Line evolved out of DJM/REX, and became a new venture when we realized we couldn't add everyones initials who were collaborating on new material to DJM/REX… The project ended up having a lot of talented people working on it, but at this point the core team is Douglas, Ken, Bon, myself and Brad helping when he has time.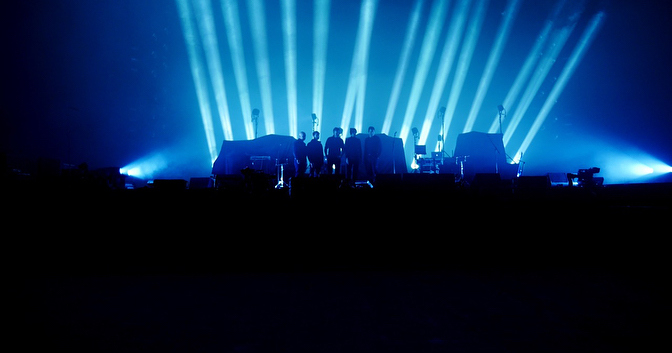 ES: Douglas and Bon have been working together for a really long time now. How did you meet Cyrusrex and when did you decide to form Black Line?
BH: I met Cyrus at a modular synth event in LA. He invited me down to his studio the next day. Douglas and Cyrus has been working together as DJMrex, and Douglas came over and we all sit at the kitchen table, drank a lot of whiskey and talked about music and synths.
KHM: I met Cyrusrex through mutual friend and colleague cEvin key (Skinny Puppy). Soon after, Cyrus and Douglas invited me to mix and produce DJMrex as a band member, which ultimately morphed into the project Black Line. With Bon Harris officially in the mix, the 'project' sort of turned into a band ;-)
CM: I originally met Douglas thru a mutual friend who noticed we lived down the street from one another, and forced us to talk. After flaking for about a year or two we finally met up over a lot of tequila. It's been a fun adventure bringing all of our mutual friends into the party/project.
ES: Although, the references to Nitzer Ebb influences cannot be ignored what would you say Black Line sounds like? Is it a mixture of Bon's and Douglas's EBM history and the electronic music of Cyrus?
BH: It's an amalgamation of many different artists. As a result it's a more layered and perhaps more complex sound. I'd say also more polished production given the sonic depth of the songs. Musically the final sound is much more driven by other collaborators, such as Ken and Cyrus.
KHM: Black Line members Douglas, Cyrus, Bon and myself share a rich history of electronic music production. The cumulative effect of this combined experience is what I hear in Black Line, and I feel Douglas's lyrics and delivery are some of his best ever. Like so many 'veteran' artists I'm honoured to work with, Douglas has been up to this for so many years he's obviously figured a few things out, and as a producer, I hear how much effort and experience goes into a song like 'Sedition'. It's incredible, and I'm so proud to be a part of it all ;-))
CM: I think its hard to escape NE being a comparable, but I don't see much in common other than the vocals, two beautiful people, and being synth based. I wish I could take credit to the complexity added, but that really came down to having a lot of talented people putting in a ton of hard work. Realistically I acted more as the conductor and bartender on a lot of it.
ES: The new EP, "Layers" is out now. Can you tell us something about it? Why did you choose this song as the second release to be taken from the album?
BH: We wanted to keep momentum and new music coming whilst developing new material for a subsequent album. Layers lends itself well to remixing - it's a good tempo, had a great lead vocal, and a lot of great musical parts to work with. A strong track that lends itself well to alternate versions.
KHM: I really love the remixers contributions, both Annie Hall and Silent Servant introduce their own unique flavour to 'Layers'! I had a blast remixing this one with Bon as well...I swear I learn new stuff every time I work with Bon! He's a brilliant musician and band mate ;-)
ES: On this EP I can hear some really interesting versions of the title song. How did these collaborations (remixes) come to fruition?
BH: Collaboration is at the heart of the Black Line approach. It felt right to reach out to artists we admire and see what they would make of the track. The results have been excellent.
KHM: For our remix, Bon was actually on tour with Ebb and somehow found the bandwidth to create a massive (and very cool) jam of Layers. He sent me his multitrack and I jumped in from there, it was a very fun remix to construct with so many 'layers' Bon provided hahah! There's a fun story about the intro of that remix on the session 'Remixing Exposed' on my YouTube channel https://youtu.be/i3m6CnW1-hk
ES: It has been two years since the release of the "Treason, Sedition, and Subversive Activities" full length album. Is there a second full length album in your plans? Any new material coming up?
BH: New material is for sure firmly in our plans. What form that will take remains to be seen. There are a lot of options in today's music industry as to how to release new music. We are due to get together for writing sessions ASAP after various touring commitments are complete.
KHM: Looking very forward to new material. We have a few ideas on the desk, and it seems our schedules are aligning in 2020!
CM: We've all been extremely busy on personal projects, and work outside of Black Line since we left tour together. I'm really looking forward to making a follow up that surprises and confuses everyone.
ES: Why the name Black Line? And what is the concept behind the lyrics?
BH: I'll defer to Doug, Cyrus and Ken on those questions. They tell that story better than I.
CM: A lot of complaining prolly.
ES: I think Black Line is a project that definitely goes a lot further than the limits of the electro-industrial, EBM borders. Where would you like to see Black Line in the future?
BH: Playing live more would be great. Enhanced live shows with expanded visuals would be ideal, and to continue to push and blur boundaries of musical genres. I dislike genres in general. We happen to make good music with electronics. I'd like to continue that.
KHM: I totally agree ;-) Moving forward with this particular collaboration is very exciting for me, both musically and personally. We've shared some amazing experiences, and I look forward to many more!
CM: A series of fresh new music releases coupled with live shows that are much more captivating visually and more of an experience than a band just on stage preforming off the record.
ES: I am really happy to have spoken with you. Any last words? Something you would like to share with our readers?
BH: I'd like to thank people for the continued support and interest. We are looking forward to getting together to bring some new Black Line music to our superb audience.
Cheers.
Info:
https://www.facebook.com/BlackLineProject/
https://black-line.bandcamp.com/