Interviews
Details

Category:

Written by

Akill
NØIR is the dark music act / band of Athan Maroulis, the man who's name is linked with major dark wave, industrial bands, like Spahn Ranch and  Black Tape For A Blue Girl!
---
I consider myself really lucky and honored since the day this man started following ElektroSpank | FMA and a form of collaboration begun.  Athan Maroulis is one of these men who had helped the dark underground music industry to grow bigger, and still does. With an enviable music history and background as a member in some of the most influential dark music bands, Mr. Maroulis has created his new music project, NØIR, with which he creates the music he had always wanted to.
Although NØIR is a dark electro project, this description cannot hold all these NØIR is expressing, creating music including a huge variety of elements and influences. NØIR creates a sophisticated brand of mature dark electronic music led by the croon of vocalist Athan Maroulis and features programmer/producer Erik Gustafson keyboardist/vocalist Kai Irina Hahn, keyboardist/vocalist Demetra Songs and cello by Tracey Moth.
NØIR released their latest EP, "A Pleasure", in November 2018, and received really great feedback and comments. A dark electronic EP, containing two new songs, "A Pleasure To Burn" and "Luxury",  as well as a cover of Fad Gadget's groundbreaking "Back To Nature". Additionally, in the "A Pleasure" we find two interesting and so different remixes of the "A Pleasure To Burn".
I had the pleasure to talk about all these things around NØIR, their music, Athan Maroulis's influences in all those years of music and his point of view to new music things. A really interesting conversation with interesting words said, among many other things we 've discussed within our text messages, all these months.
ES: Hello NØIR. Although Athan's name is really known to the underground electro, dark, industrial scene (Fahrenheit 451, Spahn Ranch, Black Tape For A Blue Girl), would you like to introduce the other members of NOIR to our readers?
Athan Maroulis: Both Demetra Songs and Kai Irina Hahn play keyboards and sing backing vocals in the band, Kai is also the leader of the band The Sedona Effect. Erik Gustafson is a studio member of the band and handles programming, guitars and production, Erik is also the leader of Adoration Destroyed and is also a member of Grendel.
ES: NØIR formed back in 2012, a long time after the break with Spahn Ranch and a while after the Black Tape For A Blue Girl era. Can you tell us which factors drew you to create NØIR?
AM: Black Tape For A Blue Girl would regularly go through long periods of inactivity between releases and tours. During one such stretch, I wanted to remain active, so I took my first steps towards what would later become NØIR. At first, I planned that NØIR would merely release a few singles then implode, when Metropolis Records took notice it suddenly became a real entity. After my tenure in Black Tape for a Blue Girl ended, it prompted me to put all of my attention into NØIR and it has been that way ever since. As it turned out, my final recording with Black Tape was an interpretation of "Forbidden Colours" originally recorded by David Sylvian and Ryuichi Sakamoto. Over the span of the six releases, NØIR has ultimately become a catch-all forum with no definitive expiration date that enables me to surround myself with talented people and try to make diverse music without any definitive rules.
ES: Which would you say are the main influences and stimuli behind NØIR? One could distinguish both Spahn Ranch and Black Tape For A Blue Girl elements in NØIR's sound.
AM: NØIR has gone through a few stylistic changes during the past 7 years, yet I think that is healthy. In many ways, NØIR is a merger of the varied electronics of Spahn Ranch along with a touch of the ambiance and string heavy balladry of Black Tape for a Blue Girl. Although my time in the Post-Punk Era with Fahrenheit 451 and Executive Slacks have had an impact on NØIR as well. I've spent most of my days walking the wire between the worlds of Goth and Industrial along with all of their alternate names and the splintered scenes of Post-Punk, Wave, Darkwave, Cold Wave, Industrial Metal, Ethereal and so on, these days they are all a part of the different weapons in the arsenal of NØIR.
My original goal for NØIR was to make dark-hued music with an absurdist dramatic unisex live presentation that would be solicited to an adult audience that has grown tired of shock value juvenilia and cliché clone bands. The influences of NØIR are many with Bowie, The Psychedelic Furs, Japan, Roxy Music, Bauhaus, Visage, Fad Gadget, Numan colliding with crooners like Sinatra, Al Bowlly, Russ Columbo, Billy Eckstine, Nat Cole and adding things like Elvis, Billie Holiday, old radio plays, Edgar Allan Poe and Marlene Dietrich into the mix. Add to it my obsession with films from the 1930s to the 1970s along with a few Twilight Zone scripts and it all melts together into NØIR. In all of my years of doing this, I've finally reached the point where I can merge all of this into being part of the performance as well as the recordings. After all, the best part of maturing is caring less what people think and doing more of what you want.
ES: Coming back to present days, NØIR just released a new EP, "A Pleasure" with Metropolis Records? Can you tell us something about this EP?
AM: "A Pleasure" took a lot longer to complete than I originally intended. I've never been a very prolific writer in my career, lyrics and music often go through lengthy rewrites and updates. In fact, I now favor putting songs aside for months and going back to them later. The last three titles "The Burning Bridge," "Reburning" and "A Pleasure" were completed with Erik Gustafson, who I have been working with since 2015. With Erik based in Austin, Texas and me in NYC, we do much of the writing by mail although I do travel to Austin about once a year to collaborate with him. Hence, we must make the most of what little time we have. The recent process has found Erik and I completing then stockpiling a few songs, perhaps even cutting a few cover songs as well, we then let them ferment before the concept behind a release forms around them. Eventually, songs are selected that make sense together. I have grown fond of what I consider to be a true EP, a few original songs, perhaps a cover song and a few remixes. We completed the song "A Pleasure to Burn" a few years ago, the remixes followed, yet I waited for something special to complete the release and it came in the form of the song "Luxury." I decided to add the Fad Gadget song to "A Pleasure" partly because I thought it fit well with the dystopian direction of the EP as well as the fact that it was originally part of a tribute collection that very few people heard. In some ways, I tried to sculpt the EP as a balanced and versatile screenshot of what NØIR is about while also giving the listener more angles than the one-dimensionality of a mere single. In a sense, taking the same approach to the EP that I would to do a full album. Since "A Pleasure" took a few years to assemble it involved a large cast of contributors such as Jean-Marc Lederman who co-wrote "Luxury," cellist Tracey Moth, engineer Xris Smack along with Seeming, FIRES, Kai, Erik and myself. Even the artwork, which included the efforts of my friend and graphic designer Martine Rothstein. Martine and I, labored over the graphics and the black and white cover connects to my first release with Fahrenheit 451 many years ago, which was also in black and white.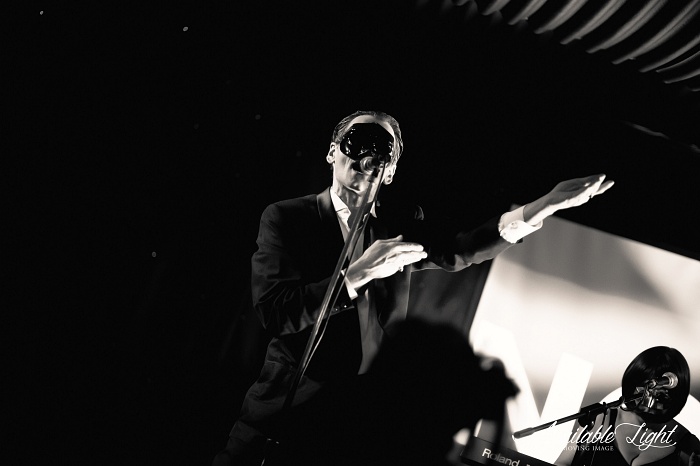 ES: "A Pleasure" comes 2 years after "Reburning" EP with two new songs and some really interesting remixes from two very different bands, FIRES and Seeming? How did you choose those remixes? Could be this another characteristics of the industrial and gothic mixture of NOIR's sound?
AM: With "A Pleasure" I decided to make the remixes part of the new EP yet not the main focus, allowing some room to balance them with a sampling of other fresh material as well. I was rather pleased with both FIRES and Seeming mixes immediately, both are very different from each other and work well within the context of the new EP. I have worked with FIRES on a few things over the years and their mix came in first. Later, I asked Alex Reed of Seeming to do a mix, he and I have known each other for many years and I admire his work. We recently performed together at a fantastic event in Pittsburgh called Moving Shadows.
ES: In "A Pleasure" we find the two new songs, "A Pleasure to Burn" and "Luxury" and a beautiful cover of Fad Gadget's "Back to Nature"? Could you tell us the story and idea behind the new songs?
AM: I was a bit distraught after our last Presidential election, it stayed with me for a long while. One evening I was watching the dismal television news before changing the channel and falling asleep. I woke up in the middle of the night to Truffaut's 1966 film "Fahrenheit 451" with Julie Christie's captivating blue eyes looking at me from the television. It was a very calming site yet I thought I was dreaming. The lyrics to "A Pleasure to Burn" emanate from that experience, the title is also the very first line from the original Bradbury book. My life has always been a full-circle experience, decades melt away and people, places, events and things seem very vivid and intertwined in my life. Since I named my first band Fahrenheit 451 and the cover of first EP release was also in black and white much like "A Pleasure," it all seemed rather fitting that the actual Fahrenheit 451 references on "A Pleasure" connected both releases through the decades that separate them.
"Luxury" is indirectly a song about New York City and the touting of luxury housing (and the cheapening of the word) across the city. NYC is beginning to look and feel like a finite generic Dubai, countered by the generic types of vapid privileged people that flock there. "Luxury" was co-written by Jean-Marc Lederman, he and I worked on some demos together that I ultimately thought would make for an ideal NØIR song. Erik did a delightful job rearranging, adding a shoegaze meets Roxy/Psych Furs guitar part. We then built a nice bridge in the song, Kai cut a quiet yet effective vocal while Tracey weaved a very sensuous cello passage throughout.
ES: Would you like to tell us why did you choose to make that cover from Fad Gadget? A pioneer in the underground electronic music. Do you feel that he has an impact to your music throughout the years and more specific to NØIR's sound?
AM: Oddly enough, I have a strange connection to Frank Tovey of Fad Gadget. I was contacted by his label Mute to book a U.S. tour for him, just as I began working on the dates, Frank passed away from a heart attack at the age of 45. Later, I was asked to contribute to a "Under What Flag (A Tribute To Fad Gadget)," I decided to cut "Back to Nature." I really liked the results, later it just seemed to fit on "A Pleasure," where it brought a taste of something harder and slightly more abrasive to the EP. Tovey had a knack for writing interesting surrealistic lyrics with catchy phrasing backed by pioneering sharp electronics.
ES: Behind "Luxury" there is another great contribution and co-operation, that of Jean-Marc Lederman. Could you tell us something about this?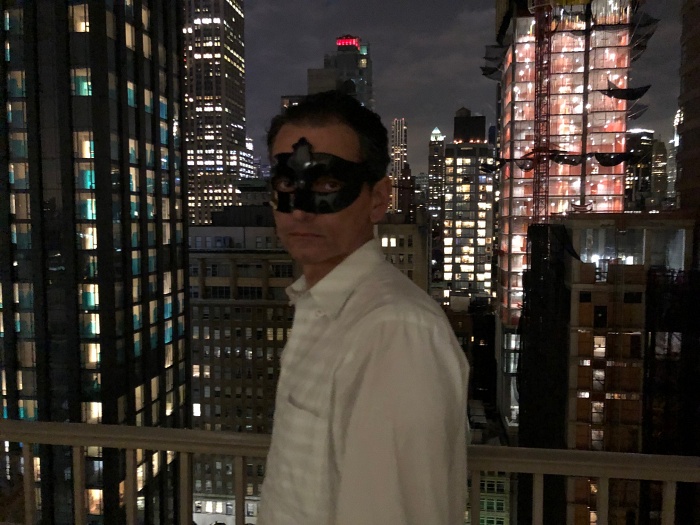 AM: Jean-Marc is a very talented musician and I am quite fond of his work and ideas, he and I are both salty veterans that have had similar careers. Jean-Marc and I had worked on some demos together a few years ago. When that never resulted into a project, I asked Jean-Marc if I could use "Luxury" as a NØIR song.
ES: Is NØIR turning to a full band instead of an one man's project, since we see the band's live members Demetra Songs and Kai Irina Hahn featured in "A Pleasure" and in addition with the long co-operation with Erik Gustafson?
AM: Interesting question. Although, as the singer, I am the focal point of NØIR, I would never really see it as merely a solo project or one person show. Oftentimes, I see those kind of projects as being somewhat one-dimensional and linear. By surrounding myself with a shifting cast of contributors I believe it makes NØIR far more interesting and a true collaborative outlet for all of us.
ES: NØIR released the debut full length album "Darkly Near" back in 2013. Since then a number of EP's released. Is there a new full length album planned? Which are the future plans for NØIR?
AM: Currently I am really focused on promoting "A Pleasure," although there is talk of a new full-length album of original material, an entire album of cover songs along with a possible live concert EP, yet I cannot really say with certainty when they might be ready? I am also in negotiations to have NØIR perform at a festival next summer. I'd also like to bring NØIR to Europe soon, just waiting for the right opportunity.
ES: Since we are a Greek magazine, I could not omit to ask about your Greek roots. What is your relationship with Greece?
AM: Yes, my grandfather and namesake, Athanasios Maroulis came to the U.S. in 1920 from Ithaca, my grandmother was from Cephalonia and came soon after, my other grandparents came from a village in Epirus in the late 1920s. They all settled in Brooklyn, New York where I was born. The words of a famed Greek patriot seem rather fitting, "I was born a Greek, I shall die a Greek." My connection to the Hellenic culture is rather deep, although my language skills are rather terrible. I often think I'd like to spend my last days looking at the sea from Cephalonia. There's an ancestral yearning and connection that as a Greek cannot be denied. Even we Greeks that are ethnically and culturally Greek (yet were born or live abroad) feel this.
ES: You have been in music industry for many years? Do you think that during the last years there is an evolvement in dark wave, post-punk, industrial scene? What factors would you say lead to this?AM: I have seen a much-needed injection of fresh blood into the various dark music scenes these past few years. The ongoing Goth/Industrial scene that has lingered since the 1980s was becoming splintered, lethargic and even lazy, so I welcome the new blood. There are a few factors that contribute to the evolving scene. Firstly, I think a number of younger musicians began to realize that Indie Rock, Emo and the like truly are the boring overrated pile of eunuch shit that they always were. This prompted many to look outside that scene where they swam into darker waters where things are more flamboyant with entertaining bands that do not look like a sitcom barista. Secondly, I feel as if the exploding influence of Joy Division grabbed an entire new generation of young bands much like The Velvet Underground and The Stooges influenced my generation. Joy Division has always been influnetial yet in the past 10 years they have become almost biblical in their impact. Lastly, I have witnessed a resurgence in dark rock-based music about every 10 or 12 years and we are just amidst the most current revival. Dark music has drama and sensuality whereas Indie Rock has always had been so neutered and apologetic, so the choice would be rather clear to me especially if I was a 19-year old again.
ES: Thank you very much for this interesting conversation. Would you like to add anything more? Any last words to our readers?
AM: Thank you for taking the time to speak to us.
Info:
https://noirnyc.bandcamp.com/album/a-pleasure
https://www.facebook.com/NOIRmetropolis/
https://www.metropolis-records.com/artist/noir