CD Reviews
Details

Category:

Written by

Akill
Mechanimal - Thorivos
March 2021
Inner Ear Records
---
Mechanimal continues to present us their different forms, the variety of sounds of their music machine and they release "Thorivos". "Thorivos" is the new and fifth album of the Greek dark wave, minimal electro act, coming out on March 12th, via Inner Ear Records. 
Mechanimal, is, as Giannis Papaioannou says in our chat, below, a modular band. And I couldn't agree more. To me, every new Mechanimal song and album, is a challenge, a new experiment that presents us the results of its whole procedure. If you listen to Mechanimal's albums as a whole, you will get the sense of being in a sound laboratory where everything is controlled by the machine. And everything flows so smoothly that the result is an alloy of urban mechanic sounds, gathered together, blended with synths, guitars, voices and giving a dark, emotional, and industrial outcome. 
"Thorivos" is another experimentation of this machine. Including elements that Mechanimal have never used before. Their fifth album is a completely new chapter. In "Thorivos" we find the Mechanimal's sound machine, narrating the darkest stories in Greek Language. It is the first album that the band uses their native language. I was quite curious when Giannis told me to listen to his new, Greek spoken, album. I was really eager to listen to the voice of Thekla Tselepi over Mechanimal's sound. I didn't know what to expect but as I told you, this is Mechanimal. Modular, full of experiments, that could never disappoint you. 
When "Thorivos" begins with "Kokkini I Piisi Trexi (Red The Poetry Flaws)" there is the taste of city dust in your mouth. The sound is electric, and there is the shivering of the whispering voice of Thekla Tselepi. Throwing out the dark poetic words of Angelika Vrettou, a member of Mechanimal's machine. "Kitazo tis Skies Stous Tihous (I Look at the Shadows on the Wall)" is another story of the people feeling alone, feeling different. Music is going deeper into the post-punk side of Mechanimal with electric guitars dressing the vocals.
"Ebros! (Go Ahead)" is full of raw industrial minimalism, a dark electronic sound that continiously twists in our head. The raw sound is again completed from the deep voice narrating the urban poem full of anger and rage. "Sinithizan Exo Tis Ikias Mou (They Used To By My House)" comes to lower your tension with a lowtempo arrangement. A dark electrified ambience accompanied with the sweet-bitter melody of Henrik Meierkord's cello and words that express the strange innocence of childhood and dreams that are buried as one grows up. "Trela (Madness)" is being built on the electric guitar chords with a post-punk rhythm while "Thavmasia Pou Isai Otan Xorevis (How Marvelous You Are When You Are Dance)" is a quite experimental dark minimal electro with a haunted story, in the poetic lyrics.
Next is the same titled track, "Thorivos (Noise)", in a more electro pop style with some noisy elements and a minimal synth line, a song about the noise that we can't listen, the noise in our head, the noise that distorts our thoughts. "Ine To Fantasma (It Is The Ghost)" creates a dark ethereal mood through the cello and the acoustic guitar elements added. A final story, and perhaps the strongest one, about the patriarchal toxicity, the violent severance from innocence, the shrinking of fantasy to extinction.
"Thorivos" is an album that tells true stories of the sick reality that destroys dreams, fantasies and innocence. Written in a dark poetic form and words by Angelika Vretou and interpreted by Thekla Tselepi, with the dark whispers of a woman that 's been deep into those words balancing in between a girl's innocence and an adult woman's coldness.
Some days prior to "Thorivos" release I had the chance to speak with Giannis Papaioannou, the mastermind behind Mechanimal. Giannis told us about the firs album in Greek language for Mechanimal. About the dark, urban poetry of Angelika Vrettou and the collaboration with a woman that is a part of Greek music history through her Dj sets, radio shows and the various guest appearances to some important music projects for Greece. 
Hello Mechanimal. I am really happy and honored to have you here. Let's start with an introduction. Who are Mechanimal? Can you tell us some words about the band and Mechanical music paths throughout these years?
Mechanimal is a modular band. We started playing, rehearsing, and recording back in 2011 with me on keys and Freddie on voice, who is still the leading male vocalist of this project. So the main generators of our music were always machines and lyrics. I'm not into strict genre restrictions, (too old for that), so I just follow my heart and my increased appetite for experimentation. I like writing dark-sounding material, but I really do whatever my mood tells me to do. So as I say, Mechanimal is an industrial project in progress, a unique collaboration of musicians recording in various permutations. The result may absorb different voices and musical genres into a universe of references and primary sounds. You may think of it like this vintage 4AD group, This Mortal Coil, who acted more as a collective than a real band, led by the label's founder Ivo Watts-Russell.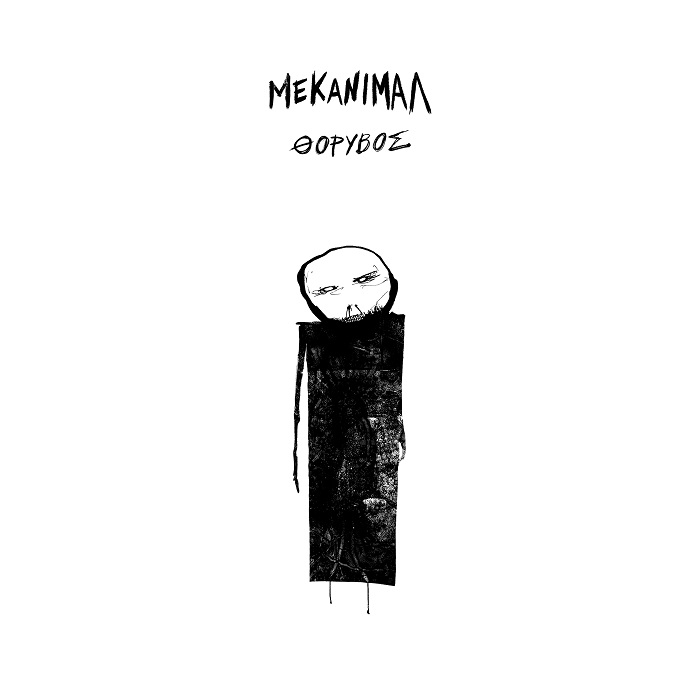 While I have so many to ask, I will go straight to the hot news. New album for Mechanimal. "Thorivos" is coming out soon. Can you give us some basic info about your fifth full length album?
The eight tracks of the album are based on eight poems of Angelica Vrettou, for a long time in the Mechanimal universe, and actually, the one who gave this name to the project. She is the artist behind most of our record covers and the curator of the videos of our live performances. So, I was aware of these unpublished poems, which date a few years back. I wrote the music for each one of these stories, and then I asked Thekla, because I needed a voice who could impersonate a woman in different phases of life, as this is a record about womanhood. 
Well, apart from the music, there is a, a really big difference, in "Thorivos". It is the first album in Greek language for Mechanimal. How do you feel about this new page on Mechanimal's music story? Which facts drew you to such a decision? Is this sense of the new, the change and the experimentation so tempting to your music decisions?
Like I said before, I love experimentation. But, my musical thinking does not work at all planned. The idea of making a Greek-language album has always been in my mind. With the same intensity, I did an ION album in French many years back, or how I would make a song in Italian if of course I was moved by the lyrics. But I never thought of forcing myself to write in Greek just to make a Greek album. It was the specific poems that made me want to dress them with music. So, I checked each poem, wrote one or two musical themes for each one of them, talked together with Angelica and Thekla, and we picked the most vibrant one for rehearsals. The first single "Kitazo Tis Skies Stous Tihous" went through 2 different versions, one more electronic and one more punkish, until I finally decided to go with that vintage post-punk sound. I feel very pleased, happy, and complete with this release because I always wanted the Mechanimal songs to talk about what is happening now. About what I see and feel around me. And this album, in a magical way, is very prolific on images we have to deal with today, even if we started recording it two years ago, at the same time with "Crux".
In "Thorivos", apart from the use of Greek Language, we find a very interesting - and familiar to the underground, alternative audience- woman. The voice of Mechanimal's fifth album is Thekla Tselepi. Can you tell us some words about Thekla Tselepi, and how did this collaboration came up?
Thekla has been active in music for many years as a DJ, backing vocalist in various symbolic albums, and as a well-known radio voice. We were lucky enough to meet several times in the past through common friends, so I felt free and more open to making this proposal to her. And when we started recording, all this new collaboration was a very pleasant surprise for all of us. We did many rehearsals in my studio, something that gave me the opportunity of navigating her voice in many different paths. Then we recorded her final takes on music in Sound Cave Studio with Nick Chalntoupis as sound-engineer. And everything went really smooth through this process of completing the album.
Lyrics in every single step in "Thorivos", narrate a story through dark, urban, poetic words. Sometimes, seems like an effort to awaken us from a slumber and see the real images of our world. Can you tell us some things about the lyrics and Angelica Vrettou? Which are the influences and the concept behind these words?
Noise has always been important in our music. From day one. "Lowland" was an epic 10-minute noisy drone when we first jammed with Freddie. A few years later "In Noise We Trust" became our motto on our t-shirts. And these noise poems existed since then in Angelica's notebooks. But, I'm not the right one to speak about the concept of these "noise" poems. As a musician, the specific poems inspired me to write specific music. From there, everyone who listens to the music and the lyrics is free to imagine their own images.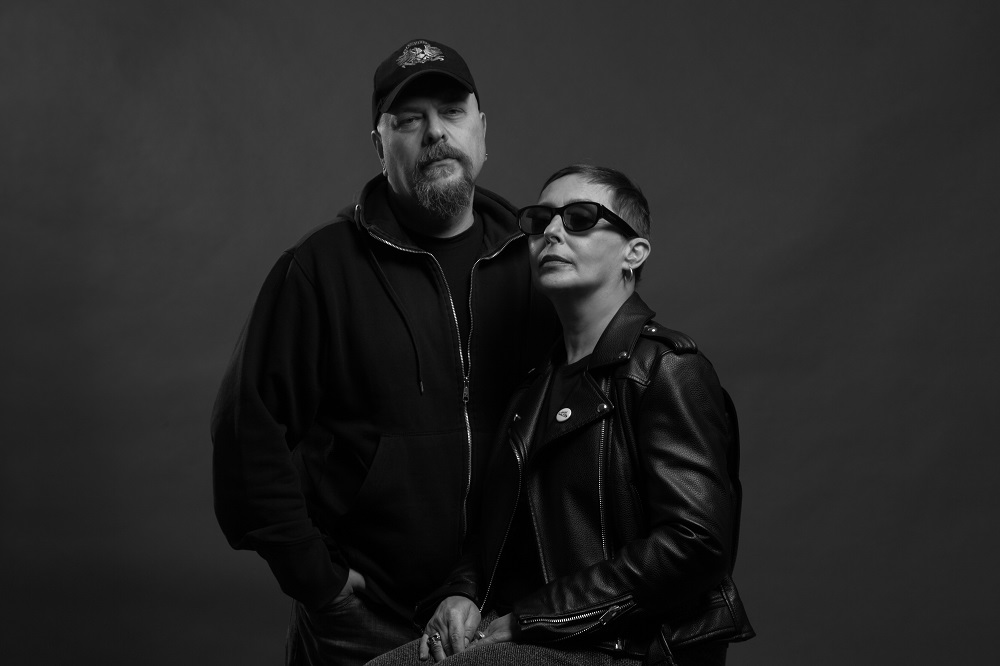 It seems to me that, once again, Mechanimal, makes a statement with another album. Which are the messages and the whole concept in this fifth chapter for the band? 
We continue on the same wavelength, in essence, we touch the same dreams and nightmares that occupied us in the past. Now, maybe they are closer to us in another form. I would say that once again a female element is more noticeable here than in the other three albums, since in «Delta Pi Delta» there were those references to mother nature but with a different female voice. 
Which are the plans for the future, regarding the promotion of "Thorivos", and with the current global situation that affects, in a large amount, the music industry?
There are no gig plans at the moment. As long as the pandemic forces every single one of us in strict isolation I have no lust in dreaming of live promotion or even streaming gigs. I believe that the power of live sound can not be reproduced in a strong way via streaming services. It's fake and worthless. I've had a lot of the best nights of my life at gigs in tiny bars and I often find myself asking: when will live music return? The feel of the people around you is priceless. I find this online live streaming trend quite depressive. We only did it once just to support animal shelters around the globe. As for when this Covid-19 nightmare ends I hope there will be different live sets promoting «Thorivos» with Thekla and different ones promoting «Crux» and older stuff with Freddie. 
I cannot leave without asking about the music. Once again Mechanimal unveil the huge range of music influences and how well they are adopted in this album, as well. From minimal electronics to dark alternative sounds. Industrial, experimental and so mature and compact, at the same time. Which are those things that inspire you and influence you, music-wise? Not only in "Thorivos" but in general, as well?
I'm kind of always deconstructing Mechanimal in a lot of ways in my own life, and in my own head because I always had a bit of disconnect with the idea of being perceived as something different than myself. I've grown up with 80s post-punk, industrial, and synth bands, but I've also loved the underground techno scene at the end of that decade. Through this love of music, I've learned that "music may be a beautiful beach but the sound is an ocean" so what gives me endless inspiration is my synthesizers, my drum machines, and the noises they make. 
Would you like to add something more? An untold story behind Mechanimal and the procedure of "Thorivos" creation?
Unfortunately, there are no secrets behind the noise barrier, just sound redemption.  What is interesting is that by the time we were finalizing our fifth album, we also got in touch with friends and comrades from the local scene, and we have prepared a compilation with remixes from our 10 year lifespan, that will come out later this year.
Info:
Mechanimal Bandcamp: https://innerear-mechanimal.bandcamp.com/album/noise
Mechanimal Facebook: https://www.facebook.com/Mechanimal.Official/
Mechanimal Instagram: https://www.instagram.com/mech_nimal/