Stories
Details

Category:

Written by

Akill
Alexander Hacke and Danielle de Picciotto are bringing their music and life experiences on the stage of Death Disco club, Athens!
---
When two quite different music worlds collide the results is an amazing form of music, transforming experiences and life sceneries into soundscapes of exploration and spirituality! Alexander Hacke and Danielle de Picciotto is music and life couple living their lives completely around their art inspirations and works.
Danielle De Picciotto started playing the piano at the age of 5, while she was, loudly, singing Edith Piaf songs on her window, hoping that someone would discover her. Despite her classical music background she found freedom of expression in rock bands at her early twenties. However, her heart belongs to both sides of her music influences.
Alexander Hacke was a child that on his 15, he knew exactly what he really wanted for his life. Therefore, he left school and he followed his obsession with sound and music and became a musician!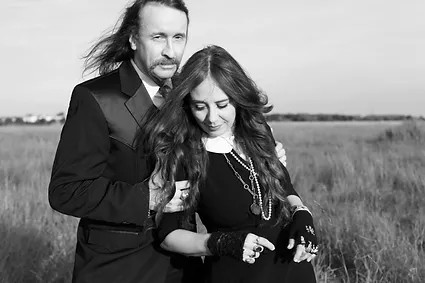 Both became legends of their own making. Danielle de Picciotto moved to Berlin in 1987, to become the lead singer of the band "Space Cowboys", the co-initiator of the Love Parade, a collaborator of the Ocean Club with Gudrun Gut, and Alexander's partner in crime. Alexander Hacke is founding member and bass player of Einstürzende Neubauten. The artist couple, romantically married in 2006, has creatively interacted with countless international projects for almost 2 decades now besides regularly releasing their own compositions. 
Inspired by everything that lives around them, everything that touches them, an image, a book, an idea. They enter that state of mind of creating and interpreting all the sound and emotions into a music experimentation. "The music becomes an entity of its own, which has its unique demands." (source: 15questions.net ). They have their own rituals for creating like meditation. And with these rituals the duo manages to combine their, totally, different influences that contain sounds from Ennio Morricone and Korean choirs for Danielle and Throbbing Christle, The Ramones and Suicide for Alexander.
Their latest album, "The Silver Threshold", released in 2021, via MUTE Records is their "most symphonic" album to date, is expansive and exploratory, reflecting the endless movement across places, landscapes and environments the pair have experienced. They glide across genres that take in cinematic drone, industrial, experimental, spoken word and soundscapes that shift between immersive ambient into noisy eruptions. "It has this largeness of the situation that we're all in," says De Picciotto. "hackedepicciotto albums have always been reflective of their environment and this is no different."
"The Silent Threshold" hides the duo's first love song "Evermore", the first time the husband and wife have explored this terrain. "We're basically singing about love and we've never actually done a love song before," says De Picciotto.
Hackedepicciotto is based on the interaction of the two artists. However, "The Silver Threshold" is actually the first of their albums where both recordings, and mix were engineered not by Alexander. The duo worked together with Victor van Vugt who had already done the mixes for "The Current" (source: vwmusicrocks.com )
Their live shows are intense. Danielle specializes in unusual instruments such as the Hurdy Gurdy, the auto harp and the cemence besides playing the violin and piano; Alexander is master of the bass, guitar and drums. Together they create beautiful, existentialistic, acoustic soundscapes, which roar and vibrate simultaneously leaving their audiences shaken but overjoyed. 
An experience like the one of seeing Hackedepicciotto on stage is coming up for their Greek fans, on Saturday, October 15th at Death Disco Athens, Greece. You can find more info for the event in the link below!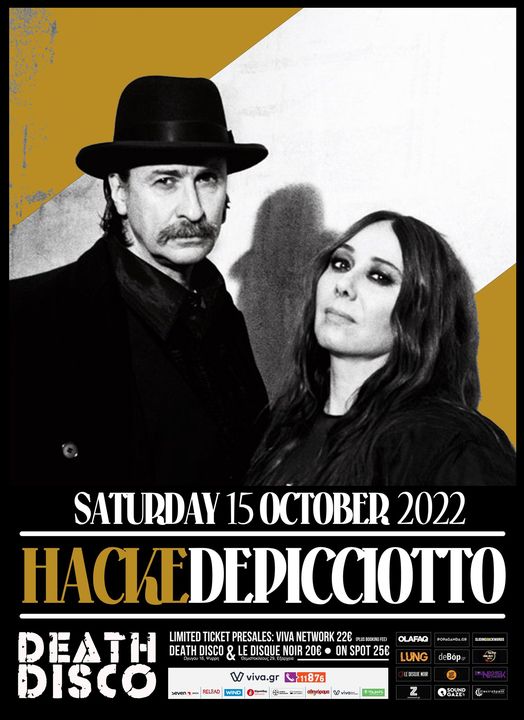 Tickets: https://www.viva.gr/tickets/music/hackedepicciotto-2022/
Facebook event: https://www.facebook.com/events/542513237253043
DEATH DISCO
Ωγύγου 16 και Λεπενιώτου 24, Ψυρρή
ΗΣΑΠ: ΣΤΑΘΜΟΣ ΘΗΣΕΙΟ / ΜΟΝΑΣΤΗΡΑΚΙ
ΜΕΤΡΟ: ΣΤΑΘΜΟΣ ΜΟΝΑΣΤΗΡΑΚΙ
Σάββατο 15 Οκτωβρίου 2022
HACKEDEPICCIOTTO
(Alexander Hacke / Danielle De Picciotto)
Διαδικτυακές πωλήσεις στο δίκτυο της Viva (18€ / 20€).
Προπώληση εισιτηρίων στο Le Disque Noir Records Shop & Death Disco (17€ - not available yet).
Εισιτήρια την ημέρα της συναυλίας στο Death Disco προς 20€.
Πόρτες στις 21:00
Sources:
https://mute.com/mute/the-silver-threshold-out-12-november-2021
https://vwmusicrocks.com/an-interview-with-alexander-hacke-danielle-de-picciotto-of-hackedepicciotto/
https://www.15questions.net/interview/hackedepicciotto-share-their-creative-process/page-1/
Info:
https://www.hackedepicciotto.de
https://www.facebook.com/hackepicciotto/
https://hackedepicciotto.bandcamp.com
https://www.instagram.com/hackedepicciotto/