Low Sun Festival
Details

Category:

Written by

Akill
Grey Gallows will open Low Sun Festival vol.2. But first, they open their hearts to ElektroSpank | FMA!
---
Grey Gallows are a dark wave duo from Patras, Greece. Met back in 2016 the two members, Konstantin (vocals / keys) and Dionisis (Guitar / bass / keys), they were the perfect match for a really interesting dark wave, dark synth project.
Influenced by the dark sound of the 80's they put their love about this music on the paper and write some really emotional, atmospheric, dark music. Grey Gallows have already released their debut full-length album, "Tears", back in 2018, which was received with great feedback by the dark community. With the emotional deep vocals, strong basslines and synths, the duo made their name known really quick and several live appearances followed.
Grey Gallows will open this year's Low Sun Festival, on June 15th, at Death Disco Club, Athens, and they will definitely be a great opening for a beautiful event. ElektroSpank | FMA spoke with Grey Gallows about the festival, their music and many more.
ES: Hello Grey Gallows. Thank you for this interview. There is some real action in Greek dark wave scene lately and you are definitely a part of all this. Would you like to tell us some things for you, to introduce yourselves to our readers?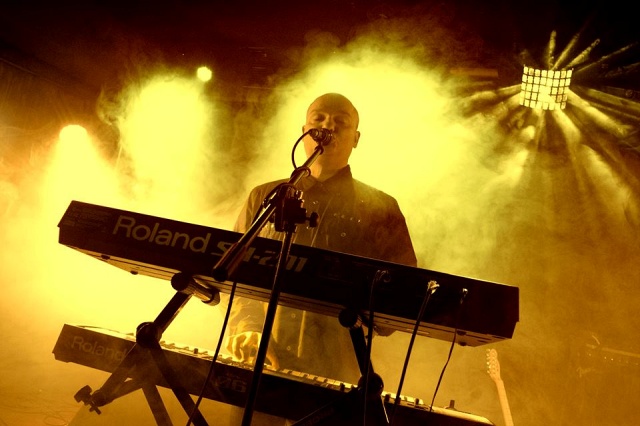 Konstantin : To begin with, we would like to thank you Achill for this interview! It's an honor for us, indeed! Well, Dionisis and me met each other back in 2014, in my home town Patra. We became friends and very soon we found out that we listen a similar kind of music, all the dark spectrum of the '80s and '90s music. At that point we had a strong desire to form a band, so as to play something that we would love to hear as listeners. From the very first rehearsal we realized that something serious was happening and the ideas of both of us matched perfectly with each other's. So, that was the very beginning of our music journey…
ES: Low Sun Festival. A new event for the Greek gothic, dark scene and you are one of the bands that will be a part of this and leave a mark to a, hopefully, great event, even in the years to follow. Can you tell us something about Low Sun Festival vol. 2? How do you feel about it and about being in this year's line-up?
Dionisis : It's a great honor for us and pleasure, as well, to be part of the second Low Sun Festival and to share Death Disco's stage with two prominent bands of the Greek scene, like Mosquito and Cold Remembrance. We think that's very important these efforts to be made and to be given the chance to new bands to present their work. We would like to thank from our hearts Mosquito for their invitation! We truly believe that Low Sun Festival vol. 2 will be remembered for the years to come…
ES: In one of your last appearances, you performed a cover of Sisters of Mercy's massive goth hit "Alice". How did you end to in this specific cover? Is there any similar surprise for Low Sun Festival?
Dionisis : Well, The Sisters of Mercy are one of our main influences and we believe they are a benchmark for the dark sound. So we wanted to make a cover to this great band. I personally think that, when a band covers a song – and especially a big hit, like 'Alice''- it's risky enough, because the audience has high standards for it. In my opinion, whatever cover we've made, we've made it with respect and true love for these bands. So, it's quite possible to play some of the covers in the Low Sun festival, but we haven't end up which yet.
ES: There is a full length album already released in a tape form. Would you like to tell us some things about "Tears"?
Konstantin : Yes, we released our full length album "Tears" in tape form on September 2018, via In Club Records. We really love old school format and especially vinyl. This album contains the six songs from our self-produced mini album "Beyond reflections" plus six new songs –for that period of time. A total of 12 songs and 50' minutes of music, where we present our aesthetic approach on dark wave. The feedback we got from this release was, and still is, very powerful. Of course, this warm reception encouraged us to go on and to fully concentrate on the band's new songs and the preparation for live performances.
ES: Will "Tears" be available in different formats other than tape? Do you have something new coming up or do you plan any new release after "Tears"?
Dionisis : For the time being we are working on a new material, in order to have our second album finished. Some of them have already been uploaded on Youtube and on Soundcloud. Moreover, we are going to release via our Bandcamp page a single with two songs, one of them being unreleased. Furthermore, we have some thoughts of re-releasing "Tears" in vinyl, but it depends on when we will have our second album finished.
ES: Your sound is clearly influenced of some great artists and bands from the past, playing dark wave, post-punk, almost touching the borders of gothic. Which are your influences music-wise? What does inspire you the most lyric-wise and what is the concept behind Grey Gallows project?
Konstantin : Well, we both love the great goth/dark wave bands of the '80s and '90s, like The Sisters of Mercy, Bauhaus, Joy Division, Clan of Xymox, as well as newer bands like She Past Away, Lebanon Hanover etc. So, we had no doubt on how we wanted our sound to be like. It came from us naturally. Now, as far as the lyrics are concerned, I could say that the inspiration comes either from past experiences, or social issues, like the relationship between man and woman. The common ground that unites them is the pain of human existence, as it can be seen through love, life and death…So I could say that the concept behind Grey Gallows, is a musical interpretation of the eternal battle between darkness and light, black and white, distress and happiness…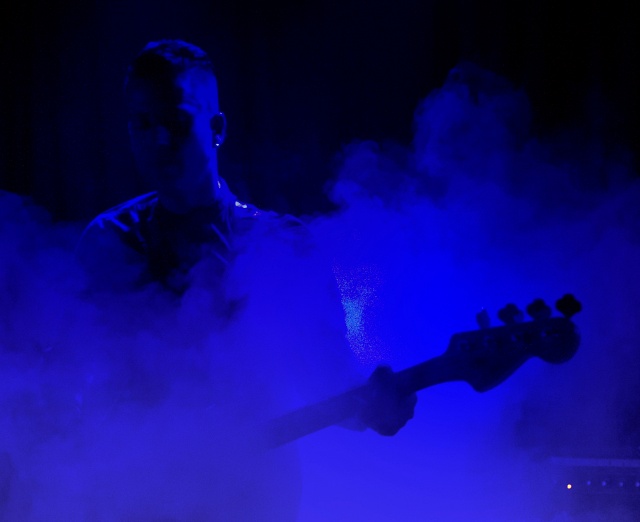 ES: Greek dark wave and synth-punk scene has a long history, quite unknown to most of the people. However a lot of bands had been in the darkest paths of music since early 80's. And, there is a revival of that sound recently. A number of artists trying to create using patterns of the past but also being modern and attractive to the listener. What is your opinion for this "look back" from many artists and bands, using sounds similar to the dark wave of the past and analogue equipment?
Konstantin : We truly believe that the Greek dark wave/new wave scene of the '80s was one of the best worldwide and of course it's an influence and big inspiration for us. We feel very happy to see younger listeners discovering those bands, like Metro Decay, Yell o Yell, South of no North, Lefki Symfonia, Film Noir, to quickly mention just five of them. Furthermore, we see that there is a certain movement in the Greek dark underground scene today to revive the sound of the '80s, using sounds similar to the dark wave of the past and analogue equipment, taking Greek dark wave one step beyond. We are very fond of this sound, as presented by bands like Selofan, Doric, Convex Model and Paradox Obscur for example, a new approach with old materials, where the glorious past meets the promising today!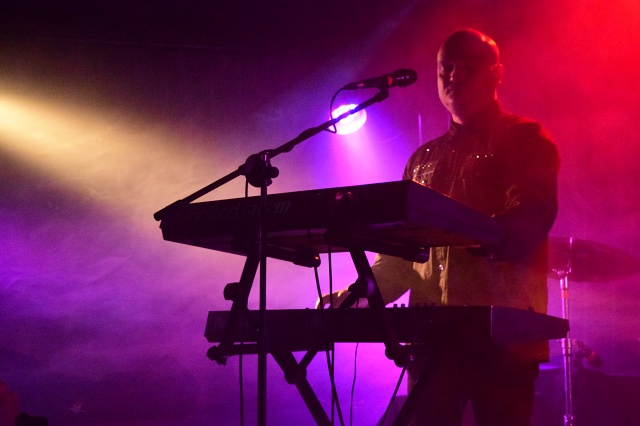 ES: Grey Gallows were in the last compilation of Cold Transmission records, "Zeitgeist vol. 9". How did this cooperation come up? Is there anything similar scheduled or any other compilation appearances?
Dionisis : The proposal had been made to us by Andreas Herman to join this collection specific with our song "On the dancefloor". We also took part in the collection Stimmen der selle vol.4 with our song "She ends herself". We are open to proposals like these and surely we love to be part in collections, in which you can find notablebands worldwide. For the time being, we haven't scheduled anything else though.
ES: Would you like to add anything more? Would you like something to our readers and to the people that will be in Low Sun Festival?
Konstantin : Well, it was a pleasure answering to your questions, Achill, and we would like to thank you one more time for this interview. In the end, we would like to invite your readers to The Low Sun Festival 2019, on Saturday 15 June, which will take place in the well know and beloved Death Disco, for a gothic night to remember…
ES:  Thank you very much. Looking forward to see you performing live and listen to your next releases. I wish you will achieve all of your dreams and I am really glad to have spoken with you.
Info:
https://www.facebook.com/Grey-Gallows-band-138384996740165/
https://greygallowsgr.bandcamp.com/