News
Details

Category:

Written by

Akill
MOURNERESS brings the cold atmosohere of her origins through the dark ambient soundscapes of "A Rooted Sorrow"
---
Listen to the new album "A Rooted Sorrow" from dark ambient artist MOURNERESS exclusively in ElektroSpank! 
Songs and poems for the fragility of a heart, a soul that is wounded, unhappy memories rooted in the deepest sides of our inner selves. All these secrets crossed with bitter emotions, implicit words and tears of the soul, expressed in the most poetic and dark way into the 42 minutes and the 14 tracks of MOURNERESS new album, "A Rooted Sorrow". A deep, esoteric album finds its way to the world through the ethereal piano melodies, the sadness of the strings and the sounds of nature.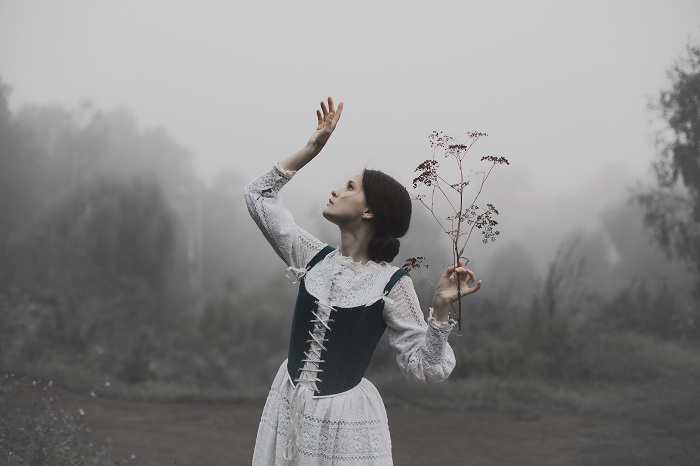 Lipetsk-based dark ambient artist MOURNERESS is going to release her new album, entitled "A Rooted Sorrow", on November 19th via Tragedy Productions. The album, consisting of 14 tracks for almost 42 minutes of playing time, will be available as digipak, plus streaming and download on the digital platforms. 
"A Rooted Sorrow" hides the stories of the abandoned souls narrated in the most spiritual way, the one that could be the celestial voice in someone's head, accompanied with some exquisite blend of sounds guiding you through the darkest paths. The voice of a dark creature guides you through this greyish journey. An album that should be listened as a whole and one of those that needs to be heard with empty mind and the willing to be swept away by its flow.
Natalia Drepina is a photographer, songwriter, and poet. Under the moniker of Mourneress, she releases an album about sorrow, the one that takes root in the depths of the soul, where bitter memories, unspoken words and unshed tears are intertwined. This is a lullaby to grief that whines anxiously in the heart and wilted dreams. Mourneress is the lament for all sorrows deeply rooted in the poet's soul. The shades and whispers of all losses intertwined with timid piano, thoughtful strings and echoes of nature. 
You can watch the video of "I'm Numb in My Grief" here, while is also available on YouTube.
"A Rooted Sorrow" can be streamed entirely ahead of release date. Listen to the album, exclusively premiered by Elektrospank – FMA!
"A Rooted Sorrow" is available as digipak, including a 16 page booklet with artwork and photography made by Natalia Drepina exclusively for this album. Pre-order it on Bandcamp: https://bit.ly/46Xfk6P
All music, vocals and lyrics by Natalia Drepina.
Album cover by Natalia Drepina.
Info:
https://mourneress.bandcamp.com/album/a-rooted-sorrow
https://www.instagram.com/mourneress/