News
Details

Category:

Written by

Akill
"El Fantasma - Dark Project" returns to the "Temple" of the Athenian dark live scene, almost 4 years after the first completely successful venture.
---
Having witnessed the "Dark Recital I" 4 years ago, (see visuals below), I can only guarantee that this is an event offering a unique experience like nothing you have seen before! Classic gothic rock, dark wave, post-punk, neo-folk anthems, turned into magical, classical music sounds, performed by highly experienced and professional musicians and artists. A medieval ambience being created, based on the soundscapes and the stage set-up, including a concert piano, a cello and the warmness of the candle lights. 
El Fantasma returns, 4 years after the first Ethereal Goth Recital, accompanied by amazing musicians, like Elli Filippou and Marios Kazas, and a setlist that will transform some dark gems into classical hymns. The concert piano and cello will escort El Fantasma's voice into the transformation of songs that we all have danced and sung, numerous times, by Deine Lakaien, A-Ha, Ellusive, Current '93, Swans, Corpus Delicti, Death In June, Lacrimosa, Peter Murphy, South Of No North, Wardruna, Nosferatu and more!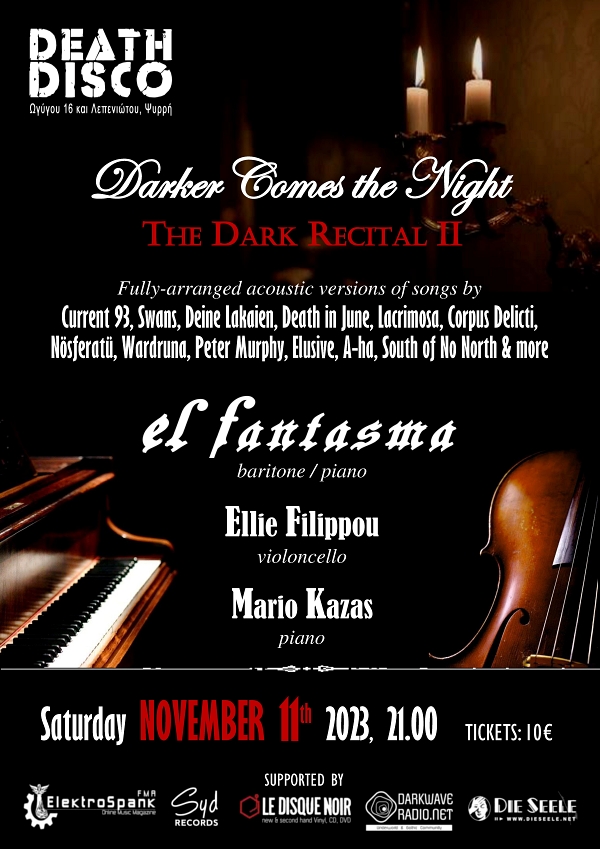 "Dynamic and passionate performances with original vocal and musical parts, rich and elaborate orchestrations that highlight equal voice, cello and piano, based sometimes on pre-classical, sometimes classical, sometimes progressive musical forms, lend drama and new dimensions to "song-hymns", as well as lesser-known samples from almost all manifestations of the dark music space (dark-wave, post-punk, gothic rock, neo-folk, neo-classical), while keeping their ambience and style unchanged.
A concert piano will be transferred to the Death Disco stage, once again, which with its musical range and harmonic resonances, combined with the candles that will decorate the stage, promise a dreamy concert with pulse and mysticism."
El Fantasma - Dark Project are:

Konstantinos Kariotis (El Fantasma): baritone / piano, arrangements - transcriptions - orchestration, artistic editing
Elli Filippou: cello
Marios Kazas: piano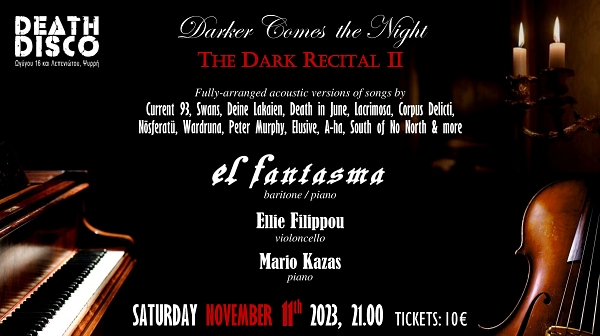 Facebook event: https://www.facebook.com/events/614045840674849
Saturday, November 11, 2023, 9 p.m
DOORS: 20.00 / ADMISSION: €10
Visuals from El Fantasma - The Ethereal Goth Recital (Dark Recital I)