News
Details

Category:

Written by

Akill
Dark pop, electro artist BARA HARI turns to an angel to perform "Ugly On The Inside"
---
BARA HARI is the project of Sam Franco an American musician, singer, songwriter, producer, music video director/editor, costumer, and visual artist. 
Some days after the signing with Re:mission Entertainment, BARA HARI announced the release of her new EP, "Dark New Day". First "taste" out of "Dark New Day" was the previously released single "Weapon". Now, almost two months later, BARA HARI unveils the second single out of her new EP with the release of an official video for the "Ugly On The Inside". 
"Ugly On The Inside" is a melodic dark electro, pop song with elements of electro rock, industrial pop and dark rock. Strong melodies in the synth, with a glitching guitar alongside and a mid tempo beat, that is driving the rhythm into higher level while the song is moving forward. Sam Franco's voice is exactly between the dark pop characteristics and the electro rock side. The idea behind "Ugly On The Inside" is the power we have nowadays, to pretend being something else, the expansion of ourselves through self-constructing images of what and who we are. In the video, written and edited by BARA HARI, we can see three different characters of the same person, with the main one being an angel, and two additional, different characters, in contrast.Video was inspired of well known videos of the 90's and mainly from R.E.M. 's "Loosing My Religion" video. 
BARA HARI on the video:
""Ugly on the Inside" is the second track off of my upcoming EP titled Dark New Day. It is set to release on May 21st, 2021. The song was inspired by society's use of constructed avatars as a means of modern interaction and communication. We live in an age where we can create idealized versions of who we are and live as those extensions of ourselves in a sort of man-meets-machine sort of way.
The music video for "Ugly on the Inside" was inspired by videos of the 90s, particularly REM's "Losing My Religion." I constructed the 10-foot angel wings as an homage to the video as well as a nod to the theme of Icarus. Someone who's zealotry ultimately led to their demise. Additionally, I created the other two characters as contrasts to one another. "
"Dark New Day" will be out on May 21st, via Re:mission Entertainment.
Sam Franco, known professionally as Bara Hari, is an American musician, singer, songwriter, producer, music video director/editor, costumer, and visual artist. Her music is inspired by a plethora of styles such as dark pop, synthpop, industrial pop, electro-pop, darkwave, and goth.
Video edited by Sam Franco (BARA HARI). Music written, produced and performed by BARA HARI. Mixed by Ian Flux at Monican Audio.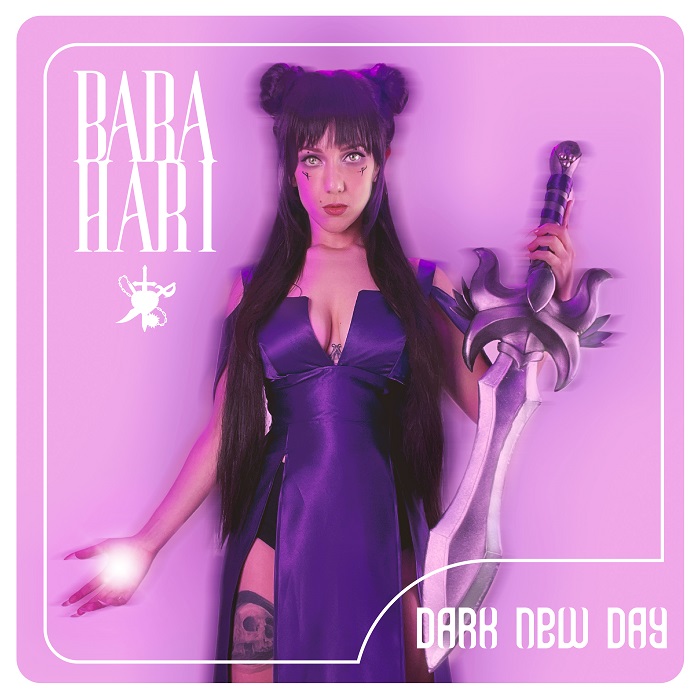 You can find new EP in :
https://remissionentertainment.bandcamp.com/album/dark-new-day
Info:
https://barahari.bandcamp.com/
https://www.instagram.com/bara.hari/
https://www.facebook.com/BARAxHARI
https://open.spotify.com/artist/5NAb68dC7SrFIOHkGpHW3x?si=9teNMEOqS5aD0IDtqTm5Lw&nd=1