News
Details

Category:

Written by

Akill
Ash Code returns with their new video single.
---
The Italian dark wave trio releases the brand new video single "1981", on February 28th. "1981" is the brand new Ash Code's single, it arrives 2 years after the last well-acclaimed "Perpsketive" LP.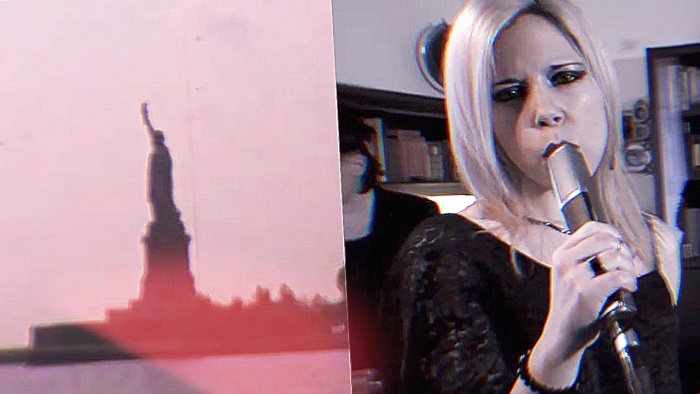 This song is included as a bonus track in the new "Ash Code - Part-Time Punks SESSION", a live session recorded at Comp-NY studios in Los Angeles and it's the first step to the new Ash Code LP (expected in late summer 2020). 
Ash Code comments on the "1981" video....
"The music and lyrics were deeply inspired by our first tour in the USA made last summer, in particular, this song was written in New York City, it's an imaginary journey into the goth scene of the 80s.
The video, directed and edited by Elio De Filippo, it's a mix of original vintage footage of the Big Apple (courtesy Of Ian Rough) and clips of the band itself around the city."
Ash code formed back in 2014 and the three band members are Alessandro Belluccio - Vocals, Drum machine, Claudia Nottebella – Synthesizer, Vocals, Adriano Belluccio – Fender VI. Ash Code gained the attention of the media, djs and audience really fast and starting with the 7''  "Dry Your Eyes" and "Unnecessary Songs", released by the grek Geheimnis Records, they have already released three full length albums, "Oblivion", Posthuman" and "Perspektive".
On February 28th, 2020 the "Ash Code - Part-Time Punks Sessions" is released and is a live session recorded by Ben Hussey at the wonderful Comp-NY studios in Los Angeles during the first Ash Code USA tour in summer 2019. 
Meanwhile, Ash Code is always on tour, they announced a new USA tour in September and a Summer Latin American Tour will be announced in the next days, here are the confirmed gigs:
•13.03.20 TR  – Istanbul, The Wall Saloon 
•03.04.20 FR  – Lyon, Sonic Lyon 
•04.04.20 FR  – Paris, Escape B 
•17.04.20 DK  – Odense, Klub Golem 
•24.04.20 IT  – Rome, Traffic w/ She Past Away 
•02.05.20 IT  – Lisbon, Sin Festival @ Lisboa Ao Vivo w/ Wulfband, She Pleasures Herself 
•22.08.20 DE  – Koln, Cold Transmission Festival 2020 
•16.09.20 US  – Philadelphia, PA – Underground Arts w/ Front 242 
•17.09.20 US  – Brooklyn, NY – Elsewhere w/ Front 242, The Young Gods 
•18.09.20 US  – Chicago, IL – Cold Waves Festival w/ Stabbing Westward, The Young Gods, All your sisters, Chris Connelly 
•19.09.20 US  – TBA 
•20.09.20 US  – TBA 
•09.10.20 ES  – Barcellona, Wolf live w/ Clan Of Xymox 
•10.10.20 ES  – Madrid, Nazca Music Live w/ Clan Of Xymox 
•21.11.20 DE  – TBA
Info:
https://www.facebook.com/ashcodemusic/
https://swissdarknights.bandcamp.com/