News
Details

Category:

Written by

Akill
Nitzer Ebb will be on Temple Athens's stage, for their fisrt show in Greece!
---
Nitzer Ebb. When you speak their name out loud, the mind starts playing that crunchy slamming beats of Bon Harris and your mouth starts whispering the elliptical words and lyrics of their most known hit "Join In The Chant". But the whispers quickly turns into that loud ear-addictive and aggressive vocal style of Douglas McCarthy.
No this is not a joke, and this is not a lie. Nitser Ebb will blow our heads up in Saturday, January 18th, from Temple's stage. They will slam their beats to our faces and they will make everyone dance to their old school aggression performed with elegance by the two experienced artists and performers and the rest of Nitzer Ebb.
Nitzer Ebb started back in 1982 in Essex. With their first demo, "Basic Pain Procedure" released in 1983, many said that their main influences where the post-punk icons of that period, like Siouxsie and The Banshees and Killing Joke, among others. To me their biggest influence was no other than D.A.F. Nitzer Ebb, though, added more power in their drums and an aggressive tone in vocals. I will use a description from the band's Last.fm profile, "They were electro-punks before the genre even existed, at a time when The Prodigy were not even a gleam in fellow Essex boy Liam Howlett's eye. Militaristic, intimidating yet always accessible, Nitzer Ebb enjoyed a string of ferocious club hits and released five critically acclaimed albums on Mute. From their first-ever single, 1984's 'Isn't It Funny How Your Body Works' through to their final 1995 single 'I Thought', they were a band whose honed aggression, originality and precision were impeccable."
Their debut album is, still, one of the most powerful electro, EBM, industrial debut works. Powerful beats, unique industrial sound and a collection of songs, destined to become dancefloor hits and old school industrial hymns. In 1987 they released this amazing debut, "That Total Age", following their previously released super singles "Murderous" and "Let Your Body Learn". The part that was missing in the three piece EBM puzzle hit was hidden in "That Total Age" and was titled "Join In The Chant". The song that quickly became a massive hit, not only in industrial clubs but in UK's acid, techno clubs, as well. The symbols on the cover of the album stand for "Force is Machine", "Visions of Order", and "Muscle and Hate". Two of these phrases can be heard repeated in the song "Join in the Chant".
After that, some big things were coming for Nitzer Ebb. A support act in Depeche Mode's, Music For The Masses Tour in 1987. A collaboration with German EBM pioneers Die Krupps in 1989 and the release of "The Machineries of Joy". After a line-up change, with the departure of David Gooday and the arrival of Julian Beeston, the band returned to the studio for their second album "Belief", where another massive hit was included, "Control I am Here". In a 1989 retrospective for Rolling Stone, Jim Farber wrote that the music video for "Control, I'm Here" had "the most harshly industrial visuals of the year" (Nitzer Ebb Wiki). In production there was Mark "Flood" Ellis, an experienced producer, having worked with New Order, Ministry, Cabaret Voltaire, Marc Almond and many others. "Control, I Am Here", along with "Hearts And Minds" and "Shame" once again, quickly became super hits in every club with a number of remixes following.
Three more albums were released via Mute Records, titled "Showtime", where the progress in the band's sound, arrangements and musicality was clear, with the most representative samples being the hits "Getting Closer" and "Lightning Man", then  "Ebbhead" where in production together with Flood we find Alan Wilder from Depeche Mode. The influence of Alan Wilder was obvious in their fourth album, until you reach the "Godhead". An aggressive industrial hit, in the way Nitzer Ebb used to write until then. A song that was greatly accepted in US, as well. And finally in 1995, "Big Hit" where more  of "real" instruments were used.
Not long after the release of "Big Hit", several internal issues appeared in the band, which lead them to stop any activity, and it soon became clear that another album would not be forthcoming. In fact it would take seven years before the band could bring themselves to talk to each other.
"In the end of 2005 when the quantity of requests for new Nitzer Ebb live acts went beyond the limits McCarthy and Harris met to discuss the possibility of reunion. Since the beginning of 2006 they started to give concerts and since summer Nitzer Ebb are on reunion tour. A 2CD compilation of best tracks and a bunch of remixes "Body Of Work" was released in may and later, in july, a remixes album "Body Reworked" followed. For the tour Nitzer Ebb hired a new drummer - Kourtney Klein, mostly known for her work in CombiChrist. In august of 2006 it was officially confirmed that Nitzer Ebb are working on the new material. The recording actually started in March 2007. New record is going to be produced by british producer Jagz Kooner and should be issued, according to Douglas McCarthy, at spring 2008." (Last.fm)
In 2018 Nitzer Ebb announced the reunion with members of the original line-up, David Gooday and Simon Granger, followed by an announcement of a long expected tour in US and Europe in 2019. The tour was extended and a show in Athens was added.
Here is now our part. My suggestion to all of the electro fans out there is go and get your tickets as soon as you can. Nitzer Ebb is a pioneer and pillar band in electronic music, not only in its underground industrial genre but they even influence some more "mainstream" styles".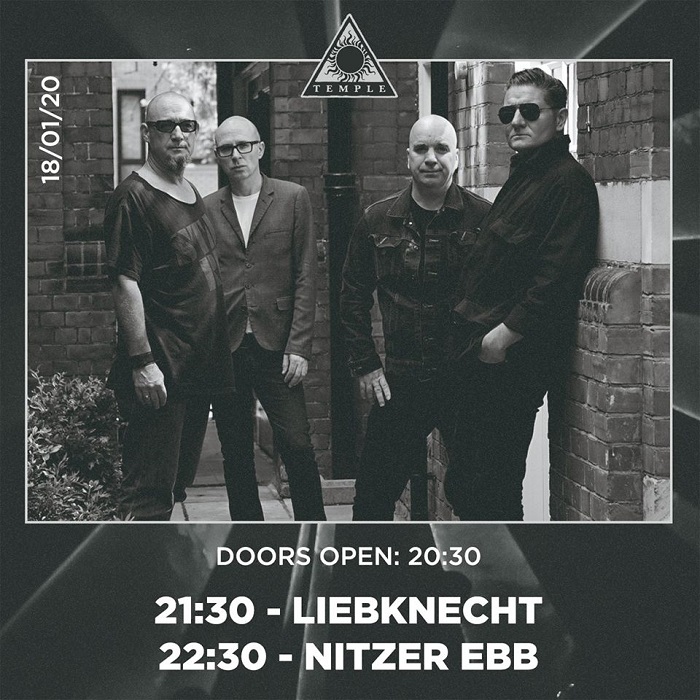 ---- Press Release - Nitzer Ebb w/ special guest: Liebknecht live at Temple ----
3 Shades of Black & Temple Productions present
Nitzer-Ebb.com ζωντανά στην Αθήνα
Special Guest: Liebknecht
Στο Temple Athens (Ιάκχου 17, Γκάζι)
Σάββατο 18 Γενάρη 2020
Πόρτες: 20:30
ΤΙΜΕΣ ΕΙΣΙΤΗΡΙΩΝ:
• 25€ (περιορισμένη προπώληση)
• 28€ (προπώληση)
ΣΗΜΕΙΑ ΠΡΟΠΩΛΗΣΗΣ:
• Le Disque Noir Records Shop (Θεμιστοκλέους 29, Αθήνα, τηλ.: 211 214 3554)
• Τηλεφωνικά στο 11876
• Reload Stores
• Seven Spots
• Βιβλιοπωλεία Ευριπίδης - Evripidis Bookstores
• Καταστήματα WIND
• Τεχνόπολη Δήμου Αθηναίων - Technopolis City of Athens (Viva Kiosk)
• Yoleni's Hellass (Σόλωνος 9, Αθήνα, τηλ.: 2122223623 - www.yolenis.com)
• Ηλεκτρονική προπώληση: https://bit.ly/2WwaCcN
Οι θρυλικοί Nitzer Ebb, δημιουργημένοι το 1982 στο Έσσεξ από τους σχολικούς φίλους Douglas McCarthy, Vaughn 'Bon' Harris και David Gooday, συγκαταλέγονται στους προπάτορες του EBM.
Βρίσκοντας τις επιρροές τους στην τότε post-punk σκηνή (Siouxsie and the Banshees, Killing Joke, Bauhaus) και τις ρίζες τους στην πρώτη electropop σκηνή, δημιουργούν την Power of Voice Communications αφού γνωρίζουν τον παραγωγό τους Phil Harding και κυκλοφορούν το ντεμπούτο single τους "Isn't it Funny How Your Body Works?".
Η διεθνής αναγνώριση έρχεται αφού υπογράφουν στη Mute το 1986 για την κυκλοφορία του ντεμπούτου LP τους "That Total Age", όπου συμπυκνώνει την ουσία του σχήματος και σε δεύτερη φάση το 1989, με το παγκόσμιο tour των συντοπιτών τους Depeche Mode τους οποίους και ακολουθούν ως main guests.
Κυκλοφορώντας άλλα 4 full-length albums πριν διαλυθούν το 1995 και με το "Industrial Complex" του 2010 να αποτελεί την πρώτη τους κυκλοφορία, μετά την επανασύνδεση του 2006, αλλά και με άπειρα EPs και singles να συγκαταλέγονται -εκτός των παραπάνω- στην δισκογραφία τους, οι συγκλονιστικοί Nitzer Ebb έρχονται για πρώτη φορά στην Αθήνα για ένα live που αναμένεται να είναι ιστορικό.
ΣΥΝΔΕΣΜΟΙ:
• Nitzer-Ebb.com: http://www.nitzer-ebb.com | https://www.facebook.com/NitzerEbbOfficial
• 3 Shades of Black: www.3shadesofblack.net | www.facebook.com/threeshadesofblack
ΕΠΙΚΟΙΝΩΝΙΑ:
• Website: https://thetemple.gr
• FB: https://www.facebook.com/templeliveclub
• Τηλ.: +30 210 3468523
• E-mail: This email address is being protected from spambots. You need JavaScript enabled to view it., This email address is being protected from spambots. You need JavaScript enabled to view it.
 Sources:
http://www.nitzer-ebb-produkt.com/
https://en.wikipedia.org/wiki/Nitzer_Ebb