News
Details

Category:

Written by

Akill
Twin Tribes announce the release of their second full-length album, "Ceremony"!
---
On Monday,October 28th, dark wave, post-punk duo from Brownsville, Texas, Twin Tribes, announce the release of their highly anticipated new album Ceremony.
Twin Tribes, almost two years after their debut album, "Shadows" are back with their new album, coming out next December. With  great reviews and feedback for the "Shadows", the duo joined some of the greatest bands of the modern post-punk, dark wave era, for a number of live shows. They appeared in Murder of Crows Festival, Absolution Festival and Coldwaves Festival 2019 and they gained the appreciation of the audience with their modern post-punk, dark synth, wave sound.
And the action goes on for the Twin Tribes, as they are about to release "Ceremony". With much experience gained through this period, "Ceremony" is going to be even more mature and darker and it will, definitely, establish the duo as one of the new "must-listen" post-punk, dark wave projects.
Along with the date announcement Twin Tribes made available the third single out of "Ceremony", title "The River". It is the third song from the new album, following "Fantasmas" and "Heart and Feather". You can listen to "The River" below. Also, "The River" premiered in Post-Punk web magazine and can be found here.
Twin Tribes formed by Luis Navarro (vocals, guitar, synth, drum machines) and Joel Niño, Jr. (bass, synth, vocals) in 2017.The band gathers their influences from the period of the dark 80's. Dark Wave, Post-Punk and Cold Wave are genres that the band summon using analog synthesizers and drum machines. Dark melodic sounds, lyrics of the undead, the occult and parallel universes are what conjure Twin Tribes.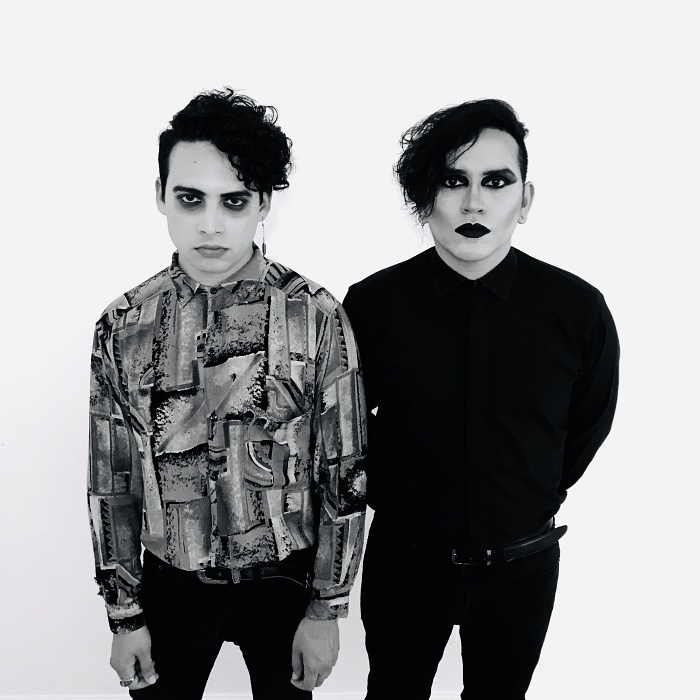 ---------------------------- 
Following up on their critically acclaimed debut "Shadows", Twin Tribes announce the release of their new album "Ceremony". Twin Tribes has spent a majority of the past year touring the United States and playing with genre prolific artists She Past Away, Actors, Kaelan Mikla, Ash Code and many more. They have established themselves as one of the best up and coming young artists within the scene today. 
Twin Tribes now set their sights on their sophomore album Ceremony . Their debut album Shadows, was steeped in darker, occult themed lyrical inspirations. "Ceremony" is a change of pace for Twin Tribes, focusing on love, loss, pain, life, death and influenced by personal events in the duo's life.
"Ceremony" will be released December 13th on Negative Gain (North America), Manic Depression Records (France), and Young & Cold Records (Germany).
"Ceremony" is available for pre-order here: https://twintribes.bandcamp.com/
 Info:
https://www.facebook.com/TwinTribes
https://www.instagram.com/Twin_Tribes/
https://twintribes.bandcamp.com/