Interviews
Details

Category:

Written by

Konstantina.B
Nitzer Ebb is back on the road after a year of isolation and devastation.
---
*words by Konstantina B.
With a North American tour on the horizon and the Substance Festival on their calendars, ElektroSpank caught up with the godfathers of EBM to talk about going back on tour, the changes in EBM, the anniversary of Ebbhead, and keeping up with social media.
ES: After a little over a year, you're back out on the road, playing the Substance festival and starting your North American tour. Tell us how you're feeling, coming back after some time away?
DM - Odd to be honest after the past 19+ months. Very excited and truly looking forward to playing and seeing people. We have a lot of old friends who have been around attending shows for many years, so that will be awesome to reconnect. We also garnered some excellent new attendees on our last excursion, so all in all it will be bloody brilliant.
BH - Ready for action and excited in what is still a very evolving world. Best foot forward and Funk On.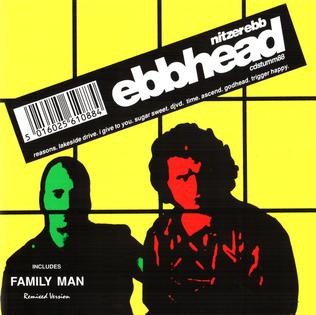 ES: Ebbhead turned 30 earlier this month. After so much time, what do you think makes this album an integral aspect of the EBM/Industrial catalog?
DM - Ebbhead sort of defined a moment, not just for us but a moment in musical history in general. There was a journalist from Spin Magazine, I think, who came backstage pre-show and was happy we were listening to the then-new Dinosaur Jr album, 'Green Mind' because the day before, he'd interviewed J Mascis at their backstage and the band were playing Ebbhead. It was just that kind of time.
BH - The eternal challenge for any artist is to evolve whilst staying true to your roots. Name any Nitzer Ebb album, and you can hear that process in action. It feels like we have always evaluated that challenge and addressed it head-on going into each phase of our journey. Time is the ultimate judge, and it would seem we have a decent report card.
ES: Nitzer Ebb has always balanced the sound of EBM with the groove and funk that was comparable to later Motown releases, and it always maintained this sexual pulse beneath the whole of it. After 30 years, do the inherently sexy undertones remain, or do the intentions change?
DM - To be fair, we're more morose and grumpy than sexy these days, but we can still throw the odd shape on the dancefloor. We're still funky and like a wiggle—still jam on Funkadelic, Trouble Funk, Sylvester, etc.
BH - The intention to Funk never changes. If you born Funky - you stay Funky. No self will in this. The choice is not your own. The Funk is strong in this one. May The Funk Be With you - Always.
ES: In 2019, Black Line, one of your side projects, released the "Sedition" EP, featuring the sedated mix that takes such a gentle and delicate approach to the track. What inspired the stripped-back version of the track?
DM - Bon is an epic musician and can compose any array of styles, so we lean heavily on his mastery and know it's always going to be amazing. As a multi-instrumentalist, he is adept at pretty much everything, but his piano malarky is second to none.
BH - That version started in Krakow on the BL tour with Depeche. My hotel suite had an attached ballroom with a grand piano (not a usual setup, I hasten to add). I had written the chorus piano parts on the album version beforehand. I always heard a full piano version and started playing it there in Poland. We based the mix on that.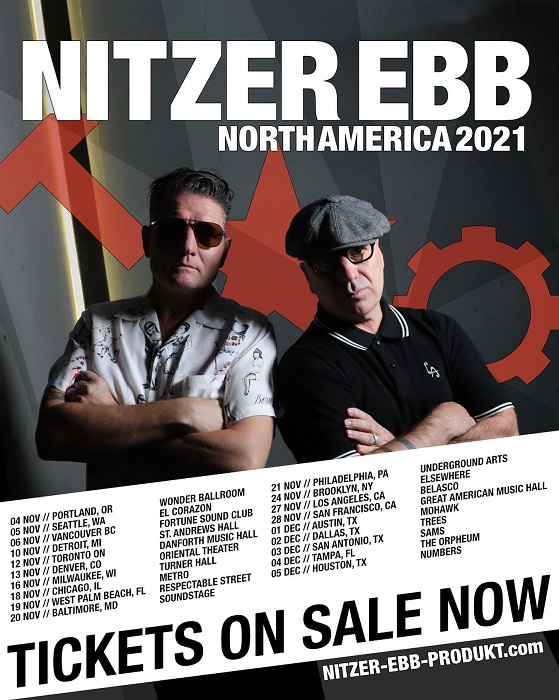 ES: As EBM changes and modifies itself with the ever-changing electronic world, how do you see Nitzer Ebb's take on the classic material? Do the environmental changes inspire how you re-interpret your work?
DM - There is certainly a degree of re-interpretation but to be honest, without sounding like a complete self-centered knob end, we are still very happy with how the originals sound. There's been certain refinements, but it pretty much sits very well with how we still want to make music.
BH - Agreed - the original versions hold up very well. The good thing is that there are a lot of ways the original arrangements could have gone. That leaves so much room for re-interpretations and alternative versions. At this point, that feels like a very interesting avenue to explore.
ES: You also maintain a very, almost anti-social, social media presence. Does this influence how you interact with the world as artists?
DM - Haha! Well, we do try but are also in our mid 50's so it is all a bit confusing to us. Seriously though, we have our personal presence, as much as we can bare and then the Nitzer Ebb stuff is more of an informative presence, tour info, etc. we should probably be better about it all, but the minimalism does fit with the history of the band. So, yeah, I guess it does influence how we interact with the world as artists.
BH: As a band - we are at heart always minimalists. I like to think we remain very approachable and responsive individually on socials, though.
ES: What can we expect to see from Nitzer Ebb in the near future?
DM - That's a toughie. We are evidently touring again. Over the Pandemic myself, Bon, and another LA-based musician Brad have slowly put an album together under the name of DRAG. So that has kept the creative juices flowing but obviously isn't Nitzer Ebb. Having said that, it has also got us writing together, so who knows what the NE world awaits us in terms of new material. We're not opposed to it, but there's more pressure on doing a new EBB album compared to a "project." We're sensitive, old, and grumpy. It's not easy.
BH - Touring first - always - putting on the best show we possibly can. After that, there is fertile ground in re-interpreting the existing catalog in new ways. Doug and I are enjoying the creative musical process more than ever. The possibilities for future NE projects are extremely rich in that regard. So watch this space.
Info:
 http://www.nitzer-ebb-produkt.com/
https://www.facebook.com/NitzerEbbOfficial
https://www.instagram.com/nitzer_ebb_produkt/
https://twitter.com/N_E_Produkt
https://www.facebook.com/NitzerEbbProduktTour