Interviews
Details

Category:

Written by

Akill
HERE X is the point where the spirit of early years post-punk sounds meet modern dark wave, post-punk influences.
---
During discussions I had recently with friends from abroad, they have been telling me how they admire the work that has been lately from the Greek dark wave, post-punk,cold wave scene and all the dark alternative spectre. I always tell them that there are many more incredible things to come from the Greek dark artists. And, hence, a great example, an amazing work and a proof of my words, is coming to us from Thessaloniki.
I am really happy to present you HERE X. The project of a really talented musician, Stavros Nikolaou. For those of our readers that are into the most electronic side of darkness, perhaps they already know Stavros Nikolaou from his music arrangements in one of the longer-lasting electropop bands in Greece, Technolorgy. 
So, HERE X is the spot thet Stavros was looking for, in order to let the guitar take over of his emotions, expressions and his inner concerns. Stavros took the opportunity that the quarantine period due to the global pandemic situation gave him, and he made all these time that we all, suddenly, had, to one of the best post-punk, dark wave albums. HERE X's debut album will be released in vinyl edition, via the Spanish independent label, Oraculo Records.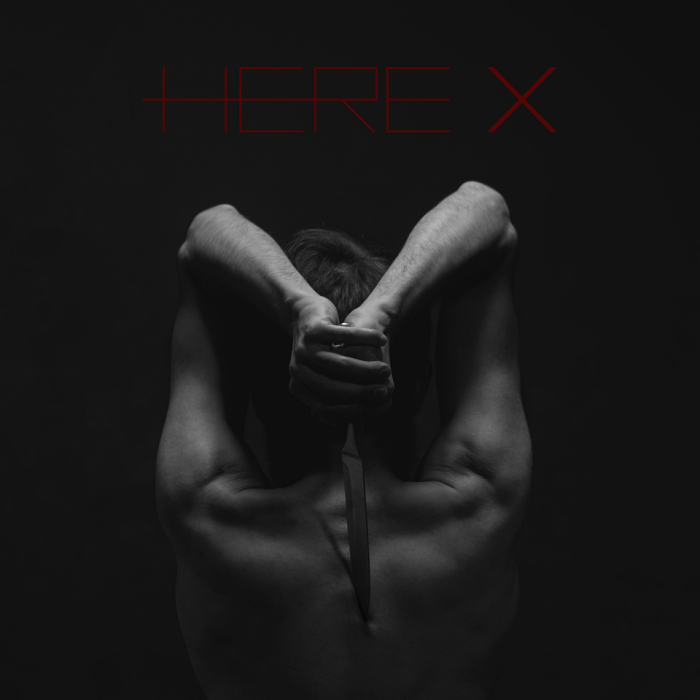 HERE X debut album will contain 7 tracks. So, as Stavros comments, someone could call it a mini album. I would say that despite the mini album reference due to the number of tracks, frankly, it is the opposite. It's a great album. From note 1 till the last Russian word that Dav1d sings in the last track. OK, let's see what HERE X bring us with this release.
"You Are Coming Home" opens the album and it is clear from the beginning that we will listen to a modern post-punk, enriched with ultra sharpness in guitars. Stumbling drum beats are followed by intelligent synth, strong bass lines and catchy guitar melody. And then you meet Stavros. Deep, dark vocals diving into the lyrics. "They 'll Never Keep Us Apart" gives another piece of the music puzzle of HERE X. Stavros is taking his influences, adopts the elements he love and creates HERE X's sound. I know you will listen to a number of influences and bands, already, but the goal is that HERE X is getting out of this influences so gently. Uptempo post-punk with strong guitar chords and light-distorted vocals. "Unfolding Before Your Eyes" reveals small glances to classics of post-punk, dark wave with a sense of a dark indie or even more rocking mood. "When We Kiss We Forget To Fuck" is this moment when Stavros turns and faces, without having anything to envy, the Los Angles based, She Wants Revenge. 
Next, there is a track that I love its original version. Actually is one of my favorite songs ever. And I was so curious to listen to HERE X's cover, that actually, it was the first I listened to. I have to admit that I am not a man of covers. I am very "difficult" person when it comes to covers. However, HERE X takes one of the beautiful songs ever written and treats it with great respect. Holding the basic lines and mainly playing with the tempo, Stavros covers "Hey You" of Pink Floyd with the appropriate respect and he gives us a really beautiful post-punk cover of a classic.
"Our Final Day" retains the dark ambience with the sharpness and gothicness in music, while you can hear the beautiful drops in drum machine, reminding cold, dark wave blends of the last 30 years. The voice of Stavros is going deep and dark again. "Domoi" is the closing track of HERE X's debut, where, as I told you earlier, in charge of the vocalsis Dav1d, lead singer of Technolorgy. Written in Russian language, "Domoi" is a beautiful dark, post-punk ballad. Low tempo, with the two artists sharing the same emotions.
Well, HERE X will definitely be in several dark playlists and setlists, while they can be the favorite for the best new band of 2021. At least in ElektroSpank's lists. HERE X manages to create a beautiful blend of so many different or not so different influences, from the 80's until now. You will, obviously, recognize the most of them while listening to their debut. But the key here, is that Stavros Nikolaou brings all these elements exactly where he loves and fits his passion, his excellent guitar play and his emotions in a sound that, at the end, it's his. Lyric-wise, HERE X are deep into love, unfulfilled needs, sentiments and passions, betrayal and relationships. Responsible for the amazing result in production is Dimitris Dourvas, at Lunatech Studios. Definitely, suggested and a must listen debut. Looking forward for the vinyl release.
But we didn't stop here, just listening to HERE X's debut. We had a beautiful chat with the man behind the X, Stavros Nikolaou, about this new project, and all around it.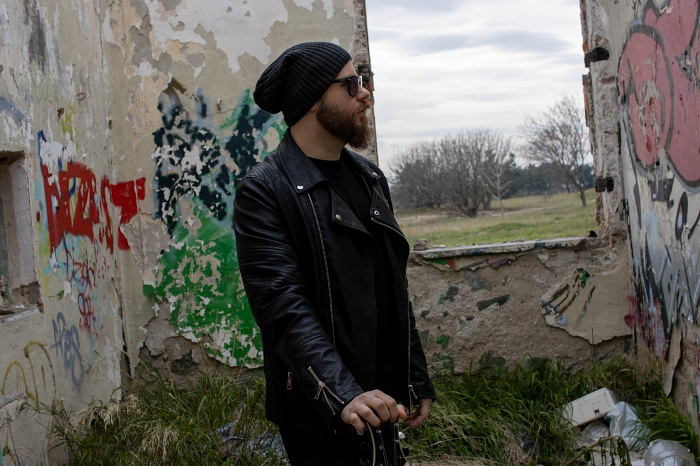 ES: Well, first of all I wanted to thank you for this interview. Let's start with some info for you and HERE X. Would you like to introduce yourself and HERE X project to our readers?
Stavros: I have created "Here X" during the quarantine of the global pandemic crisis, as for several years now, I had an inner need to make music with real guitars and real bass sound and suddenly i had the time to do it and really focus on it. I am not giving up my "electro" identity as the man behind TECHNOLORGY 's music but since I am actually a guitarist, "Here X" is my alter ego for sure. Most of the lyrics of the album were written by my bandmate from Technolorgy David, some lyrics are mine and other lyrics were written by good friends. I composed all the music parts of the album along with the
guidance and professionalism of good friend and of years collaborator with Technolorgy, producer Dimitris Douvras. The "maestro" of the Greek Dark scene. So here (x) we are. All tracks were written and recorded during march and September 2020 in my home studio. A very dark and lonely period
for me but I believe most people around the world felt the same way through these odd times we had (and still have) to experience. Oraculo records adored my work and i am more than proud to say that my music will go exclusively on vinyl by the Spanish label that has great expertise on this field!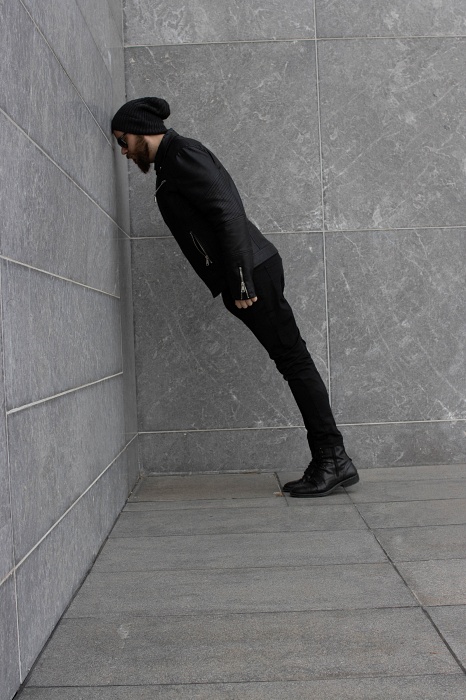 ES: So, HERE X. Your alter ego. HERE X will be widely introduced with the debut mini album, coming out via Oraculo Records. Can you tell us some things for this release? How did the collaboration with Oraculo come up?
Stavros: At first me and Oraculo Records had the thought of an EP with 4 tracks. But since I 've already had complete 7 tracks, we decided to release the whole album. A minialbum at least you could say. The moment I finished the album with Dimitris Douvras, I created an EPK(Electronic Press Kit) and sent it to a few labels. Oraculo Records was one of the first labels I sent my work because I really enjoyed the fact that they are releasing all of their work exclusively on vinyl. My music combined with Oraculo's aesthetics seemed as a perfect match for me!
ES: The whole project was born in a very strange period of time, globally. How has this affected HERE X's sound? Was the pandemic situation a factor that play its role to HERE X's debut and in which terms?
Stavros: For sure the pandemic situation had a major impact in my music, as well as the start of the project itself. I had all the time in the world to do it and focus on it.
ES: HERE X sounds like having picked some of the best "ingredients" of post-punk, dark wave music from the early 80's till now and merged in a beautiful way. Which would you say are the biggest influences in HERE X's music?
Stavros:  First of all thanks for your kind words about my music. Means a lot to me that you liked my album. I do enjoy all those classic bands from the 80s till now like The cure, Joy Division, Bauhaus, The sound, Killing Joke and many more of course. For sure I enjoy stuff like She Past Away, She wants Revenge, Motorama, Human tetris, Molchat Doma which I am pretty sure that anybody can hear those influences on my music but also I am a big fan of the Classics, like Queen, The Beatles, Pink Floyd etc. Those bands are pretty much the reason I grabbed a guitar when I was 10 years old. As I like to say No matter where life takes you don't forget where you came from.
ES: Lyric-wise, there is this sense of unfulfilled love, or betrayal and it seemed to me that HERE X talks about relationships in a various dimensions. Could you tell us some things about the concept behind the lyrics and the inspiration?
Stavros: As I said the lyrics were mostly old songs of my bandmate David from my other EBM/synth Pop Band TECHNOLORGY. I wrote some lyrics myself like the song "When we kiss we forget to Fuck", about 80 percent of the song "they 'll never keep us apart" and some other lyric parts of the album. And yes, you are right, the main lyrical theme of the album is about relationships and betrayal. I think this happens because I am a bit of a drama queen hahaha.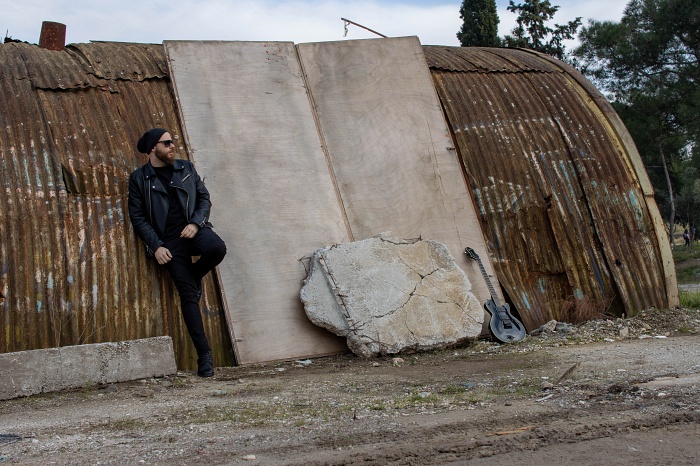 ES: HERE X's debut hides a really interesting cover to one of the songs from one of the most influential bands in history music. Could you tell us about it? How did you decide to cover such a song, which, to some, could be a risk to do so? Personally I really like your view and the outcome.
Stavros: First of all I am glad you enjoyed my cover! I enjoyed it too I might say! As I said to a previous question I am a big fan of the classics. So I chose "Hey You" by Pink Floyd, one of the best songs ever written in my opinion! Sure these kind of song covers can be risky but besides the fact that I changed the tempo of the original song I feel like I respected it and I hope that a lot of people would see it this way also.
ES: Apart from the lyrics written from your Technolorgy bandmate, Dav1d, we've seen that he is also responsible for the vocals on one track. Can you tell us some things for the people that supported HERE X project? And, of course, about the whole production which sounds amazing.
Stavros: I asked Dav1d if he wanted to do a russian lyric song since he is actually russian and he was positive so we created "Domoi" which means "Homeward" in english. He did the Lead vocals and I did the backing vocals. Domoi might not be the hit of the album but in my opinion it's one of the best songs I 've ever written!
ES: What is coming next for HERE X? Which are your future plans? Considering the restrictions that affect music industry which are your thoughts in promoting HERE S debut album?
Stavros: I am not sure if I have plans... Just one for now. Record some new songs. One future plan you might say is to create a full band for my project since for now it remains an one man band.
ES: I really like HERE X and your debut work. I would like to ask many more but we can continue this conversation after the release. Would you like to add anything else? Any words from HERE X to our readers?
Stavros: Really glad you liked it. For me this project was my way to keep my sanity through those odd times. I believe it's way too soon to say anything else about HERE X's future exept that I am hoping people will enjoy it as much as you did! Thanks for your kind words again about my music! And for the record, this interview in ElektroSpank,
is HERE X's first interview ever if that means anything to anyone haha. Thanks again!
ES: Thank you very much for this interview. I wish you all the best to this new start and really looking forward to the release of HERE X debut and your future steps.
Info:
https://www.facebook.com/HereXBand
https://oraculorecords.bandcamp.com/album/youre-coming-home