Interviews
Details

Category:

Written by

Akill
Zwaremachine, the old school industrial played with 2020 techniques.
---
Zwaremachine, the project of Mach Fox from Mineapolis, is one of the powerfull industrial machines that creates new music with the elements of the retro electronics and the old school industrial. With a full-length album "Be A Light" released in 2018 the trio, consisting of Mach FoX - vocals/synth, D-bot - bass guitar/vocals, Dein Offizier - drums/percussion, became rapidly known to industrial music.
Always keeping the darkness in their sound, vocals and lyrics, influenced by dark wave, Zwaremachine experiments with the dark electro sounds creating cold industrial soundscapes.
This year's Halloween events will not be the same with the past. However Communion After Dark and Dark Indulgence have come together to bring the masses a premier streaming music event for Halloween. Zwaremachine will be in the line up and they will perform their new  single titled "Conquest 3000".
We spoke with Mach Fox about Zwaremachine, industrial sounds, minimal hypnotic body music and all around it.
ES: Hi Zwaremachine. First of all, thank you for this conversation. Before going into details about Zwaremachine, the music and the event that is coming up, would you like to tell us something about you and the band?
Hi ElektroSpank - I am Mach Fox and I am a musician/visual artist/VJ from Minneapolis, Minnesota USA. Zwaremachine is currently a trio with members from USA and the Netherlands - Mach Fox(vocals/programming/visuals), Dbot(bass/vocals) & Dein Offizier(drums/percussion). Our music is electro-industrial/ebm/darksynth.
ES: Zwaremachine first release was back in 2011 with a single, "Raumschiff". How did Zwaremachine come up? Which facts led you to form this project and what does the name stand for?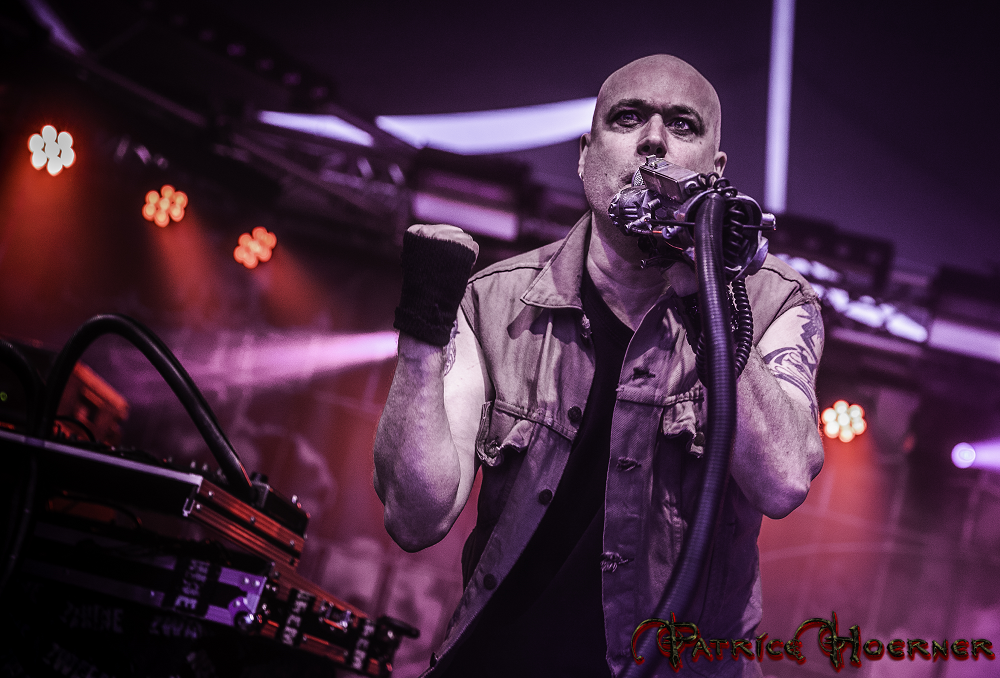 I had several bands before Zwaremachine and had been incorporating drum machines, synthesizers and sequencers into my music leading up to forming this current band.
At the time that I started Zwaremachine I was also working on my own video art and learning VJ techniques and my goal was to have an audio-visual band where the visuals and stage presentation could be a strong element to support the music. I wrote a track called "The Zwaremachine" and it was a heavy electro-industrial feel which pushed the sound and ideas for live performance further. I started working with friend and DJ Jobot to find a way to have him trigger live drum and synth sequences/synth while I sang and played sampler/electronic drums before adding another member to take over live drumming.
At the time of forming the band and releasing that first self-titled track I had also been involved with several independent labels from around the world.
I really enjoyed releasing my music on Italian,German,Russian labels and the reaction from other parts of the world made me think more globally on many aspects of my new music.
The idea to combine words from other languages with English led me to finding "Zware" which I thought was German...but It turns out to be a Dutch word meaning heavy.
That fit very well for several reasons, the heavy dark music and also we were using all hardware for live performance until recently it was all quite heavy to haul around.
ES: After the first release, in 2011, a long period passed until the debut full length album, "Be A Light" in 2018. Can you tell us some things about that period?
From 2011 until 2016 I had been performing locally as Zwaremachine and asking musician friends to fill in for live gigs. I was the only permanent member during that time and was writing and recording all myself with the intention to present a band when we played live shows. I was also able to experiment with the live instrumentation I wanted to mix with the sequenced parts.
The current bassist in Zwaremachine, Dbot played synthesizer and electronic percussion for some shows with me in that time and those performances always had visuals as major part of our performance with the band hidden in the shadows.
In 2017 I decided I wanted to bring Zwaremachine into a touring band and began writing the tracks that would become "Be A Light" with live performance in mind.
I was able to write and sequence those tracks while performing live sets which really helped shape the sounds and direction that album would take. I commited to a sound that could be produced live and still sound like the recordings by adding 2 additional members on synthesizers and electronic drums before final tracking of the songs on that album.
ES: "Be A Light" was greatly received by both media and fans. What is the story behind this debut album? Which were your influences or inspiration while writing "Be A Light"?
I was pleased by the response to that release and many thanks to all who reviewed it and spread the word about our music at that time.
The industrial/ebm scene had been getting popular in the states around that time almost like a first wave to some younger fans and it was great to be a part of a resurgence and love for the retro sounds but I also wanted to combine that with new production techniques. You may notice that the tempos feel a bit slower on that release and that was mainly because I wanted the dark reverbs and delays to have time to trail off before the next beat.
I made the drums hard quantized and let the bass synth be the human feel part... so many times after the song was sequenced I would tap in different tempos until the bass synth felt right. I felt like this also gave more emotion to some of the songs instead of only a driving dancefloor tempo being used.
Many bands like Front 242,Skinny Puppy,the Klinik and others from that era influenced the mood of this record and the audio visual bands like Severed Heads, Clock DVA also played a big part in not only the sounds but the direction of the live performances as we stepped out of the shadows on stage.
ES: In June 2020, a reissue of "Be A Light" was released with some changes in the sound, with differences in the tracks and new collaborations. Which would you say are the main differences between the two albums? How did you decide to reissue your debut album?
We released "Be A Light" originally as cassette,CD and digital but the original label had no worldwide distribution and was only available by mailorder or at our shows so we started looking for a label that could support this release with wider exposure and make the release available in Europe where we were planning future shows.  The original mixes were the same on reissue with the addition of "Remain Unseen" which was the first track to feature bassist Dbot and had always been part of the live set.  We also chose different remixes that have a more focused sound for the dancefloor and DJs for this reissue. We included several by music producer Planktoon who has remixed many of our tracks and is collaborating on our next release and the rest are projects that our bassist Dbot is involved in so we wanted to highlight those as well.
ES: Along with the reissue of "Be A Light", a new EP was released, titled "Ripping At The Fabric" via Brutal Resonance Records. Can you tell us some things about this EP and about the collaboration with Brutal Resonance?
The Ripping At The Fabric EP was written by D. Corri(Zeven Odd Gods) and myself and came from a collaboration in which I was going to add vocals to an EBM style instrumental he had sent.
The track was inspiring and I asked him if I could do some edits to his arrangement so that it would be easier to write and record the vocal track.
He agreed to let me have at it...and we both liked the results so he sent more tracks and within a month and a half we had an EP ready. During this time Steve from Brutal Resonance was considering starting a label and doing some small run cassette releases so we talked about having that EP on the new label and it happened to be the first release which we are very proud of. His support for Zwaremachine with the online magazine and label has always been strong so we look forward to working with Brutal Resonance Records more in the future.
ES: Let me go to an exciting event coming up, on Saturday, October 31st. Communion After Dark and Dark Indulgence have come together and present an online streaming event with an excellent line-up. Among others, we will see the performance of Curse Mackey, Empirion, ESA and of course Zwaremachine. Can you tell us some words on this event?
This is shaping up to be a very cool livestream event and we are thrilled to be a part of this with our only live performance of 2020.DJ Scott Durand has been a great supporter of our music and so much of the new music in our scene that when he and Eric from SpankTheNun contacted me I was immediately interested to find a way we could be a part of this Helloween event. The Communion After Dark involvement is great also as they have some really good DJs and mixshows with a strong following and we are all promoting this together. The Zwaremachine set is at 8:45PM (CDT) during a block of really strong bands..Do not miss a minute of this 12 hour band and DJ event on halloween!
ES: Zwaremachine's performance in 2DarkHalloween will be the only performance for the band in 2020. What can we expect in this appearance?
We will be debuting the next single titled "Conquest 3000" during our live performance and also adding 2 songs from the recent EP into this set along with some songs off the debut album. I had turned down several requests for a Zwaremachine livestream set from others due to the fact that we are a trio and our drummer is in the Netherlands
so we were not able to all perform together. For this event we are performing a 30mn set as a duo of bassist and myself like we did for our tours and shows in the U.S.
for the last 2 years while promoting our debut album. It has been a challenge to present our music with that same energy as we have as a trio on stage in a club environment so I tried to create a new type of presentation and was able to use many of the CRT televisions, video mixers, multiple cameras and custom visuals I have made to present our music in a unique one of a kind way for this 2 Dark Helloween event.
ES: I want to go back in Zwarwmachine's music and ask you about the bands, artists that influenced your sound, the most, throughout these years.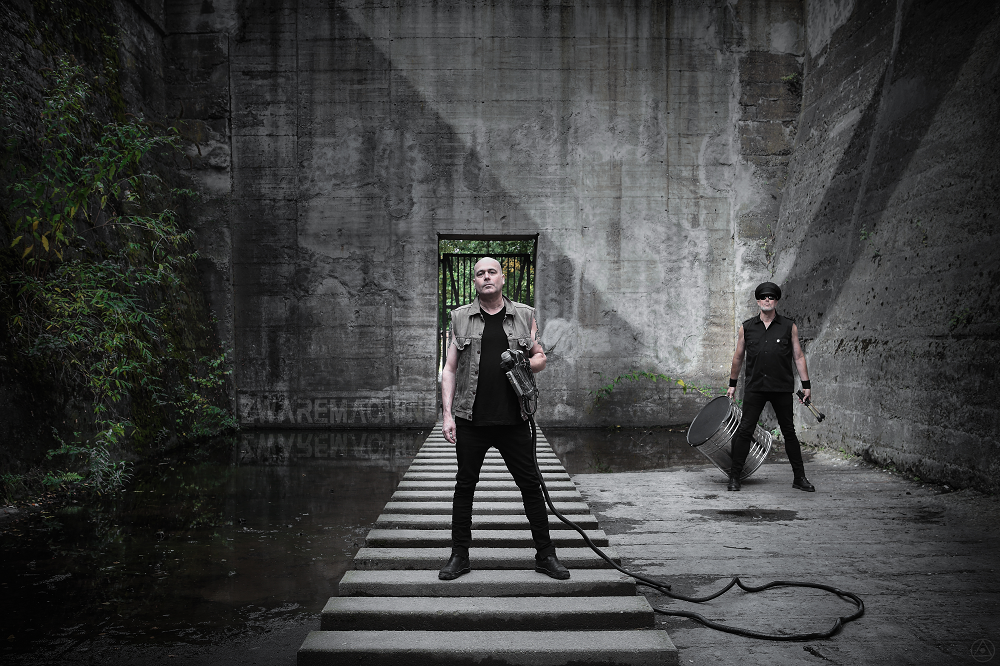 Which are your main influences music-wise and where do you get your inspiration from, lyric-wise?
I have always loved synthesizers and drum machines...early influences like Yazoo and Gary Numan still can be heard but I also like some of the darker sounds
and more experimantal approaches of bands like Skinny Puppy and the Klinik. I like to give a nod to those that influence but also try to have modern techniques for mixing and production. I came from a punk band/DIY backgound and still have an idea to let some things be rough and unpolished...especially for live shows...that leaves us some room for explosive moments and the chance of mistakes to overcome also. My lyrics are most influenced by horror and sci-fi movies with a slant towards cyber themes as well. Also some of the punk bands like the Clash and Dead Kennedys had some political commentary and I was informed through that type of music so those still influence my writing though I don't consider Zwaremachine a political band.
ES: Minimal Hypnotic Industrial BodyMusic. The reissue of "Be A Light" brought up this description of the sound of Zwaremachine. Can you tell us something about this?
I have been using that description since the debut album as a way to have a genre description for potential listeners that would be a bit more informative and point out how our music has those familiar elements of industrial and EBM while adding our own twists. I prefer to loop certain riffs and lyrical elements to focus on a repetitive hypnotic sense that was especially strong on "Be A Light" album.Our new music also incorporates some futurepop while still being dark and menacing so we will see what comes next.
ES: While many things have changed in 2020 regarding the music industry, which are the future plans for Zwaremachine?
Is there more new material coming up?
We do plan to release a new single early in December 2020 with remixes by X1L3 and Batavia. This will be the title song from the next album/EP and we are finalizing the artwork with Mark Gerrard right now. We will also be releasing videos for those tracks and have been working on new songs with Planktoon for the next record.
ES: I would like to thank you again for having this chat.
Would you like to add something more? Some more words to our readers and your fans?
Thank you for this interview and support on ElektroSpank! We are still working hard to get our music spread out in the world so if anyone stumbles across this and wants to share our Minimal Hypnotic Industrial BodyMusic or videos on social media or elsewhere we will much appreciate that!
Info:
https://www.facebook.com/zwaremachine