Interviews
Details

Category:

Written by

Akill
The spiritual martial arrangements of Parzival will be heard in Athens's skies.
---
Parzival, is a band that has written their history through the years, with a numerous chapters, each one with unique characteristics. Started in 1992 in Copenhagen, Denmark by vocalist Dimitrij Bablevskij, initially with the name Stiff Miners under which they released two full length albums and after several line-up changes the band's name became Parzival. Parzival have already released ten full length albums, with the latest being "The Golden Bough", released on September 20th. They have travelled and performed around Europe and in some of the greatest dark, gothic festivals.
Parzival's sound is a collection of different influences and inspirations, changed during the time and when the band's members felt that they had to move forward. Into their albums someone will find from industrial, EBM beats to martial instrumentations or even gothic, neofolk rhythms and doom metal guitar riffs. Every album is another chapter which hides a different, interesting story. And the main storyteller, the singer, the voice of Parzival is Dimitrij Bablevskij, with an amazing deep voice, bound perfectly with all the other characteristics of the band. That is the case with their new album, "The Golden Bough". New elements, magical arrangements, beautiful voices. And Parzival will present this concept album, along with some of their previous hits in Athens's live show, at Death Disco Club, on December 19th.
I had the great pleasure to speak with the members of Parzival and discuss about their ideas and thoughts on music and of course about their upcoming performance in Greece.
ES: Hello Parzival. I'd like to thank you for this interview. Although there is quite a long history behind Parzival, would you like to tell us some words about you? Would you like to introduce yourselves and your band?
Parzival: "The music of Parzival is art of the Gnostic, not an imitation of life – but a demonstration of the sparks scattered in it and collecting them into the most vivid constellation. This constellation is the "work" opposing the usual cultural product. Roots of the band goes back to Soviet in the 80's formed by few of the band's members, who later relocated to Copenhagen, Denmark, where the band have been operating from ever since. But as a band we were called Stiff Miners from beginning of the 90's. Under that name we released two albums – "Giselle" (1994, Cleopatra Records) and "Vox Celesta" (1997, TBA Records). The bandname was then changed to Parzival, and first album under that name was called "Anathema Maranatha" (1999, Euphonious Records). Since then, Parzival have released nine albums throughout the years, on Scandinavian labels such as Voices Of Wonder/Euphonious Records and Mighty Music - and performed in lots of different places. We just released our new album "The Golden Bough" (2019, Moondrop Records)".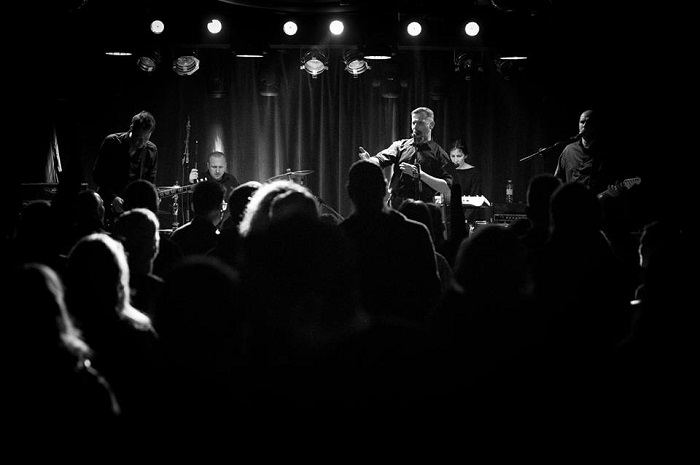 ES: Well, seems that, among others, I have two main subjects to discuss. And these are your new full length album and your concert in Athens, Greece. Let me start with the latest news, and your album, "The Golden Bough". Can you give us some info on this new release?
Parzival: "Yes, our brand new album is out on CD, LP and digital – it's a progression of earlier works, with a lot of new influences. We look forward to perform in Athens at the Death Disco venue. This will be our first gig in Greece, and we have been getting a lot of positive reactions on our music from Greece over the last years, so we really look forward to please our Greek fans".
ES: There are various differences and new elements in "The Golden Bough", compared to your previous releases, that I would like to discuss. But first I would like to ask you about the story behind "The Golden Bough". What is the concept idea and where were the lyrics inspired from? The new album title is taken from the book written by a Scottish anthropologist Sir James George Frazer, which is about magic, religions and the progress to scientific thoughts. Would you say that these are the main pillars that "The Golden Bough" has been built upon?
Parzival: "The Golden Bough" name is indeed taken from the book by Sir Frazer. The thing is, we disagree with the author and his scientist work. Because in the view of Parzival, he put all his ideas in a very primitive way. In the way our album is called "The Golden Bough", it's almost like a reverse engineering of his work, but it's only our personal view on his book. Here, in some points, we will explain why we disagree with him:
1 – Frazer only offends everyone. He humiliates primitive tribes, insults them. Call their minds not developed. But where is the evidence? Where is the evidence that their mind is underdeveloped? This gentleman did not bring any evidence.
2 – In "The Golden Bough", he wrote that religion is supposedly the propitiation of a deity. Voluntary submission to the deity. But where is the evidence? No evidence! But what about Buddhism, Taoism, Jainism, which deny the Gods on different grounds? They are also primitive tribes that have this phenomenon: if the God of rain does not bring rain, people goes to his statue, throw it and begin to blaspheme him until he brings rain. I see – it is such as propitiation.
3 – The same which magic. Where is the evidence that magic is based on the laws of likeness and contact? There is no such evidence! At the same time, Frazer makes a major miscalculation. If I am not mistaken, Marcel Moss, in his book of The General Theory Of Magic, wrote that even religious rites are sympathetic. For example, a priest is standing in front of the altar, in his hands is a bowl of water. He pours it on the altar, asking the deity to give rain. But this is not a magical rite, but a religious one.
4 – Since the definition of magic and religion is wrong, then his general ideas are wrong. There's nothing to say! They must not be taken seriously!".
5 – And last and finally: Frazer's theory of the three-stage development of society (magic-religion-science) turned out to be false, far-fetched and false. In addition, Mr. Frazer simplified everything. Magical rituals are highly complex. In addition, now the idea that Osiris and gods like that, is a cult of agriculture, a dying and resurrecting nature, has been refuted. Mr. Frazer imagined in his head that the cult of Osiris symbolized nature,and were responsible for the withering and rise.
So in our own way we did "reverse engineering" with our lyrics and concept for "The Golden Bough" album. We would like to put it back to the spiritual life of the human beings – it's not a subject of vivisection and anthropology – and to make our forebears in a primitive light of their existence".
ES: Parzival are famous for their bombastic medieval, martial electro, industrial sound, until, at least the release of "Urheimat" back in 2010. Since then we've noticed the addition of several other elements in your music, like neo-folk melodies to even heavy and gothic guitars in the last albums. Can you tell us something about this evolution and transformation on the band's sound throughout the years?
Parzival: "It's a crucial thing for us to progress and evolve, but still to maintain the core sound of Parzival. If you listen to such different albums as "Blut And Jordan" (2001), "Deus Nobiscum" (2005), "Casta" (2014) and "The Golden Bough" (2019), we think it's quite easy to hear it's the same band. We got a little bored with the electro sound after "Urheimat" (2010), and that's why we started to move on to new musical territories with "Die Kulturnacht" (2012) and "Casta" (2014). On the last two albums "Urheimat Neugeburt" (2018) and "The Golden Bough" (2019), we returned to the more "rock" sounding sound from "Blut Und Jordan" with electric guitars. But on "The Golden Bough" we took it even further. Some parts are even influenced by doom metal and 70's prog rock. We do really like to challenge ourselves, so this is a natural step on our musical journey".
ES: Another interesting point in "The Golden Bough" is the extended use of the English language. Something that we were not used to in the previous releases. Which factors led you to the increased use of the English language in the new album?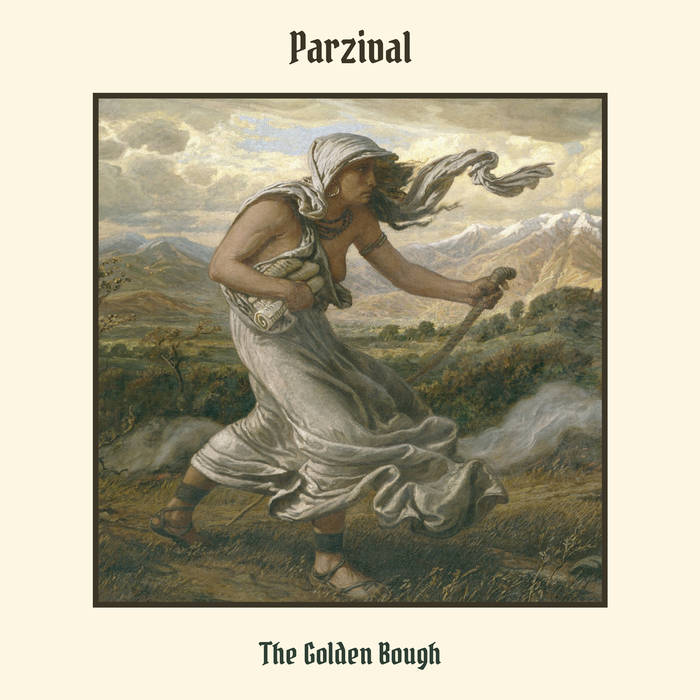 Parzival: "As the music, we would also like to progress with the lyrics, and since we have been using latin, german, Greek, and Sanskrit for all the previous releases, we thought it was about time to do English lyrics. Especially since it fits so well to the more rockish sound of "The Golden Bough".
ES: Since we've spoken about the concept behind "The Golden Bough", would you like to tell us about the different stories and concepts in some of the previous albums as well? What would you say are the origins of each album's story?
Parzival: "Each album has it's own story, for example "Casta" (2014), a good friend of ours, Maxim, helped us to do the lyrics in his own language based on pre-sanskrit and german language. And Slavic language also. As for the music, it was more Asian inspired at that album. On an album like "Urheimat" (2010) we used primitive EBM style beats mixed with lyrics about hyperborea and so on. And so it is for all of the albums, but it would take 100 years to explain about them all, ha ha."
ES: Well, perhaps this one is a trivial question and one that you've being asked to, many times, but can you tell us about the band name? What does Parzival stands for and what does mean to you?
Parzival: "The name Parzival is the most faithful, most sincere, most complete, and at least the most beautiful expression of philosophical and religious ideas which we reflect in our own music with years from beginning to present moments".
ES: Let's talk about Athens's live show. Would you like to tell us how do you feel about your upcoming visit in Greece?
Parzival: "As mentioned, we really look forward to perform in Greece for the first times. As we have Hellenic roots, we not only look forward to the gig, but also to explore Athens again and meet all our beautiful Greek audience in Athens. It's a great honour to play in such a historical country Greece which have big connections to our art".
ES: What can we expect from Parzival's concert in Athens, since it will be the first, after the "The Golden Bough" release?
Parzival: "We will do our best to do the performance as great as possible. Our concert will focus on our new album "The Golden Bough", but we will also play some older classics in new versions".
ES: You've been compared a lot with one of the neo-classical and martial industrial pioneers, Laibach. Would you like to say something about this? Was Laibach an influence and inspiration to you, back in the early years? And which were and are you music influences since then?
Parzival: "Ah, our favourite question, ha ha! It's very easy to compare Parzival to Laibach, because of the voice – but if you listen to albums like "Casta" or "The Golden Bough", the music doesn't sound like Laibach at all. The voice of our vocalist sure have similarities with Milan from Laibach, but you have to understand that the original Russian members of Parzival, including vocalist D., started their band in the beginning of the 80's in Soviet – and didn't know anything about Laibach. The original members of Parzival share the same musical roots as Laibach – both bands started behind the iron curtain and have both often told about their Russian and east-european musical influences. So no, Laibach was never an influence on Parzival, but it's rather Laibach and Parzival sharing the same musical roots. We do appreciate several Laibach songs, but we didn't learn about the band until Parzival vocalist D. had developed his singing style for several years. Often the reviewers who compare us to Laibach, just don't have the The comparison to Laibach is getting quite boring, as the band honestly were never inspired or influenced by them. Parzival's influences are more from Diamanda Galas, Swans, DAF, Kraftwerk, Wagner, Prokofiv and even rockbands like Led Zeppelin and Uriah Heep!".

ES: I think I could ask you a lot more but I can wait until next December, when you will be in Athens. Until then, would you like to add anything more? Would you like to share anything else with our readers and music fans?
Parzival: "Thanks to all who supports us – as an underground band we encourage everyone to buy physical products such as LP's and CD's as the work of art they are – and to make smaller bands survive. All modernity is a mess, addressed personally only to you, in order to wrap you in a network of multi-story sleep and freeze your search for the Holy Grail".
Info: