Interviews
Details

Category:

Written by

Akill
One of the new bands that is, really, overflowing with strong and true emotions! Isolated Youth.
---
Isolated Youth are coming from Stockholm, Sweden. They introduced themselves to the alternative scene earlier this year with an amazing post-punk, dark wave, indie EP. Their "Warfare" EP, came out in February, 2019, from Fabrika records. "Warfare" is an excellent debut release for the young quartet from Sweden. It is a form of post-punk equally balancing with a numerous other elements and genres. Characteristics that make Isolated Youth one of those bands that will, definitely, leave their mark in the modern post-punk history.
Strong emotions, true feelings, enforced with how, exactly, today's youth feels, a unique fragile voice, all balanced upon some dark, post punk riffs, basslines and drum rhythm.
Isolated Youth were formed in a small coastal city north of Stockholm on the first of March 2017 by brothers William & Axel Mardberg along with Egon Westberg Larsson and Andreas Geidemark. While reminiscent of what post-punk once was, Isolated Youth's sound is yet distinctive and original.
Isolated Youth will be in Athens, Greece on Saturday, September 14th, for a live performance. It will be a show that will fill Death Disco club with dark feelings, energetic, emotional tunes. A band that is one of these that will make you talk again and again about their music in the future.
ES: Hello Isolated Youth. Thank you for this interview. A live appearance in Athens is coming up. Before going to this, would you like to tell us something about you and the band? Would you like to introduce yourselves to our readers?
Andreas: We are all from the same area outside of Stockholm. And we all knew each other before the band. We started out in a small rehearsal space in this area in 2017.
ES: Isolated youth formed in 2017. In February 2019 you released the "Warfare" EP, which came out from Fabrika Records. How was that experience? We've read some beautiful feedback and reviews from music media. How do you feel about this?
Egon: We are very pleased with the end result of the work we did during that period which culminated in the release of "Warfare". I don't think the experience was any different from other practices of condensed energy during a limited timespan which result in something of another nature. A truly beautiful experiment.
Getting positive feedback is of course good and it is a driving-force to create more art in similar directions.
ES: The sound of Isolated Youth. It seems that there is a mixture of dark wave, post-punk elements and riffs with some more indie, alternative sounds. What would you say are the main influences music-wise?
Axel: David Bowie, some old and some new Post-punk, and maybe a few electronic acts like Suicide...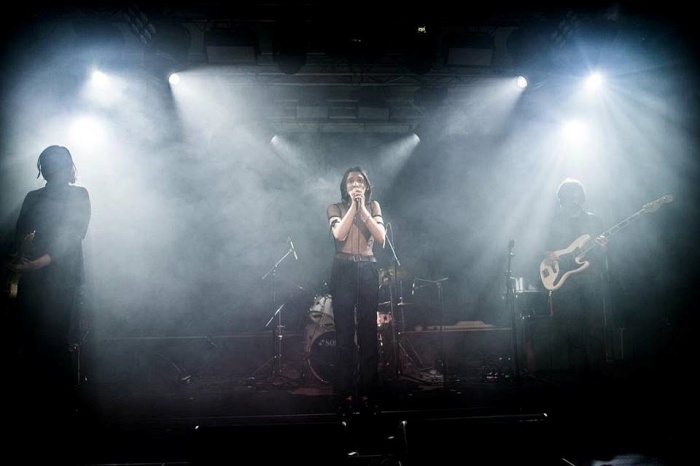 ES: The feelings that your music creates an intense emotional mood. Along with the lyrics and the fragility in voice, there is a really unique result. Can you tell us some things about the lyrics? Where do you get your inspiration from? What is the idea behind "Warfare"?
William: Well usually when I write, I search for one true sentence. And when I have the first bit of the puzzle, the remaining ones don't take long to follow. I normally try to write with a rhythm, and I strive to be as honest as I can. Warfare is a spiritual call to arms, an attempt to let light in to a dark room…
ES: It is more than 6 months since the release of "Warfare". Since we've talked about media's reviews, I would like to ask you, what is feedback and reactions from the audience and your fans?
IY: We've had a few quite wild shows… other than that, it is always nice to hear when people tell us our music means a lot to them.
ES: You've been on the road for some time now with scheduled concerts. Next stop is Athens. How do you feel about this? Which are the strongest feelings while you are on stage? What can the fans in Greece expect from the show on Saturday, 14th of September?
Axel: Oh, it will be fun… On stage i feel ecstasy and devotion — it feels otherworldly. I couldn't tell them, it's a secret! They'll have to go see for themselves.
ES: What is your plans for the future? Is there a full length album release planned?
Andreas: A full length album is on our list for sure. We don't have an exact time for that release yet, but many exciting things lie ahead...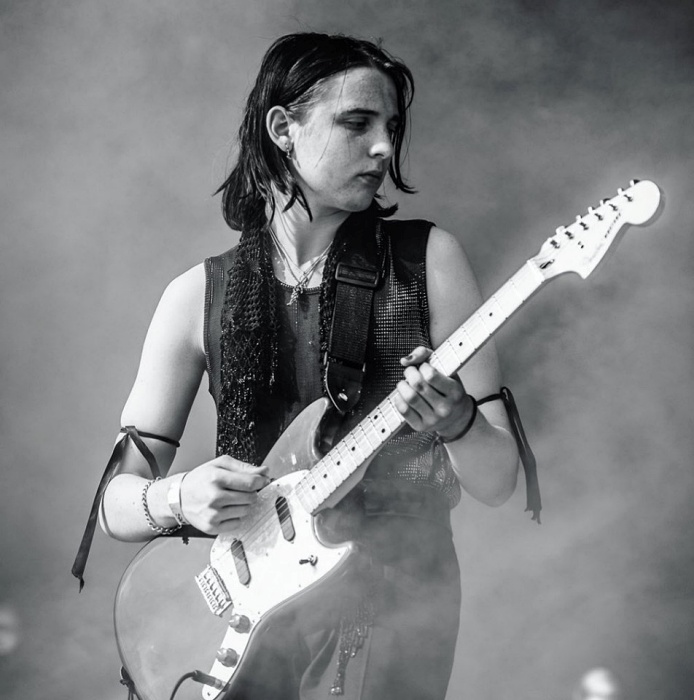 ES: There is a lot of action in post-punk, dark indie scene during the last years. What is your opinion on this? Which do you think are the main facts that helped in this?
Egon: I think the development of scenes like this is necessary to address alternative ways of comprehending the world. Since we are a part of this scene it is important for us that it doesn't stagnate.
It is probably some kind of general distrust with society that has helped the scene to grow in recent years. For me personally it is also an increasing lack of interest in art that does not give enough back with regards to how much you put in to it. That leads me to take interest in narrower scenes, like this.
ES: Which factors drew you to the darker side of music? When did you decide that this is the kind of music you would compose, write and perform?
William: You know, we've never decided on what sort of music we would write. "There is nothing behind the mask" and if people see light or dark, that's for them to decide. Certain phrases, certain tones resonate with us, we mirror our surrounding, our roots and ourselves, and this is what happens when Isolated Youth gets together.
ES: Any last words? Would you like to share something else with our readers and your fans?
IY: See you at Death Disco.
Thank you very much. I wish you all the best in your life and in your music. Looking forward to see you perform live!
Info:
https://isolatedyouth.bandcamp.com
https://www.facebook.com/isolatedyouth/
https://fabrikarecords.bigcartel.com/artist/isolated-youth