Interviews
Details

Category:

Written by

Akill
Anima Triste is back with the second full length album "Humanity".
---
 Anima Triste is one of the bands that obviously cannot fit in the narrow borders of our country, Greece. Additionally is a band, or an act, if you'd like, that does not fit to a music genre or label. Anima Triste is a dark rock, post-punk phenomenon.  
Anima Triste formed back in 2014. They performed live in many concerts and venues until their first album "Anima Triste" came out in 2016 when they also released two video singles. Among their live shows, we could highlight the supporting apperances for the legendary Garden Of Delight and the "next best thing" of post-punk scene, Whispering Sons, both in Athens.
In 2018 a single came out, titled "UOY". The time has come for the dark souls of Anima Triste to release their second full length album, "Humanity". A long awaited album, which is exppected with anticipation from their fans and Anima Triste will present all of the new album in a unique live show. "Humanity" will be presented in front of the fans, on Saturday, May 18th, at Death Disco, Athens.
It is more than sure, that this is going a night that will be remembered for a long time. Anima Triste's live shows is an experience, in which, all the passion, the anger and nerve of the band members hits like electricity the audience and the result is amazing. Make sure you will not miss this live show.
Anima Triste consists of Mad Sad - vocals, Greg DiRt - guitar/keys, Jimmy C - drums, Gus Black - bass. I am really happy to present you the beautiful chat we had with one of the best post-punk bands, not only in Greece. Read what Greg DiRt and Mad Sad told us about life, music and... humanity!!!
ES: Hi Anima Triste. I am really happy for having you here. New album coming up and a live show to present it. Although that most of our readers already know you and before asking you all the details, would you like to introduce yourselves and Anima Triste to our readers?
Greg DiRt: Hi guys, it's really great to be here with Electrospank.com. I'm Greg DiRt and I play the guitar for Anima Triste. Gus Black is on the bass guitar and Jimmy C. is on the drums. I guess Mad Sad will speak for himself as this interview is with you guys Mad Sad and me.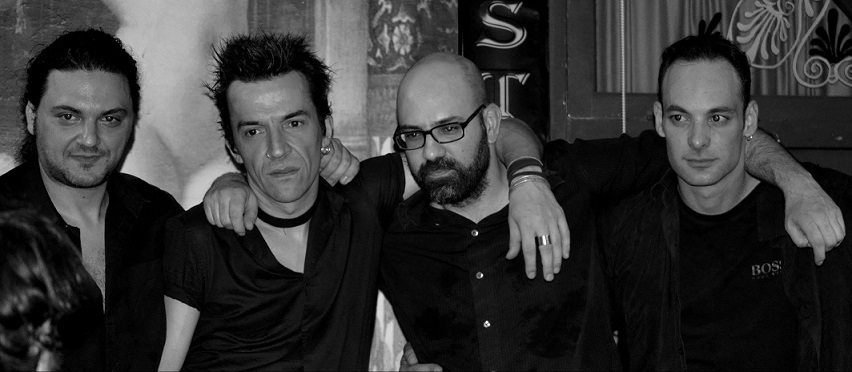 ES: Second full length album coming up and the title is "Humanity". Can you share with us some information about this album?
Greg DiRt: We have been waiting very long for our second child to take its breath, it was like giving birth or something... The "Humanity" album covers a big period for us struggling with poor decisions, poverty, alcohol (which is never too much by the way), troubled relationships and it all came to be part of this selection of songs we call an album. It was a tough time, we wrote songs that spoke first to our hearts and thank God (if there is any) these were very warmly received at shows so far.
ES: "Humanity". Why did you choose this title? What is the concept behind the title, the album and the lyrics? What has inspired you lyric-wise?
Mad Sad: The inspiration came from my favorite ancient Greek cynic philosopher Diogenis. I wrote the lyrics for the Humanity song based on a "Black Sabbath" like bass riff that Gus was playing at the rehearsal studio and after a while we all decided for "Humanity' to be the album's title. Someone could say that Humanity as a word is inspiring optimism. Sadly.. in our case "Humanity" is all about the irony and arrogance of the human race.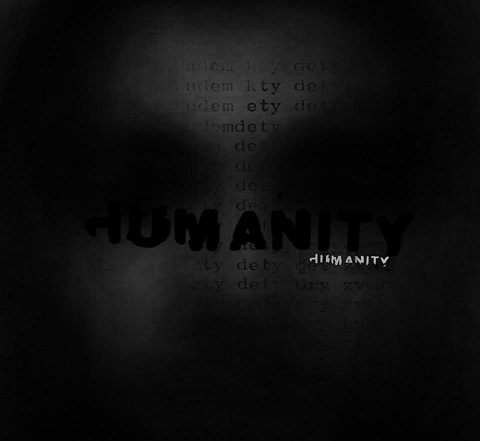 ES: What is your opinion about humanity today? In the same title song you say "I don't believe in humanity". Do you think the term has lost its meaning in the modern world as it moves really fast?
Greg DiRt: To me Humanity has always been the same, from ancient times, to Roman, to Medieval, to Renaissance, to nowdays. People will always behave shitty to each other when they have the upper hand. It's not new. Mad Sad will answer better I think...
Mad Sad: In my opinion the homo sapiens nowdays does not have the exact right to be called a human. Where is humanity when at war, where is the kindness and love and all the good things that this superior being on this earth can be? We call dogs and cats and cattle, animals because as humans we think they're below us. Well guess, animals can feel and empathise. Can you honestly say the same about humans? No, humans failed Humanity and that's no secret or a higher perspective of someone like me or you. Its the brutal truth.
ES: "Humanity" will be presented in front of your fans in a live show at Death Disco, Athens on Saturday, May 18th. What can we expect from this show? Will there be any special moments on stage, covers or guests?
Mad Sad: We will play the whole Humanity album as well as some selected few track from our debut album. May 18 is special because 39 years ago the late great Ian Curtis of Joy Division passed to eternity and we will honor him with two covers we have prepared for this show.
Greg DiRt: It will be a proper Anima Triste live show.
ES: Which would you say are the main similarities or differences with the debut album "Anima Triste"? Has the band changed in the years that passed since your first album?
Mad Sad: As everything changes in real life, music changes with us. It depends on the experiences we get along the way we write, we perform different every time because we evolve and we get new experiences that become our memories. Some for the best, some for the worst.
Greg DiRt: I think the same thing, from 'Anima Triste" to "Humanity", it is the same four of us playing music. We grow up through our songs, we mature, we change as life is changing for everyone. You can't honestly expect for us to play the same, sound the same, perform the same? Music is a living thing, it grows, within us, though our mentality, from our instruments to the speakers etc. etc. Every album is unique.
ES: Which are Anima Triste's main music influences? Many different elements characterizes your compositions and it seems that there is a variety in the bands that has affected your sound.
Mad Sad: You can think that Anima Triste is like a puzzle. Every piece of that puzzle has different influences, we listen to different styles of music but mostly rock music. The chemistry we have each other as a band filters all these influences, puts them in a blender and the outcome is.. well.. It's us.
ES: Some say that your music is post-punk, dark wave. I can hear many more styles in your music. What would you say is the genre of Anima Triste's sound? Do you think that it is necessary to put labels, genres and stereotypes in the music nowadays?
Mad Sad: I was never good with any kind of label and I don't like a label on the music we make. If you have the ear to hear it, you can guess our primary influences through our music. From Black Sabbath, to Joy Division, to The Cure, to the Cult, to Dead Kennedys.. I can go on forever. I really enjoy someone to categories us as Post-Punk - Darkwave because they are my favorite genres but in fact we are a dark rock band... I think...
Greg DiRt: No, not certain labels, definitely not. Rock music yes, dark, morbid sometimes, heavy rock, death rock or heavy metal references in some parts, americana, alternative, classic rock, ska punk, goth, post, pre, you name it. If you really want to put a label I prefer dark rock, or post punk, I don't care.
ES: You had been involved in other music projects in the past. When did you decide to form Anima Triste and play that kind of music?
Greg DiRt: I guess it was the right time to meet again with Mad Sad again back in 2014. We had our wins and failures with other bands and at that time we where searching for something to redeem ourselves, in a strange musically way I suppose. We shared lyrics, music, we joined forces with Gus and Jimmy and the rest is our history of our 40 something live shows along with two albums and a various number of covers.
ES: In a really difficult period for our country, Greece, many young people and musicians have formed some bands and express their resentment through music. What do you think of the current music scene in Greece, mainly rock and punk scene? Do you think that music is an escape to all the current events?
Greg DiRt: Difficult times indeed and for musicians music is the answer. Always has been. The Greek underground scene is thriving and there are so many great bands
out there that doing great music. Music can be more than an escape. You can ask other bands too.
ES: Back to Anima Triste and "Humanity", which are the next moves after the concert in Death Disco? Any other shows or promotional steps scheduled?
Greg DiRt: After Death Disco we have booked a show for Kalamata at June 1st and after we come back to Athens at Bad Tooth for a final show before summer vacations.
And yes, darkies take summer vacations too...
ES: Would you like to say something more to our readers and your fans? Any last words?
Greg DiRt: I think we talked too much, If you guys (readers) are interested in what we do, google us, youtube us and if you like us come to a show and meet us.
Hope to see you at May 18 at Death Disco. Thank you.
Mad Sad: Anima Triste and cry those tears.
Thank you very much. Looking forward to see you performing live and listen to the new album. I wish you all the best and I am really happy to have met you.
Info:
https://www.facebook.com/AnimaTristeOfficial/
https://animatriste.bandcamp.com/
https://www.youtube.com/channel/UCdzFFvTyz5GKDBh5FB5gG1A