CD Reviews
Details

Category:

Written by

Akill
Grey Gallows - Garden Of Lies
March 2021
Cold Transmission
---
Grey Gallows released their third full length album, first via Cold Transmission, "Garden Of Lies". An album that tells the lies of our lives with a unique gothic sound!
review by Akill - interview by Cleopatra Kaido
It was not a long time ago, since the announcement of the signing of Grey Gallows to Cold Transmission, along with the release of their new album. "Garden of Lies" released on March 19th and has already secured a position in our 2021 top list. The Greek dark wave duo, coming from, somewhere, between Athens and Patras, consisting of Konstantin (vocals / keys) and Dionisis (guitar / bass / keys) has given us an amazing dark album in all aspects. With the sad and cold soundscapes, surrounding the depression flowing out of their lyrics, Grey Gallows creates imagery reflecting the pain in life, human existence, from birth till death and in between love and hate!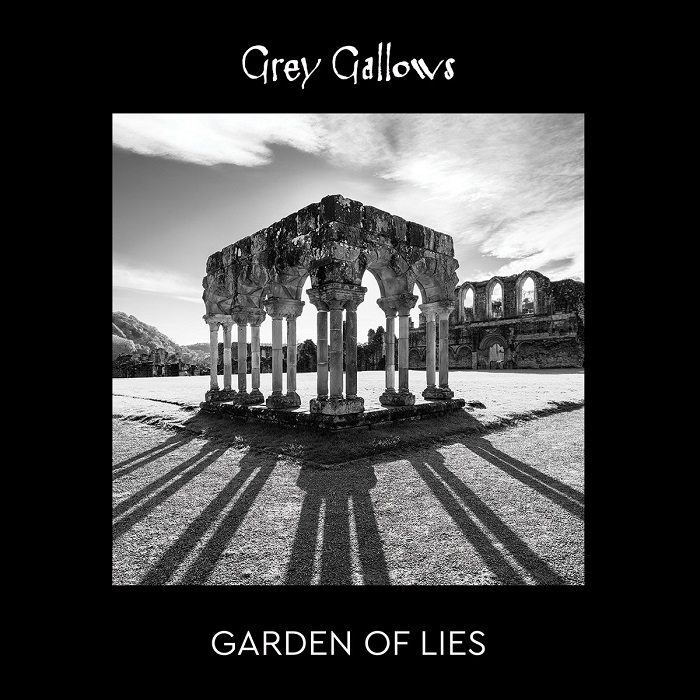 Having, already, released two full length albums, "Tears" (2018) and "Shades"(2019), the duo has already defined their theme in music and lyrics. And, with the "Garden Of Lies" the concept goes even deeper to the human depression, darkest memories and haunted dreams. "Garden Of Lies" is a unique mixture of gothic rock riffs, cold waves that makes you shiver, emotional stories reflecting everyone's life and dark, post-punk lines.
Starting with the same titled, "Garden Of Lies", the mood is getting into the gothicness that Grey Gallows develop. With riffs that looks back to some early gothic rock sounds this track makes old school gothic tunes sound so fresh and new. Konstantin's voice is so deep and into the lyrics and the melody, describing images of destructed life, fake compassion and a reality in agony. "Love Moan" depicts the strong emotions and melodies of the Greek duo assembled in a strong and ghostly bass line. In "The Fall", we find the synths and guitars in absolute harmony, leading to darkness and sorrow through desperate story in lyrics. 
"At The Crack Of A Dawn" is a dark, gothic ballad which consolidates the cold ambience conquering the "Garden Of Lies", while the voice of Konstantin slithers, deep and emotional. Next is one of my favorites. "Dissociation" goes into an upper post-punk rhythm with a beautiful bass line and synth melody. In the vocals we find the amazing voice of Cleoptra Kaido, lead singer in dark electro, cold wave band, Meat Injection. The voice of Cleopatra fits perfectly in the soundscapes of Grey Gallows, giving the appropriate lyricism and emotion to a song about inner doubts, voices in the head and disconnection from ones thoughts, feelings and memories. "Don't Bring Flowers" manages to balance some pure gothic riffs with cold synth melodies around the deep vocals.
"Cold Hearts" presents a more electronic side of the duo, "looking" to cold wave electronics and inviting to a sorrow dance, while remembering dreams lost, emotions that turned to ice and cold hearts. "Grey Is The Colour" is a deep dark ballad. Desperate melodies crawling out of the synths to find a mourning guitar, keeps the low tempo while the vocals going even deeper and gothic. A song about the loss of freedom and the grey colour of grief in everyone's life. "Peels Of Time" taking us to synth soundscapes with, even, some minimalistic, cold wave forms and a beautiful electro dark arrangement. "All Men" is the closing track. An instrumental dark synth composition starting with a quote from Lyndon B. Johnson speech in 1964 about Civil Rights. "We believe that all men are created equal. Yet many are denied equal treatment." So true, even in our times and 2021 days.
"Garden Of Lies" is not only a compact gothic rock, dark wave album. It is a medley of dark influences, representing our grey times and one's inner doubt about his/her self, the loss of meaning to many important things in life. A narration of depressive, sad stories and the loss of dreams and warmth in heart. Grey Gallows present all these with lyrics that sound like a dark poetry and a sound that stands on strong gothic and dark wave ground. A really good production, by the hands of a man that seems to know how a dark wave album should be treated, Nick "TheMute" Chalntoupis.
On the occasion of "Garden Of Lies" release, Cleopatra Kaido had a beautiful and interesting chat with Konstantin and Dionisis, about the new album, Cold Transmission and the lies that are hidden behind the garden!
ES: Hello guys I am very happy to have you with me in this interview, before we start our conversation, I would like to congratulate you on your new release and wish you good luck with it.
G.G: Τhe pleasure is all ours, we feel deeply honored to give an interview to elektrospank!
ES: The first question concerns this release and I would like you to tell me under which conditions and emotions was the "Garden of lies" written?
G.G: To be honest, the conditions for composing and recording our new album were extremely stressful. Given the global situation with the pandemic, we will not hide that feelings of anxiety and despair were present during the process of composing the songs. There was also a pervasive feeling of personal and social uncertainty about what the future may bring. So, this whole situation naturally affected both the music and the lyrics.
ES: Really I wonder. What kind of lies are hidden behind the Garden?
G.G: Nice question! Well, we assume that this kind of lies are what all of us sometimes tell ourselves, things, facts and situations that we often refuse to admit personally. Such assumptions are usually the most painful, as few have the will or the stamina to come face to face with them. We believe that we all have our personal dark history, our personal dark garden with our lies, which we keep locked up, away from prying eyes.
ES: What Grey Gallows do when they are not involved with their music?
G.G: Well, when we are not into music and when we are not working, of course, we like to watch movies and read literature and poetry. We are excited by any art form that draws its inspiration from the dark, the macabre and the imaginary. Artists such as John Milton, Edgar Allan Poe, H. P. Lovecraft, Gustave Doré have significantly influenced our aesthetics, our image of darkness and light, of the fall, of punishment but also of purification.
ES: I was very happy when I saw that you signed with Cold Transmission. How this collaboration came about and what are your plans for the promotion of the album?
G.G: We had been watching the releases of Cold Transmission for a long time and we liked that each new job was a distinct proposal.  There was a whole backround that defines the scene but also a freshness in their work. So when we finished the first mixes for the new album we decided to send them the first sample. The answer was positive and we were really impressed by the professionalism of the company and their love for the scene. We also really like the attitude of Andy and Suzy who behave in the team as a family. It is a company that tries to build relationships between its members and we really appreciate that.
Regarding the promotion of the album, we believe that it is going very well and that the response of the people is very encouraging. We have given several interviews to music magazines, we have already released two video clips and we are aiming for one or two more. We also took part in the international οnline music festival ''Die in the disco'', along with big bands of the scene, such as Ash Code.
ES: As I listened to the "Garden Of Lies", I was impressed by the differences between the songs. In my opinion it is a modern, fresh and subversive album without losing its dark and romantic, Grey Gallows, character. How do you think you managed to do that?
G.G: Thank you very much, it means a lot to us! Well, our main goal was to experiment with our sound, to create more and more dark or melancholic musical landscapes, without deviating from the limits we have set for our music. We have influences from many subgenres from the dark/alternative scene as listeners and musicians, so it is natural for us that our songs doesn't seem to have the same style with each other. That's why some songs have the dark wave approach more, some the cold wave, other songs are influenced by gothic rock and others by a new wave sound. Moreover, an important role was played by the mix and production of Nick "TheMute" Chalntoupis, whose work is really great and gave us a result that we had not even imagined. An excellent professional, with a deep knowledge of sound and style, who gave to 'Garden of lies' its distinctive sound.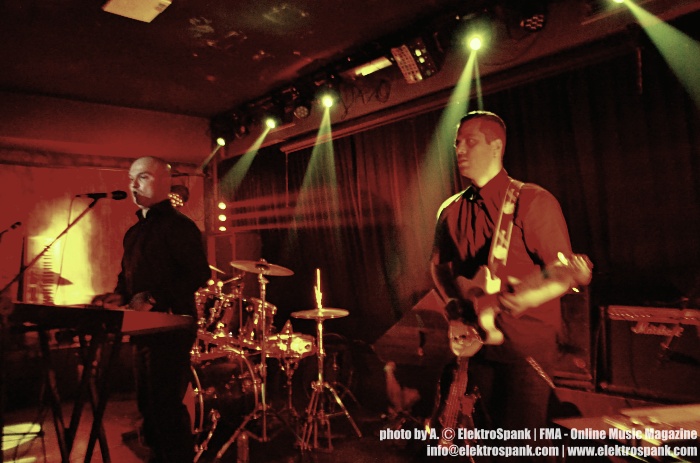 ES: Which track from the album is your favorite and which track do you think people will love the most?
G.G: At this point we will sound a bit clichéd if we say that all the songs mean something different to us and personally we cannot single out any. On the other hand, we believe that - although it is still too early to say for sure - that the warmest reception from the listeners might have "Garden of lies'', "Don't bring flowers" and 'Dissociation''. They are very dynamic, very rhythmic songs, with a strong melody that stays in your mind!
ES: You have released other albums and singles in the past. What motivates you to continue your work with music and where does your inspiration come from?
G.G: Yes, we have released the mini album 'Beyond reflections' back in 1016, a two-song single 'Autumn leaf' in 2017 and the full albums 'Tears' in 2018 and 'Shades' in 2019. 'Garden of lies' is our third full album. First of all, our great desire is to express ourselves musically. For us, music is our personal refuge, an emotional release and a personal redemption, a way out of the inevitable events of everyday life. Of course, another reason is that we want to remain an active part of the puzzle of the Greek dark scene, which in recent years has given great work. Writing music is a driving force, an impulse that gives us an incredible sense of fullness.
ES: Thank you very much for the answers and the time you spent on this interview. I am glad to have met you personally and I am very happy for our collaboration on the song "Dissociation". I am sure that this album will be one of the best releases of 2020. Keep up the good work. Continue with faith and loyalty your wonderful journey. I love you guys!
G.G: We thank you from our hearts! Your performance in "Dissociation" is outstanding and really took the song to a higher level. Thank you very much for your cooperation, the moments in the studio will be unforgettable! We love you too! 
Info:
https://greygallowsgr.bandcamp.com/
https://www.instagram.com/grey_gallows_gr/
https://www.facebook.com/profile.php?id=100053636354364