CD Reviews
Details

Category:

Written by

Akill
Grabyourface - Summer On Saturn
November 2019
Self Released
---
Cold Industrial project Grabyourface, new EP out on November 19th!
Grabyourface is a new project from France. It is the project of Marie L., started in 2017. Grabyourface describe the sound of the project as a cold industrial sadwave. I don't know if this is exactly a genre but it is absolutely matched to the music of the band.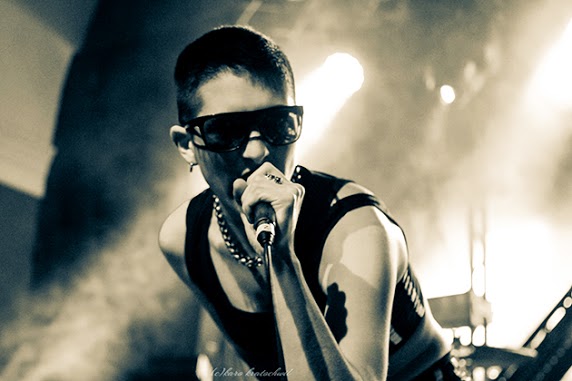 Grabyourface is an cold and experimental amalgamation of electronic sounds and industrial distorted beats and synths with some influences from her Tibetan bell and a thunder drum. Marie L. uses the oscillated synth riffs in a dark and cold manner, adding a low to mid tempo drum lines and her own character in the ritual-like spoken words vocals. Grabyourface has already released "Philophobia" EP in 2017 and the debut full length "Confession" in December 2018.
In the new EP "Summer On Saturn", there are three songs which are using this characteristics and elements of Marie L.'s influences, creating a cold and dark ambience. "November" is an arrangement of synths with a dark melody, quite psychedelic, along with a background sound of a light distorted guitar and the narration of a sad story from Marie. "Pray" has this distorted beats along with a unique melody expressing the mysticism and the hypnotic sound of Grabyourface. Same titled "Summer On Saturn" is building the dark depressive mood with the melancholic synths and vocals of Marie L.
"Summer On Saturn" is a cold industrial, experimental electro collection of sound. Creating a melancholic atmosphere with distorted synths. An interesting and beautiful release from the French based project, Grabyourface. Looking forward to more new songs from Marie L.
Grabyourface - Summer On Saturn - Teaser
------------------
Grabyourface make razor-sharp songs that hurt to hear, but the pain is addictive. Think Nine Inch Nails meets Lana Del Rey with a strong dose of ritual-like spoken word lyrics.
Originally hailing from France but not calling it home, this sense of not belonging anywhere and constant search of oneself reflects often in her lyrics.

Her stage persona is where she lets the demons loose. It is a mesmerizing, madness-fueled show, reminiscent of punk and black metal artists with toxic, dangerous and sexy overtones.

Grabyourface's new EP Summer on Saturn is a journey through a dark and sleazy night as you venture down the steps of a gritty strip club, when the need to forget is stronger than the need to survive.
 Info:
https://grabyourface.bandcamp.com/
https://www.facebook.com/grabyourface
https://www.instagram.com/grabyourface/
https://www.youtube.com/channel/UCgw_SnkRj3uYVdnbxmUAvRw
https://open.spotify.com/artist/2YY5fYuDjx0xwIGc1Pmv7u
https://play.google.com/store/music/artist/Grabyourface?id=Ahy6xikjubfnvwak2wgzrxhwaky