News
Details

Category:

Written by

Akill
Dark electro Massive Ego returns with the "Church For The Malfunctioned".
---
UK based project/band Massive Ego announced the release date of their new full length album "Church For The Malfunctioned". On April 26th, the new release will come out from Out of Line Records.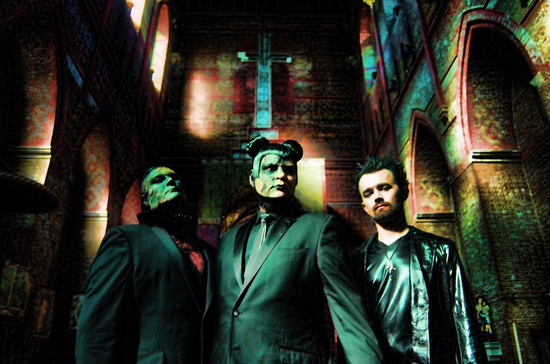 Massive Ego formed back in 1996 from Marc Massive, ex model and dancer for Boy George's 90's Jesus Loves You band, DJ and art event curator. After several line-up changes now the band consists of  Marc Massive (vocals, lyrics) Scot Collins (synth, production) Oliver Frost (percussion). With an extremely characteristic band profile and an electro-dark sound with elements of Gothic Rock, Industrial and New Romantics-Electro Pop they bring us a new harder sound.
Two years after their previous album "Beautiful Suicide", Massive Ego build upon the unique sound that is based even on some 80's electro pop influences and are back with a new religion, as Marc says on his cooments about "Church For The Malfunctioned"...
"Because we wear black, smudged eyeliner and listen to dark bands we are often viewed as 'malfunctioned' or weird in the eyes of mainstream society, so why not join a new church, a new religion, that want's to celebrate this lifestyle rather than preying to fake Gods"
According to Massive Ego's and Out of Line's statement, "Church For The Malfunctioned" is a much harder beast than what has gone before, built on beats the like of which we've not heard from this band. With songs challenging the very core of religious beliefs and questioning it's role in today's society.
Built on solid 80s electro pop foundations, "Church For The Malfunctioned" combines Industrial elements alongside gothic tones and euphoric highs. The result is harder, louder and more angry than ever before, whilst remaining barefaced catchy at the same time. "Where the first album was a tentative toe dipped into the dark scene, this album sees us plunging in head first and swimming"
Prior to the new album, a single will be released on April 12th, with the name "Digital Heroin".
Check the new album's trailer below:
Info:
https://www.facebook.com/massiveego/
https://www.outofline.de/en/massive-ego-announce-new-album-and-release-song/
Source: