Video Pick
Details

Category:

Written by

Akill
HER DESPAIR unveils "Exorcism" official video.
---
UK-based gothic rock band HER DESPAIR proudly announces the release of their new video, "The Exorcism."
HER DESPAIR are a six member band from UK, consist of J - vocals, Dan - guitar, Vikki - bass, Jord - guitar, Lee - drums, Toby - keys.  HER DESPAIR's sound is a melodic metal, gothic and dark rock mixture constructing emotional and dark atmosphere.
"The Exorcism" is a single included in the forthcoming new release from the goth rockers, "Exorcisms Of Eroticism", coming out on November 22nd. The song is influenced by the the 80's gothic rock sound like this of Sisters of Mercy but there are also obvious elements from bands like HIM. HER DESPAIR's vocalist J comments on the video, in an interview at PURE GRAIN AUDIO magazine...

"We shot the video over two days in the haunted city of Southampton, where the Titanic began its ill-fated voyage. We worked with the inimitable Scott Chalmers, shooting in his studio on day one and a nearby establishment for day two which provided an entirely black room with no natural light, a perfect backdrop for our bleak music [.....] There are vague concepts of exorcisms and eroticism throughout, but our main focus was for something visually stimulating. We wanted ethereal lighting through endless volumes of smoke whilst incorporating suitably funereal imagery, which we feel was accomplished."
"Exorcisms of Eroticism" is available for pre-order at the band's bandcamp page.

--- Press Release ---
"The Exorcism" appears on HER DESPAIR's forthcoming EP, Exorcisms Of Eroticism available on November 22. 
"The Exorcism"  revolves around the intoxication of lust; that overwhelming desire for someone to the extent that it feels you could be possessed. The term "exorcism" here, is very much a euphemism. Musically we wanted to draw on influences such as Suspiria, focussing on dance synths rather than our more usual sounds. We wanted something that was suitably hard-hitting, but could also get the dance floor moving.

The accompanying video encapsulates the mood of the music perfectly, and we would recommend you watch it, if you dare.
"Exorcisms of Eroticism" written & performed by HER DESPAIR. Produced & mastered by Matt Bew at Whitehouse Studios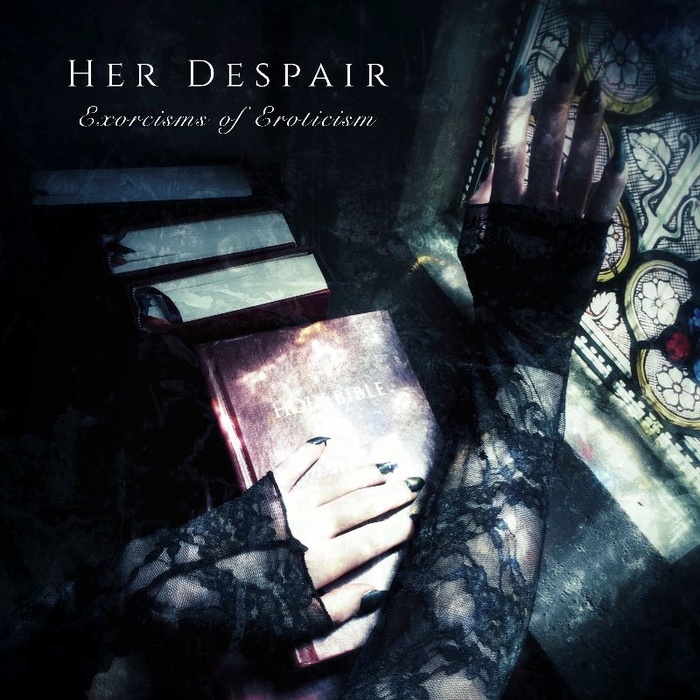 Info:
https://www.facebook.com/herdespair/
https://herdespair.bandcamp.com