Interviews
Details

Category:

Written by

Akill
Convex Model is a strictly analogue dark synthwave project from Greece, Thessaloniki.
---
When someone thinks of analogue sound and synths first thing that comes in mind is the minimal electro, dark synthwave of the 80s. But not anymore. From now on the analogue synthwave sound is being perfectly represented in modern music industry by Convex Model.
While every band and artist in the world uses the latest digital equipment and technology to create or even perform live, there is one band that shows everyone that someone can still create unique sound and beautiful music using analogue instruments and tools.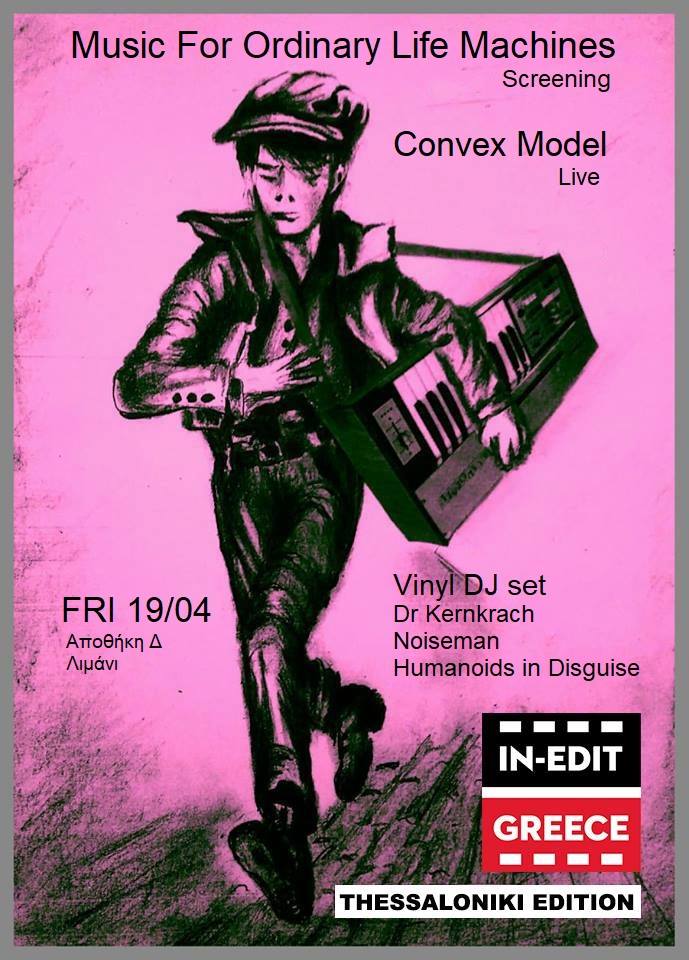 With the use of this analogue equipment, instruments, modulation and synths Convex Model creates a beautiful dark minimalistic synthwave coming right back from the early years of Kraftwerk and the sound of late 70's and 80's bands.
Convex Model was formed back in 2017 and the same year a tape with the name "Intersecting Planes" was released including 6 songs. One year later and after the addition of new members in the band full length album "Life In A Glass Cube" was released. Since then Convex Model are really active, not only performing live in different shows, but also taking part in a beautiful idea, a documentary about underground synth bands and scene in Greece, "Music for Ordinary Life Machines". 
Convex Model will perform live on Friday, April 19th, after the screening of "Music for Ordinary Life Machines" during IN-EDIT, the greatest music documentary festival around the world. ElektroSpank | FMA had the pleasure to tallk with Convex Model about this beautiful project and the performance that will follow, their retro sound of minimal analogue synths and the dark/synthwave scene and music. A really interesting chat with a band that recreates and redefines the sound of minimal synthwave. 
Footage from the recent live performance of Convex Model, supporting Motorama at Eightball Club, Thessaloniki, 16/3/19
Filming/Snapshots: Giorgos Flengas, Picture Deal-The art of making motion pictures
ES: Hi. Convex Model. Analogue synthwave sound, coming straight out of the 80's dark synths. Please tell us some things for you and Convex Model. Would you like to introduce yourselves to our readers?
CM: Hello, thanks for having us. So, a few words about the band:
Convex Model consists of 5 members and we all got to know each other thanks to music.
Nick Kapantzakis (synths/vocals) and Kyriakos Tsakalidis (drums) used to work at the same record store, George Papadopoulos (bass) used to hang out (and still does) at a beloved record store where Nick also spends a lot of time, Lena Tzouna (synths) was somehow always there at the same music venues and bars with the rest of us, and Stavroula Tsiara (lyrics, visuals), met Nick 8 years ago at a hangout that does not exist anymore, and since then they are partners in life and partners in crime.
ES: Before asking more about the band, I would like to ask you about your latest release and activities. An album, your first full length release, "Life In A Glass Cube" came out in October 2018. Can you tell us something about this album? What is the concept idea behind the album, the songs and the lyrics?
CM: In 2017, when the band was still a duet (Nick and Stavi), we released a 6 track cassette called "Intersecting Planes" (101 units). In 2018, Lena, Kyriakos and George joined the band and we released "Life In A Glass Cube" (300 units), which was of course our wish but besides that, this was also realized with the encouragement and assistance of plenty dear friends that had listened to the cassette and believed in a vinyl release. So, side A has 4 of the cassette tracks and side B has 4 new ones. We released our debut LP on our own, without a label, which means that we shouldered the weight of a self-release but it was also an amazing experience and a fascinating journey for us.
The sound of the album is completely analogue and it is influenced by the new wave and post punk sounds of the late '70s and early '80s. Stavi's lyrics talk about everyday dead end stories and emotions that derive from personal experiences. And quite often, personal becomes political, that's why some of the CM stories also have political and social aspects. The music is always written first and then the sound becomes the inspiration for the texts.
ES: What is the feedback you have on the "Life In A Glass Cube" from both the media and the fans? Is there any new work in progress? Any new release planned?
CM: The feedback that we are receiving is really good and we are very happy about it. The LP was released in mid-October and now we just have 20 copies left. In one year, we have had 8 live performances in different cities of Greece and the audience has always responded very enthusiastically. Some international and local music media (radio stations/ press/ fanzines/ internet sites & blogs) have also had a very warm reaction to our music.
We also get a very positive international feedback through our bandcamp (https://convexmodel.bandcamp.com/), not only about the music and the lyrics but also about our artwork, which is usually handmade (drawings, collages etc), embracing, like in everything else we do, a D.I.Y. attitude.
Concerning new work in progress, we have already some new material and after the upcoming live performances we will start recordings for our second LP.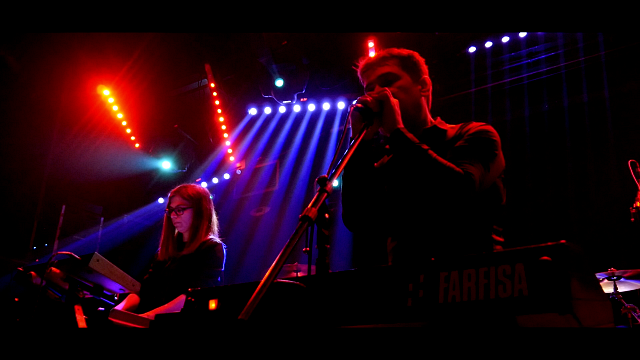 ES: Along with this release, you have been involved in a very interesting project, a documentary about underground synth bands and scene in Greece, "Music for Ordinary Life Machines". Can you tell us something about this? How was that experience? Where can we see this documentary? Are there any special events for this?
CM: Our involvement in this documentary came through the long personal involvement of our founding member, Nick Kapantzakis, with music, since he has been many years now quite active in the minimal synth scene through various bands and projects (founding member of Human Puppets, Plexiglas, Dislocation Genders and of course of Convex Model). The experience was great, not only the shooting but also the backstage conversations. Who knows, maybe these conversations will lead one day to a second documentary, but this is another story, yet untold.
First, let's see what this doc's story is:
"Music for Ordinary Life Machines" is a music documentary about the minimal synth and synth punk scene in Greece from the '80s until now, directed by Nikos Chantzis. The documentary's premiere took place in March, in the International Documentary Festival of Thessaloniki and the next screening is coming up in the biggest International Music Documentary Festival, In Edit (Thessaloniki version). Besides the screening, the event will also include a live performance of Convex Model and a vinyl DJ set by our member Nick, together with 2 more participants in the documentary, Avrilios Koukoutsis (Methods of Dance, Noise Records) and Jörg Steinmeyer (Kernkrach Records, Plexiglas).
In the following links you can find more infos and the first teaser of the documentary:
https://www.facebook.com/MusicForOrdinaryLifeMachines/
https://www.facebook.com/convexmodel/
https://www.facebook.com/events/452593145482139/
ES: Let's go back to Convex Model. How did you decide to form this band and play a dark, synthwave using analogue equipment? What does the name stand for?
CM: Everything started with Nick's music, which has always been the result of an exclusive use of analogue equipment (synths, drum machines etc). Nick was previously known as the 1/2 of Human Puppets with two LP and two 7'' releases and many live performances in Greece and abroad. After this project came to an end, Nick kept writing songs "for our living room" as we often called them, sharing them with close friends but with no clear intention of releasing them. Stavi used to write stories every now and then, also "for our living room" and at some point she tried to tell her stories in verse. So, she started writing lyrics for Nick's tracks and that's how Convex Model was formed.
The initial inspiration for the name of the band came through some lithographs of M. C. Escher with all these characteristically convex and concave shapes and staircases. And then "Model" was added explaining how we see the world around us: People like models, like machines, sometimes functioning however in a convex way, not quite "straight", not quite "right", not "as expected". We absolutely adore people's human weaknesses and we love the music of dilettantes, of amateurs, a kind of music with many "flaws" and a lot of passion. So the name of the band is our tiny, warm "thank you" to all the people that lived and acted differently, and still do, despite the Sirens' songs, and despite all the difficulties, obstacles and consequences.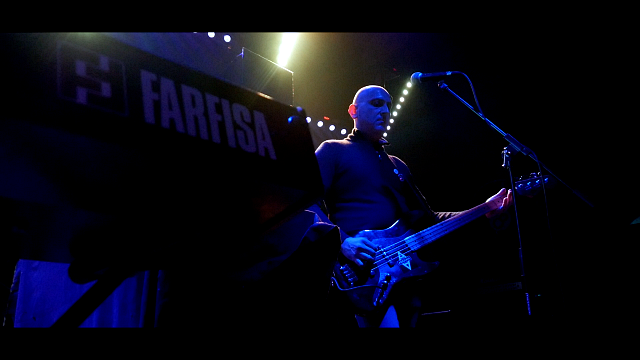 ES: It is obvious that your music is influenced by the darkwave sound of the 80's. Which band and artists have influenced you the most?
CM: The sound of Convex Model is definitely influenced by the '80s and a little bit by the late '70s. It could take a while to mention all the bands and the artists that have played an important role in our lives and our music, but, to cut a long story short, some of our favourites are: Magazine, Ultravox, OMD, Kraftwerk, Der künftige Musikant, Heute as well as many unknown groups that released one or two songs in compilations and nothing more, such as Sepp Maier's Gloves, The Unamerican and Citizen UK.
ES: There is a new wave and a number of bands and artists who choose their sound to be closer to the dark synths of the 80's and maybe early 90's. What do you think has led those bands and darkwave scene, in general, to turn to that sound again? A sound from the past which it is absolutely renewed and remastered.
CM: There have always been revivals in every music genre, abroad and in Greece as well. Talking specifically about the new wave and dark wave scene, we believe that this revival has to do a lot with the new technologies and media. Some years ago, the listeners of this music were only a minority and you needed a lot of money, in order to get the music of all these bands of the '80s and, even so, a lot of this rare material was really difficult to find. Nowadays, mostly during the last decade, you can find a huge amount of this music free online, through various platforms. This has helped many people to find access to these sounds and many ears to become familiar with them. Furthermore, thanks to the new equipment and tools, most people can afford a decent home studio and are able to record music of quite high quality. In addition to that, the new media offer the possibility of spreading quickly the word and showing your work in public, which makes the bands' projects and the interaction with other like-minded people easier and more direct. Last but not least, another factor that has played an important role is the revival and the further development of analogue synthesizers and the wish and curiosity of more and more people to play with synths. So, it is logical that the new sound is similar to equivalent music genres of the past. The critical question that is actually born out of your question is, if today's burst in this specific genre is due to the new technologies or the people themselves…
For us, what's really important is not the concept of a revival, but the idea of having your own artistic identity, no matter in which music genre you belong. That personal imprint, that personal mark has always made the difference, the music characterizations and categories usually appear later on.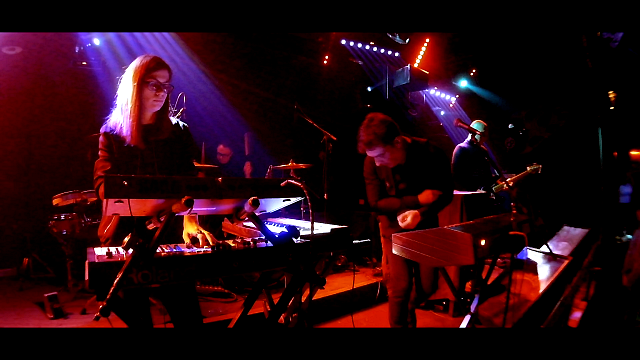 ES: This turn could not be ignored by the bands in Greece and there is a lot of action lately in the Greek dark wave scene. What do you think of that? Which bands would you like to share the stage with?
CM: The previous answer includes of course the Greek scene as well. We are personally very excited that there are so many creative things going on lately in Greece. Moreover, there is a very positive reaction from music venues and clubs, which are quite open to new projects, plus, they often organize festivals with 4 or 5 new acts with low-price tickets. Concerning the sharing of the stage, we would like to play with every other band that moves in similar music paths.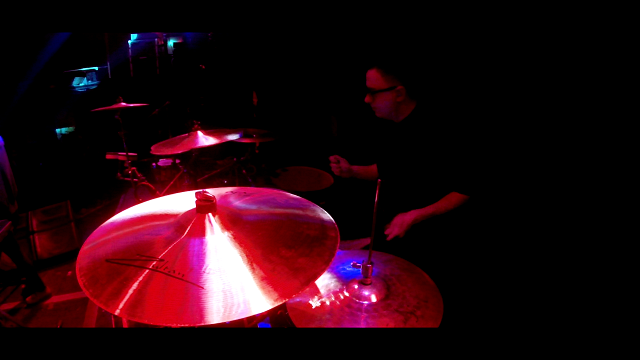 ES: We've talked about the documentary "Music for Ordinary Life Machines" and the upcoming live performance. What can the audience expect from Convex Model there?
CM: Our playlist for the upcoming live performance will also include, besides our "Life In A Glass Cube" LP material, some of the new songs that we have been working on in the past few months and, of course, the audience can expect a total analogue live performance, as always, no laptops or other digital equipment, no pre-recorded material, everything hand-played on stage, LIVE AND LOUD!
ES: Would you like to share anything else with our readers? Anything you 'd like to add?
CM: We would like to mention that behind every project, behind every band, there are usually some people that keep a low profile but they help and support passionately and in many ways, so that a new work becomes widely known and finds a way to be presented in public. We are very grateful for having such solidary people around us and this last answer is a way to say thank you to these wonderful people that are always there "behind the scenes".
Thank you very much. I wish you all the best and success to your future steps. Looking forward to see you on stage!
Convex Model - Dream Pilot (official video)
Info:
https://convexmodel.bandcamp.com
https://www.facebook.com/convexmodel/