Interviews
Details

Category:

Written by

Akill
Misfortunes are taking us into a space trip with the amazing sci-fi synth sounds in the new full length album, "Brilliant Endings", out via TONN Recordings. 
---
"Brilliant Endings" is the new LP from, the Thessaloniki based project of Ioakim Vasiliadis, Misfortunes. This 10 track compilation of synth based sounds could be the vehicle for an intergalactic trip of mind. Sounds that create images. Images that hides memories, sceneries that try to remind to love ourselves, love each other, being strong enough to face the difficulties we all come upon or a trigger to act as a unity. The music written by Ioakim took 10 different but so equal forms by the beautiful lyrics of the people that contributed to "Brilliant Endings"! 
Almost two years after his previous release, Misfortunes is back with a new LP titled "Brilliand Endings". This 3rd LP is (as with the two previous LPs) released by TONN Recordings based in Belfast, Northern Ireland in a limited to 100 copies clear vinyl and digital  format and it brings us 9 tracks (+1 available only in the digital version) full of rich synth sounds. This is the first time Misfortunes includes a non synth instrument to his LPs, an electric guitar played by Persephone in the track "My Deceitful Void".  
Since the beginning  of Ioakim' releases (Hybrid, 2017, Werkstatt recordings), Misfortunes was a collaborative project between him and a group of people who wrote the lyrics. In a way, Misfortunes is the outcome of a company of friends whose creative quest is to produce dark synth wave songs. This is the first time we get to hear from all of them.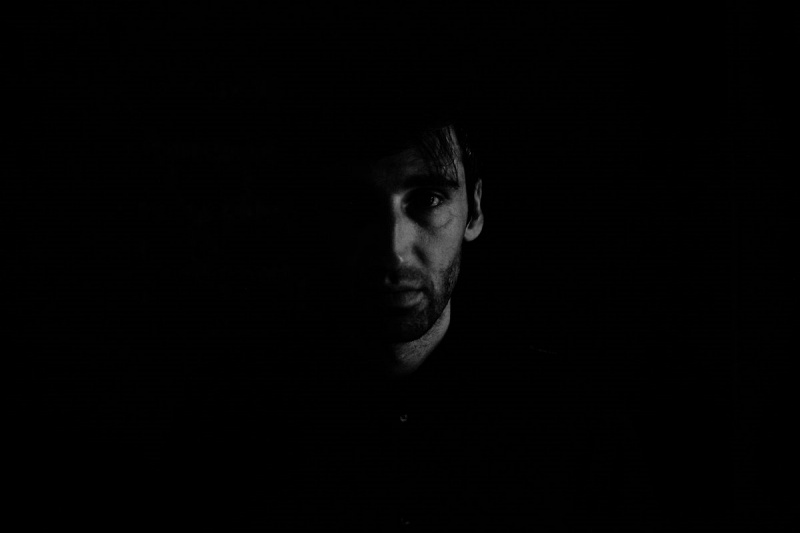 photo by Thekla Malamou
ES: Hello Ioakim. Thank you for this interview. There is a new, amazing album coming out from Misfortunes. But, first, I would like to ask you about Misfortunes. Would you like to introduce yourself and your project to our readers?
Misfortunes: Hi Achilleas. Thank you for the invitation. I started playing music when I was around 16 with friends and bands. Misfortunes was born in 2014 when I started getting more into synthesizers. Since then as a musician, Misfortunes has my full devotion.
ES: Well, Misofrtunes is a really unique project, at least for me. It seems that there is a group of people that, in a way, are mentally connected, and you are their voice. Can you tell us some things about this connection? How does this work in such harmony and gives that beautiful sound?
Misfortunes: Indeed, this project would not have existed without the collaboration of a group of people, the lyricists. In all my releases so far there is a core team who send me the lyrics when they have written something that fits into the Misfortunes concept or when I ask them to do so. During the process of writing the song there is usually an exchange of opinions on the form that the song takes. This is a really enjoyable process and runs very smoothly as these people are also my closest people in life.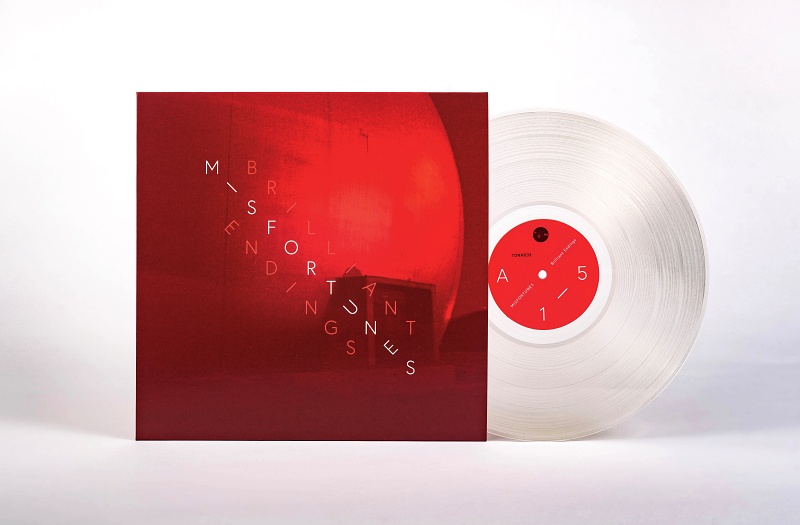 ES: "Brilliant Endings". New album. New amazing album. What is it all about? Which is the concept idea behind it?
Misfortunes: I can't really say that there is a specific concept that unifies the songs thematically, even though there is a strong space/sci-fi sense to a lot of them, both lyrically but even more musically.
ES: Does the title "Brilliant Endings" hide a sense of irony in it? There are always some brilliant endings in our lives. But could this title has a second translation?
Misfortunes: I really hope everyone could say that they had a few Brilliant Endings in their lives.  There is no sense of irony in it. It is about this marvelous feeling to have finished something difficult and with a lot of work, without the slightest bitterness or sorrow for its ending. The feeling when you know you did your best and you did well. It is about leaving with a deep bow.
ES: Misfortunes is a synth-based project with music that sounds like the soundtrack of a trip in space. In "Brilliant Endings" there is a difference from the previous LPs. The addition of a new instrument. Can you tell us some things about that?
Misfortunes: I am glad you think so, because in this record this sound was created intentionally. With Persephone, who wrote and played the guitar themes in "my Deceitful Void" we have a long music history in many levels.  In a way this song feels like it is the capstone of our relationship.
ES: And as we said earlier, apart from your face and voice, there is a group of talented people behind Misfortunes. Before letting these people say some words about their lyrics, could you tell us two words for each one of them?
Misfortunes: I will only refer to the people with whom we collaborated on "Brilliant Endings" as in every Misfortunes release there are slight differentiations. In this release I collaborated with Markos-Valsamis Lyritsis, Kosmas Lazaridis, Constantinos Georgiadis, Ioannis Balampanidis and Persephone. They are all very dear friends of mine and we know each other for more than 25 years. They are all involved in written word in different ways.
Thank you very much Ioakim. Looking forward to your album and to seeing you live on stage.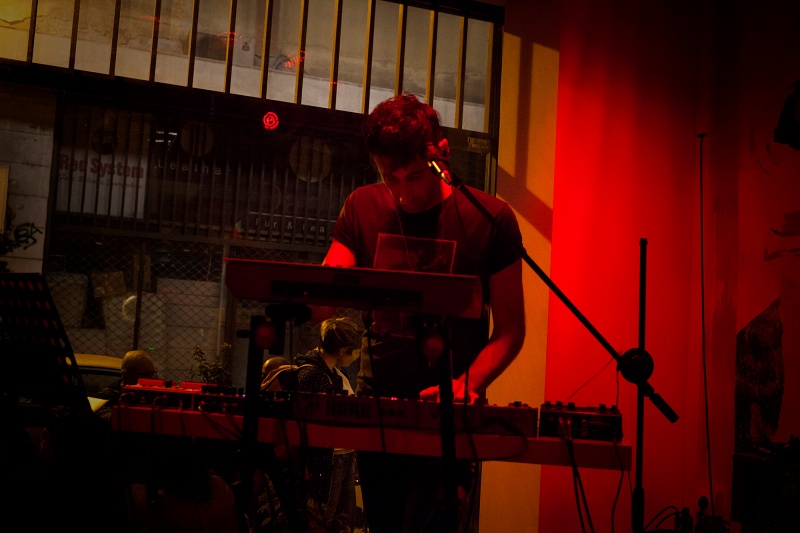 photo by Thekla Malamou
After this quick chat we had with the man behind Misfortunes, we invited the people that contributed in this beautiful collection of songs revealed in "Brilliant Endings"! 
Intro to a Growing World
Ioakim: This orchestral track is the album opener and sets the right mood for it. It was born at the mixing stage of Cosmos and it references to it winking mischievously.
Burdens
Persephone: These lyrics were written interactively with Ioakim's music, which I always felt like a nostalgic trip to memories, images and situations of another era. And thus arose "Burdens" spontaneously, as an inevitable consequence. A tribute to our shared experiences, to that we would vainly like to forget or share again and again, to that which made us all who we are today, for better or worse. To this burden we will always carry inside and will always grow wilder.
Ioakim: This is one of the most electifying songs of the album. Persephone's closing lyrics to the song were so strong that were a perfect fit for the refrain. These lyrics demanded music that someone would be able to purify oneself at the dancefloor, so there was no doubt about the form this song would take.
Android
Kosmas: In this song the lyrics were written for the wonderful music Ioakim had already composed. Upon first hearing the iconic "Blade Runner" came to my mind where there is also a reference to it in the lyrics ("moments lost in time"). The song is metaphorical and forms a wake-up call to the hollow modern human who has forgotten how to feel and has evolved into an android.
Ioakim: When I sent the main music theme to Kosmas to listen to, we both instantly agreed on the form this track had to take both musically and lyrically. The sci-fi/ space element in the atmosphere could not be ignored. Eventually Kosmas lyrics were a perfect fit for the music. I am very satisfied on the way the song was approached musically. It probably is my favourite Misfortunes song.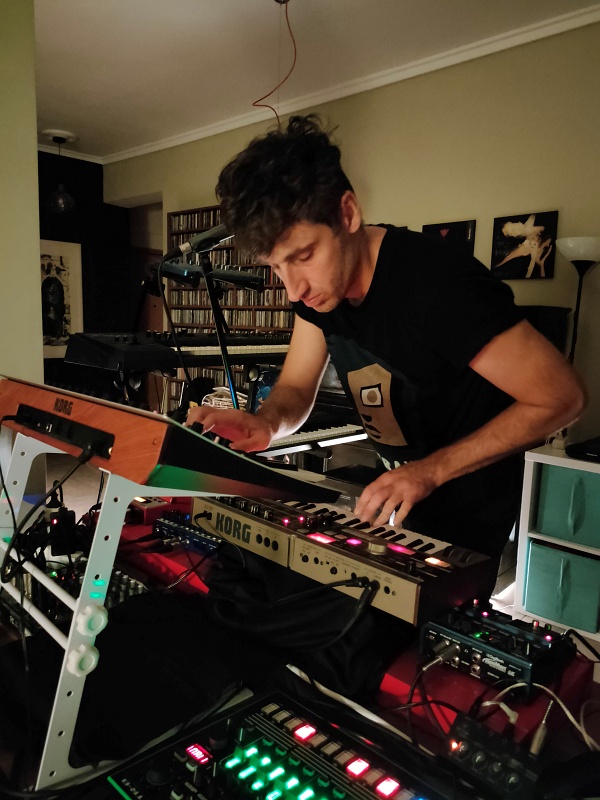 photo by Maria Salakidou
Separate Endings
Markos-Valsamis: This is a Doctor Jekyll-Mister Hyde story about the duality of human nature but also the negativity of dependency in a relationship. It's about being the worst enemy of your own self or becoming an oppressor of the one you are supposed to love most of all. Funnily enough, inspiration was drawn from the classic archetypes of commercial super-heroes and their evolution to anti-heroic characters.
Ioakim: In Separate Endings I tried to create a track with contradictions as much as in its structure as in the sounds that were used to successfully capture to spirit of the lyrics.
Heartbeat race
Constantinos: Heardbeat race is actually a love story that takes place into the weightless space. Its heroes decide to hide their fears under a veil of cosmic silence and to deny the dark future of humanity. 
Ioakim: When I read Heartbeat's race lyrics for the first time i was left with the sense of New Order's narrative songs and I thought that it would be fitting to try out this kind of pop approach. Of course whenever I have in my mind  a sound that I want to recreate it always turns out completely different as it goes through the Misfortunes filter. This is the most pop moment of the album.
Cosmos
Ioannis: Cosmos is a pseudo-sonnet that was written as a tribute to the bars we used to drink at our twenties and to a gig at the river's delta outside Thessaloniki, the best one I have ever attended. It was also written as a reminder to friends and foes that "no man is an island" but every single one of us is a cosmos built from our familiars and our children, from words and music. These lyrics acquired space and time from Misfortunes' electro- universe.
Ioakim: This is my first collaboration with Ioannis on the lyrics. I was sure that whatever he would sent me would be very strong and it indeed was. The last lyric of the song gave me a headache because I was not sure how to handle it but eventually it turned out fine. I really like this song with its sectional advance and climax.
Υπάνθρωποι
Kosmas: The lyrics of the song are based on an idea of Ioakim, for a song about the people that live in the sewers of the big cities of the world. While writing them though, the song ended up being a dystopian narrative about the oppression and marginalization of our less fortunate fellow humans with a dose of rebellious optimism at the end "but the air has changed and out as we crawl, their unholy gears will stop turning".
Ioakim: I knew Kosmas was the right person to write the lyrics for this song. Its music had to be rough and annoying but at the same time epic and rousing. It was a challenge gladly accepted. Subhumans was the first song that was written for this album and in a big way set the atmosphere of the rest of the songs.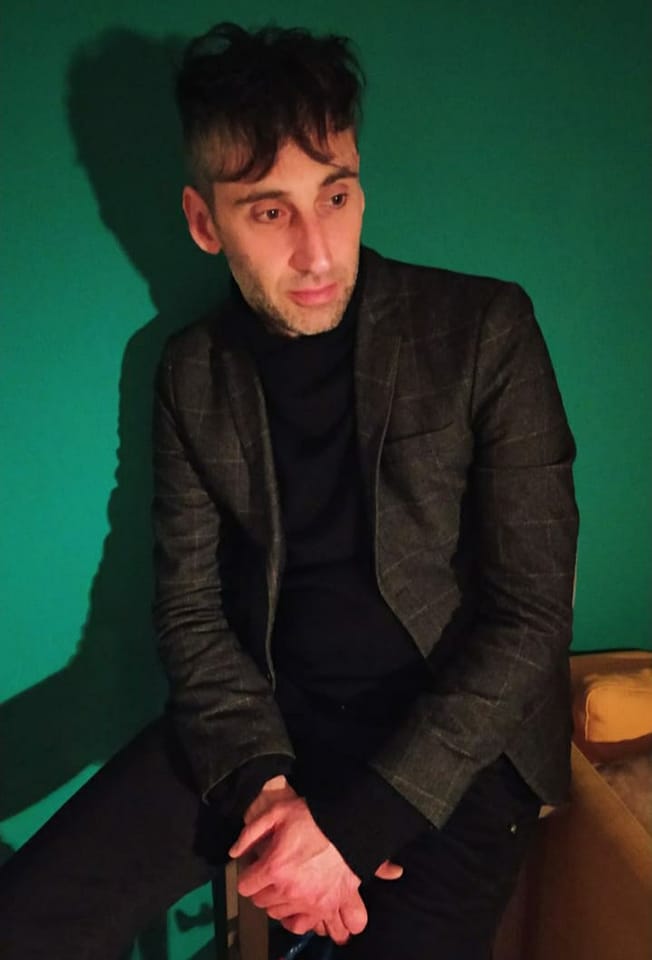 photo by Chrisa Chatzigoga
Song of silence
Markos-Valsamis: This song is about the great first step to an exodus from a static, lethargic social apathy. It's about finally doing something rather than just wasting time and energy only in words. A Song of Silence that actually screams out about the need to act. The essential message is that this action needs to be taken in unity and not atomically, thus the use of examples showing strong bonds, such as of lovers or soldiers.
Ioakim: From time to time Markos sends me lyrics that at a first reading my initial thought is that it is impossible to write music for. For some reason though, I give it a try and sometimes it is justified. Song of Silence is one of the most distinctive songs I have ever written with its combination of narration and singing. It was a tough decision not to include it in the vinyl but only in the digital version of the album.
When the night falls
Markos-Valsamis: A song about the modern human being trapped in a groundhog day of working hours monotony; a life of slow death. Still, to give a glimpse of hope, thankfully there's always a dance floor somewhere around. Behold, the splendid field of glory! So, this is really about the freedom of being yourself facing your everyday difficulties and I think of it as a twin song of Blood Disco of Misfortunes' previous album, The Isle of Tomorrow (TONN Recordings, 2020).
Ioakim: Initially Markos wrote the song in the Greek language and when I wrote the music for it I liked it so much that I asked Markos to write it also in English. Of course a song with a subject like that had to invite you to the dancefloor and I am glad to see that it already has the impact I was hoping for. Eventually the English version was chosen to be included in the LP and the Greek version was included in the digital single When the Night falls (TONN Recordings, 2/2022)
My Deceitful Void
Persephone: When after years we met again musically with Ioakim, it had settled in both of us, even if unconsciously, that something dark would come out. Therefore the lyrics of "My deceitful void" are quite introspective, existential, heavily self-referential. They talk about many things at the same time, which nevertheless come down to one thing. My point of reference was Parmenides' haunting dictum "nothing ever comes from nothing."
Ioakim:  This track was co-written with Persephone and it is the first Misfortunes track to feature a non synth instrument. The result surpassed my expectations. In my mind it comprises of two parts with the second part leading to a thriving- noisy finale of the album.
Info:
https://misfortunes.bandcamp.com/
https://www.facebook.com/misfortunes001
https://www.instagram.com/misfortunes._/
https://www.youtube.com/channel/UCKcWe9p65Tqc1_-2fMiVPIg