Interviews
Details

Category:

Written by

Akill
IAMTHESHADOW is back with a new album, "Pitchblack" in a few days, and they talked to us about the dark path that led them to this beautiful release!
---
One of the bands that, definitely, create their own aspect of dark, electronic, gothic sound is IAMTHESHADOW. The band of Pedro Code, coming from Portugal, creates a melancholic, dark landscape with their sound and music. 
IAMTHESHADOW started as a solo project of Pedro (vocals, Synthesizers and guitar), back in 2015, but it quickly turned to a full band, with the addition of Vitor J. Moreira (synthesizers) and Herr G (bass and guitar). The trio uses all the elements and instruments in a most dark emotional way. Strong basslines, cold synths, melodic and sharp, dark guitar riffs. And, to all this, add the deep, emotional voice of Pedro with the, life-experience and almost poetic, lyrics.
"Pitchblack" is coming out on May 13th, via Cold Transmission, and IAMTHESHADOW shared with us all the details for this new album. An album that, while retains all the lyricism and the dark emotions of "Embracing The Fall", it is a step forward to the sound and ambience of IAMTHESHADOW.
Enjoy this really interesting conversation, we had with the band...
ES: Hello. First I would like to thank you for this interview. A new album is about to be released and, I believe from what we've already heard, that it will be a beautiful one. Before going into details, would you like to say some words about you and the band? Would you like to introduce IAMTHESHADOW to readers? Hello, its a pleasure!
IAMTHESHADOW is a project created in 2015 by me (vocals, Synthesizers, programming and guitar) and joined in late 2016, Vitor J. Moreira (synthesizers) and Herr G (bass).We move in the areas of electronics, dark wave and poetry.
ES: IAMTHESHADOW begun as a solo project. How did you all meet? Which was the factor that made Pedro Code to decide to turn this project into a full band?
After releasing my first album "Everything in this Nothingness", I was surprised by the reception it had and the sells I made… and just after a couple months of releasing it I was invited to play in WGT the next year and I began to receive some proposals to play in some venues, and I had no band… so I started to think to have someone with me on stage to play some concerts, especially to play in WGT so I invited Vitor J. Moreira and Rui to help me in this project.
But in the middle of our first concert I invited them on stage to be a real part of IAMTHESHADOW.
And here we are, more than 3 years later…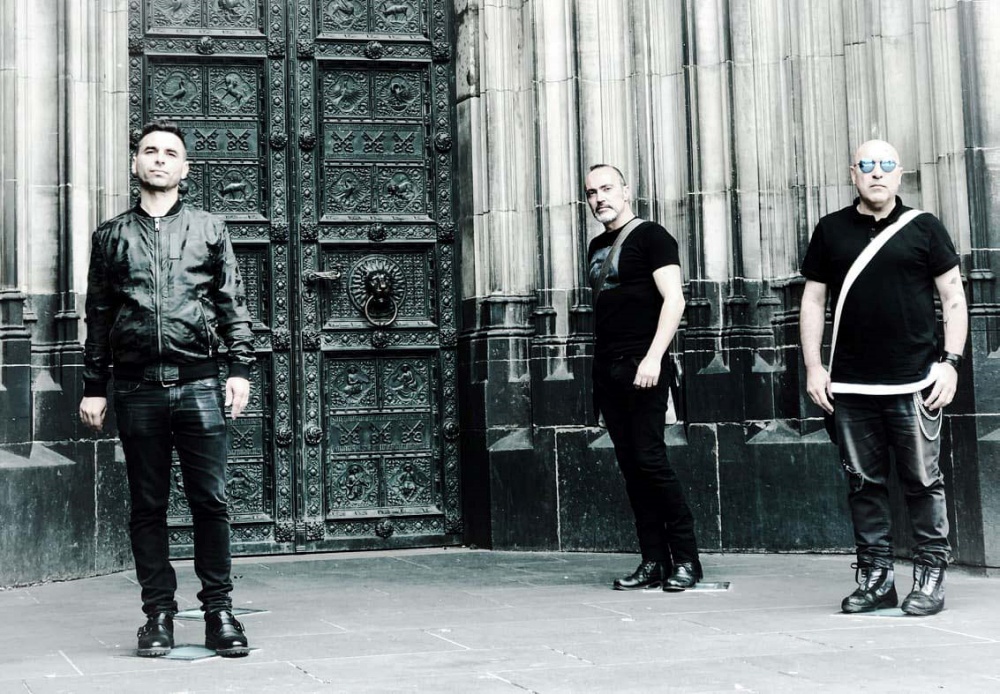 ES: Let's go straight to the new album. ""Pitchblack"". When is Pitchblack coming out? Could you tell us something for the new album?
Pitchblack will be officially released at 13 May, Vinyl, CD and Digital.
After recording 3 albums you have to decide if you want to do the same over and over again…a secure path or if you want to change something…to give something new and yet retaining what always defined IAMTHESHADOW. We chose to change.. to make something new and true and I believe that we achieved it.
ES: It is, I think, your fourth full length album. Can you tell us what can we expect from "Pitchblack"? What is the concept behind the new chapter in IAMTHESHADOW story?
You can expect change. All of us have grown up as musicians and human beings and we have expanded our frontiers, wishes, dreams and desires. I write about what I feel…this big microcosmos inside me. And as I grow, as I experience new things… my music changes… its a normal process, I believe.
"Pitchblack" is about acceptance of your true self. To let your demons dance with you, in you, recognizing your limits, your faults and to be true to yourself. To change what you have to change, but to maintain your nature, trying to achieve equilibrium… in this mad world we are living.
ES: Which would you say are the differences of "Pitchblack", comparing to the amazing "Embracing the Fall" or even to your first releases "Everything In This Nothingness" and "All our Demons"?
I know it is a common place to say this, but Pitchblack is a natural evolution from "Embracing the Fall" and the first releases. It is more dark in terms of lyrics, more visceral and yet more danceable, I believe. There is much more electric bass and guitars and different synth sounds, and we have used almost exclusively analog synths this time…
I tried to explore an enormous world of percussion and analog drum machine sounds. It is a much more "analog" sounding album, more powerful but maintaining the melody that is characteristic in IAMTHESHADOW.
ES: There are also some great collaborations in some of "Pitchblack"'s songs. Can you tell us some things about those artists and how did those collaborations came out?
I decided to invite Diego since I met him in Italy, a lovely and great guy from a band I love and respect so much since the late 90`s.
When I started to record Pitchblack I asked him if he wanted to record and do lyrics for a song and he loved the idea, so. Here we are. I asked Yvette Winkler after a conversation with my fellow band members and after I listened her voice. A great and beautiful voice.
Then we wanted one more woman voice and it was very easy to chose. Kadri. We love her voice and the way she uses her metrics. beautiful. All of them have accepted and its great to have them with us in "Pitchblack". We are very grateful to them.
ES: Which are the plans for the days after the official release of "Pitchblack"? Due to the unknown days that follows because of coronavirus, which are the next steps in order to promote "Pitchblack"?
In these days its difficult to play live, so, until we can play, which is the best way to promote a new album, we have to reach people… make them listen… and for what I have seen in these days after the Pre-order in bandcamp we are in a good way.
ES: If you had to select a song as your next day's favorite one, out from "Pitchblack", which one would it be, and why? Is there a unique story behind it?
For me there are 12 singles and for the first time I love them all equally, but as I am writing this words, i`m listening Lifeless, the first song of "Pitchblack".
The story behind this song is what defined in someway the "sound" of this new album. I made a powerful sound in my synth and immediately after, I made a "riff". This was the definition of what I wanted to achieve.
ES: "Pitchblack" will be released from one of the best and most active new labels, Cold Transmission. Another new chapter for the band. How do you feel about this?
Its the perfect marriage, I would say. The concept of the artwork and image was perfectly matched by them to the "new" IAMTHESHADOW. They are very professional, passionate and its very easy to work with them because in many ways we are much alike. We want the same and WEAREFRIENDS. 
ES: There are a lot of elements in the music of IAMTHESHADOW. Including some of the dark wave and new wave sounds of the 80's, combined with a lot of emotions, lyricism and melancholy. To my ears is a unique, dark, electronic, gothic sound. What would you say are the main influences for the sound of IAMTHESHADOW? Bands, art, facts?
All of us have many different influences, that match eventually in some respects like; The Cure, Depeche Mode, Clan of Xymox, etc… but after so many years composing, what defines IAMTHESHADOW its IAMTHESHADOW, to be true. There were many great bands that influenced me to start playing and creating, of course,
But in IAMTHESHADOW I like to think that we have our own thing, climbing our own steps. And we still feel like children playing… so.. mission accomplished for now.
ES: I have to admit that every time that I listen to your songs, even the new ones, I have very strong feelings. It is this combination of Pedro's voice with the great music of Victor and Herr. But, there are definitely some really god lines and lyrics. Which are the main inspirations when writing those words?
I am inspired by experiences and by what I feel when I compose the songs and lyrics. I believe its my way of catharsis, writing songs. I love poetry and the beautiful ways to describe sadness, fear and despair. and in the opposite, the brutal sad ways to describe love, happiness and even hope.
It is the way I "think" music and lyrics. Poetry and its beautiful contradictions.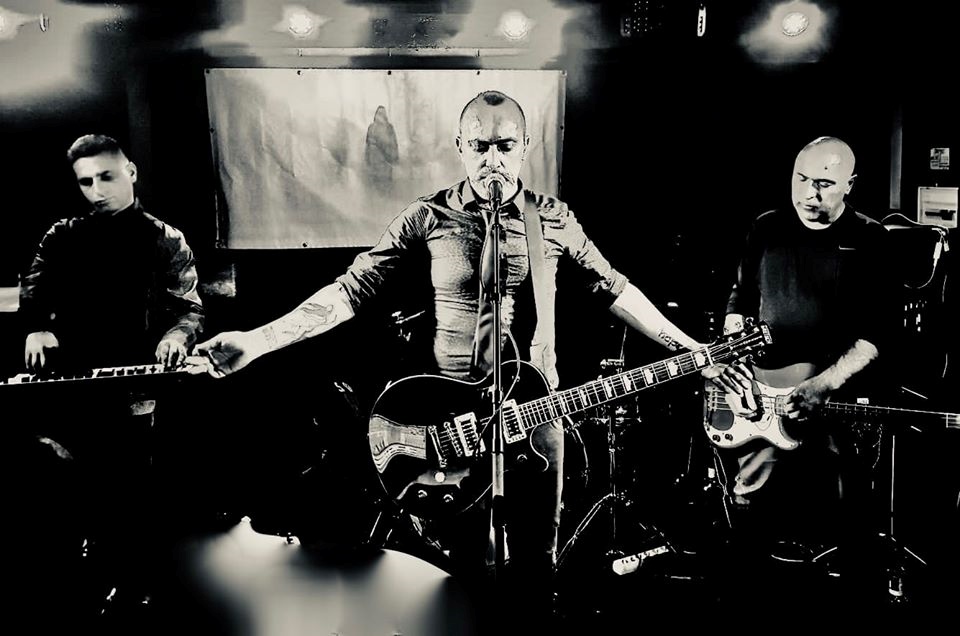 ES: There is a new and, still, unknown situation for music and all the people involved with it, due to the coronavirus pandemic. How much would you say that this situation will change the things we knew until now, in music industry? What do you think and how do you feel about the unknown future that is in front of us?
This situation have changed already most that we know… not just about music, but about health, security and life. I like to think that in this respect I am positive that gradually things will find its way as always do.
But of course its very difficult to cancel shows, as we already have done…especially when you have a new album to play and you can't. Lets hope for the better.
ES: How are the things in Portugal, around the dark alternative scene? How does this situation, we discussed before, affect the music there?
As i already told you, the bands can't play.. can't do what they love… but its like that in all the world..The dark alternative scene in Portugal is very small… now I believe in the next months it will shrink even more…
ES: At this point I would like to thank you. I think I could ask even more but I shall do it after ""Pitchblack"" release. Would you like to share something else with our readers, any last comment?
Stay safe, stay passionate about music and stay true!
ES: Thank you very much. I wish you all the best. Looking forward to hear from you again, listen to the new album and to see you perform live!
 Info:
https://www.facebook.com/IAMTHESHADOWOFFICIAL/
https://iamtheshadow.bandcamp.com/releases
https://www.coldtransmission.com/bands-acts-artists-cold-transmission-music/76-iamtheshadow-artist-band-act-info-bio-cold-transmission