Interviews
Details

Category:

Written by

Akill
Sediment Bruise is bringing their melodic indie sound to Death Disco's stage.
---
Perhaps, you have already read ElektroSpank's review for Sediment Bruise's third full-length album "In Between". 
The indie rockers from Thessaloniki, Greece are a band consisting of friends and their combination of characters and different music influences is coming out in their compositions in a way that makes them really unique and truly emotional and addictive. 
As mentioned in their album review here in ElektroSpank, Sediment Bruise gives us a different sound absolutely based on indie lines but with plenty of emotional tunes and melancholic guitars and music. And above this there is a unique tone in the voices of Vag Mood and Michael-Angelo Nikolaidis. Sediment Bruise band members are Vag Mood (vocals), Nick Nikolaidis (guitars), Michael-Angelo Nikolaidis (keyboards, guitars, vocals), Sotiris Fotinitsoglou (violin), George Moukos (drums), and Panagiotis Giannoudis (bass).
The time has come for the band from Northern Greece to present their music and "In between" in front of their fans in Athens, at Death Disco Club. In a night which, I was really expecting to happen and I am really glad that this day has come.
So, few days before their appearance at Death Disco, ElektroSpank | FMA had an interesting chat with Nick Nikolaidis, the man behind the lyrics and guitars of Sediment Bruise.
ES: Hi. Sediment Bruise. I am really happy for having you here. A third full-length album in 2019 and a number of concerts. Before going into details, would you like to introduce yourselves to our readers?
We are Sediment Bruise, a band formed when in high school, but still going on. And this alone, is very strange, regarding the fact that 6 people – with their, usually, conflicting opinions – are still together writing songs and playing music. As of today, we have released 3 albums Sediment Bruise (2007), A new disease (2016) and In-Between (2019).
ES: Well, "In Between". As we said is the third full length album from Sediment Bruise, released in January 2019. Can you tell us some things about this album?
Most of the songs of the album were written in late 2017 and recorded in a fast 10 day period in March 2018 by Clive Martin and the band in Revolver Studios, Thessaloniki. So, we let ideas flow spontaneously, without thinking too much about it. We wanted to write something far from pretentious. We wanted to catch the feeling of that exact moment. Lyrically this album is much of a concept one, spotlighting all the moments of great uncertainty that we are facing throughout our lives. From birth, through making a family, losing a job, losing the bonds with significant people, being cynical and delinquent, to the great uncertainty of what may comes after, before dying.
ES: "In Between" was a really pleasant surprise for me, since it is an album with several characteristics and some unique vocals, which makes the listener to keep listening this album again and again until the end. Which is the concept behind this collection of songs? Any favorite or special moment from the album?
This album is all about uncertainties, as mentioned before. Periods of our lives that we don't know what comes next. Moments we feel we are nothing but an infinite small spot in a big universe of people and situations, having no control of anything at all. Despite the fact that we live in a period that people believe they have a great control of all the aspects of their lives, and despite the constantly growing technology, there is still a great uncertainty. All is too fast to follow. So many changes, and all of us lost between infinite choices we have to make, helpless and alone.
As of my favorite song - even though for the first time I really love to play and to listen to most of the album's songs -  this is definitely No Bonds between us, because it's the most personal moment of the album, and I have a special emotional…bond with it.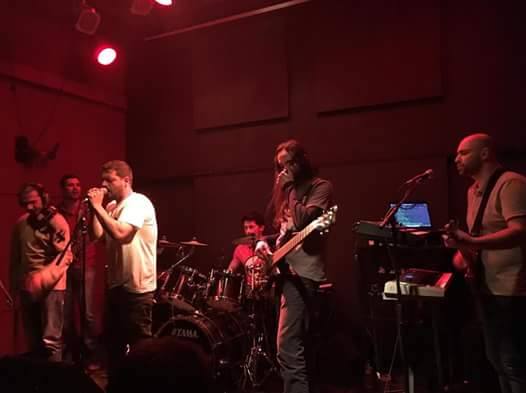 ES: Can you tell us something about the production phase of "In Between"? Any event or highlight from this period or anyone who had an important role or contributed on this?
In Between was recorded and produced in a very short period. This is partly because we knew the sound that we wished to produce and because of the fact that the songs were 90% complete. The songs were written in a spontaneous manner, with critical contribution of all the band's members, and when Clive arrived in Greece he had a few things to do. In fact he had to mix the sounds of several musical instruments (pianos, strange guitars, synths, violins and cellos, bass and drums of course) and vocal harmonies, in a way not to lose the ethereal sound that we wanted the album to have. And he did it. Now that I am thinking of it, this was not easy!
ES: Which are your music influences? Which bands or artists has affected you the most? Which facts or experiences inspired you in writing the lyrics?
A difficult one. All 6 of us like a lot of different stuff. Our influences extend from prog rock, to trip hop, electro, dream pop, alternative rock and even brit pop! But let's say that Radiohead, dEUS, Massive Attack and Tool have affected us the most.
Inspiration emerges from everyday life concerns, with its boredom, its uncertainty and the madness this world is full of.
ES: "In Between" came out in January and some live shows followed. Which are your next steps? Do you have any more concerts scheduled? Any other promotional moves?
On May 17 we are playing live in Death Disco (this sounded strange…) in Athens. Our second video clip for The Shore was released a few days ago, and trust me, it's a good one! We are planning to record 2-3 songs during the summer and release them later this year. And last but not least, there is an Eastern Europe mini tour in Kosovo, Serbia, Romania and Hungary planned for this October.
ES: After three full length albums what would you say is the band's next goal? What will the future bring for Sediment Bruise?
Our goal is always to keep on writing music. It's a kind of therapy you know. I won't mention world tours, critical acclaim, millions of sales and groupies! And, frankly, I don't know what the future will bring for the band. We live for today and we enjoy it that way.
ES: Would you like to share some memories with us? How did you all meet? When did you decide to form Sediment Bruise?
Me and my brother Michael met when I was 2 and he was born! We loved music from an early age, and we decided to form a band with my classmate Vag Mood in vocals and Sotiris Fotinitsoglou in violin (I told you that we love dEUS) back in 1999. We are actually active since 2004, when drummer George Moukos joined the band. The current line-up includes Panagiotis Giannoudis (Bass) since early 2013.
ES: What would you prefer or choose if you had to and why? In the studio, recording new songs or performing live on stage?
I love the studio. I love writing songs and lyrics. This is very creative. But performing live and communicating your songs with the audience, building a mental connection with them is a really unique feeling.
ES: Speaking of live show, there is a concert coming up in Death Disco, Athens. Would you like to tell us something for this concert? What can we expect from Sediment Bruise on Death Disco's stage?
To be honest, we will be fantastic! (Modest as usual!). Just kidding. I can assure you, that if you come, you will experience the whole atmosphere of our new album in a way that we hope you'd like (Spoiler alert: it will include live cellos).
ES: Would you like to say something more to our readers? Anything to add?
Listen to a lot of music! It is the most liberating drug!
ES: Thank you very much. Looking forward to see you performing live and listen to more beautiful music from you. I wish you will achieve all the best and I am really happy to have spoken with you.
Info:
https://sedimentbruise1.bandcamp.com/
https://twitter.com/sedimentbruise
https://www.facebook.com/sedimentbruise