CD Reviews
Details

Category:

Written by

Maria P.
Paradox Obscur - Morphogenesis
May 2022
Metropolis Records
---
First album with Metropolis Records for Paradox Obscur, "Morphogenesis"!
 Eagerly awaited new release !!
Minimal electro-wave-pop that has become the duo's hallmark. Truly one of the most captivating acts in the genre. - 𝙈𝙚𝙩𝙧𝙤𝙥𝙤𝙡𝙞𝙨 𝙍𝙚𝙘𝙤𝙧𝙙𝙨
Extremely filled with joy that I had a new project for Elektrospank on another Greek band , a preciously favourite one I have to admit. Then suddenly it occurred to me...How was I going to make this through? Since I know that when emotions run high, words run low for me...This is my case when it comes to the unique Paradox Obscur.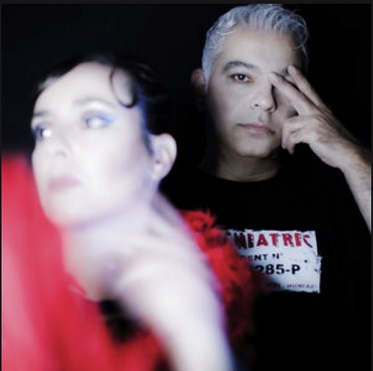 Toxic Razor and Kriistal Ann , the dark electronic duo that knows how to make heads turn and spark heartbeats of joy , gave us their first album in 2014 and 13 more followed since then.Their magic recipe for creating their captivating sounds? Maybe the fact that they record in real time, utilizing hardware synthesizers and drum machines to capturing the essence and magic of the moment without the aid of sequencing and editing software.
If I had to make a review on any of their releases, I wouldn't have a hard time choosing ; simply because I wouldn't be able to choose as they're all exceptionally special.
Finally, here comes "Morphogenesis", released in May 2022. The last one in this brilliant series of albums and EPs.
"Morphogenesis" is an album consisting of nine songs which are interconnected with the deeper meaning of the evolutionary process where each song is tuned to be part of a single entity. It represents a gateway into the virtual world of illusion, one that modern man has appropriated and irrevocably strives to keep as an extension of his physical being that is lost in a constructed contentedness. - 𝙋𝙖𝙧𝙖𝙙𝙤𝙭 𝙊𝙗𝙨𝙘𝙪r
A beautifully profound interpretation of the album coming from the band itself and this is how I felt about each track.
"Cocoon" is the introductory track of the album. An almost instrumental piece of minimal, danceable sound with drops of Kriistal Ann's well-balanced and passionate way of expressing. Makes us craving for more of this sound and voice. "Stellaire", keeps a minimal synth sound in the background, giving space for the leading role to the naturally elegant voice of Kriistal Ann singing in French. What a pleasure for the ears...ç'est magnifique! First official video of the album was "Animal Reactor". The well known vigorous and outstanding sound of PO on a track about Human delights futility. It promises nothing less than to excite you to the maximum!
A cool more chilled sound follows. "Evo Devo" is an utterly amusing track to listen to. The willingness to insist on dreaming in a numb world of shattered visions is the meaning unveiled through its lyrics. "Wild Silk" is the second official video of the album and the introduction gives me goosebumps. If we needed a sample of flawless dark, full of energy synth sound, this track could definitely be an excellent representative. Atmospheric, dark video which YT restricted due to inappropriate content. A good reason for us to prove that authenticity is appreciated. A track about the frustration contemporary man has to deal with from time to time. 

After the intense 5th track of the album, comes "Monoclone". Awesome electronic sound which will make us unwind and start dancing. It happens unconsciously. Body simply can't resist to the tempo. PO we can't thank you enough for this!! What's charming with this album is that right when you think you found your favourite track, there comes another one to make you wonder. "Krankes Herz" is in German and I think the language suits perfectly to the firm, steady sound. Since the title means "Sick heart" it is obviously a well processed combination. 
"Pollar" is the 8th track of the album. Lyrics wise it's referring to dark times we've all experienced. The most obscure ones, those before reaching the light. The feeling of struggling in darkness is also perfectly depicted in the sound as well. Captivating, dark with an essence of mystery. Last but not least, in any case, "In Vitro"! A fabulous electronic sound for the ears. What takes an instrumental to be successful? Being powerful? Danceable? Diverse so that it captures your attention? It checks all the boxes and many more. Were I a DJ , I would definitely include it in my list!!
Info:
https://paradoxobscur.bandcamp.com/
https://www.facebook.com/paradoxobscur
https://youtube.com/c/ParadoxObscurOfficial
https://metropolisrecords.bandcamp.com/artists
https://www.facebook.com/MetropolisRecords
https://youtube.com/user/MetropolisRecords