News
Details

Category:

Written by

Akill
Hocico + Blutengel! Blutengel + Hocico. Don't mind the order! Just listen!
---
When the measures required for everyone's health, started being applied all around Europe, Out of Line, Blutengel and Hocico had to cancel their anticipated "Living The Darkness" tour.
However this situation could not stop two of the bands that are the main acts in dark electro, industrial, EBM for over than 25 years now, from releasing, what it was supposed to be delivered as one of the tour surprises.
Blutengel and Hocico joined forces and prepared o powerful dark electro/EBM song, on the occasion of "Living The Darkness" tour. They created the single "Obsured". A song that includes the best points and elements of both bands long history. 
"Obscured" is coming to take control of the dancefloors and is now released in a limited and numbered CD-Digipak, as well as on all the streaming and download platforms. Inside "Obsured" you will find the original track along with 3 remixed versions and different interpretations by Chris Pohl, Erk Aicrag and Racso Agroyam, in "Obscured (Club version by Hocico)". "Obscured (Into The Void version by Blutengel)", "Obscured (Dark Dance version by Dulce Liquido)".
"Living In Darkness" tour has been rescheduled and Hocico with Blutengel are ready to take over the stages on new dates. Check below...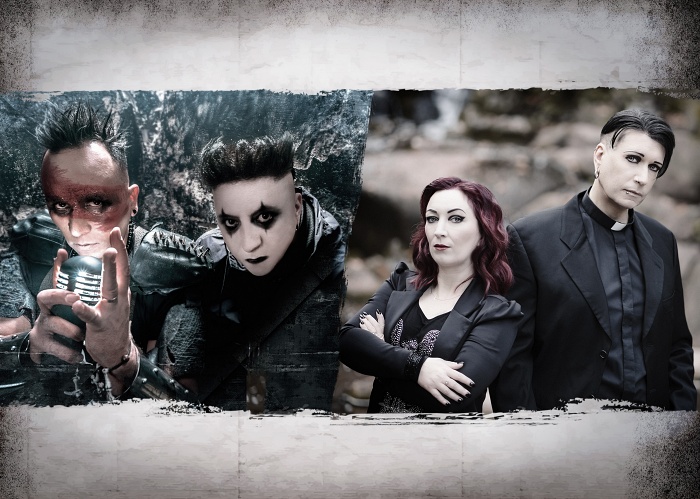 --- Out of Line press release ---
It was supposed to be the surprise "Living The Darkness" tour. Now the tour that all fans have been waiting for so long needed to be postponed, but the surprise is there nevertheless: Blutengel and Hocico, two of the institutions of dark music, have recorded the single "Obscured" in collaboration! With this single, they would like to distract you until you can finally see them on tour in summer.
At first glance, Blutengel and Hocico may appear to be very different, in fact, they are connected in many ways: both have developed an absolutely unique style and have thus turned the black scene upside down. Both have never been afraid of new influences without diluting their own style. Both are with Out Of Line since the earliest times. It was only logical to join forces with these two bands for the "Living The Darkness" tour.
However, the musicians wanted to go even one step further: 
"As it was confirmed that Hocico will tour with us, Erk suggested to do a song together", comments Blutengel singer Chris Pohl, "I thought that this was a great idea, so Racso and I wrote this song within two days." 
Hocico frontman, Erk Aicrag, adds: "We know each other for a long time so we decided to give a music collaboration a try. We are very happy with the experience and the tune in itself!" Of course Chris, Erk and Racso couldn't resist to create their very own versions of the song on the single." 
Needless to say, Chris, Erk, and Racso insisted on putting their own versions on top of this single. So, until Blutengel, Hocico and all other bands will be allowed to back on stage, you can bring the party into your homes. Or wherever you want to take it. 
"Obscured" is now released in a limited and numbered CD-Digipak as well as on all the streaming and download platforms. You are the ones living the darkness – we will meet when the sky turns black again!
Stream "Obscured" here
https://blutengelhocico.lnk.to/Obscured
Pre-order the limited Digipak 
https://www.outoflineshop.de/blutengel-hocico-obscured-limited-edition-mcd.html
Tracklist
 1. Obscured (Original Mix)
 2. Obscured (Club version by Hocico)
 3. Obscured (Into The Void version by Blutengel)
 4. Obscured (Dark Dance version by Dulce Liquido)
Living The Darkness - Tour 2020
Blutengel, Hocico, Amduscia 
°Chrom | *[x]-Rx 
03.07.2020 Batschkapp, Frankfurt°
04.07.2020 LKA, Stuttgart°
17.07.2020 Matrix, Bochum*
18.07.2020 Markthalle, Hamburg*
01.08.2020 Werk 2, Leipzig*