News
Details

Category:

Written by

Akill
Black asteroid remixes FLA prior to the European tour of the electro pioneers!
---
Techno, dark electro brainchild of Bryan Black, Black Asteroid remixes the opening track of Front Line Assembly's latest album, "Mechanical Soul". Black Asteroid fills "Purge" with extra strength and raw electronics, giving a powerful remix few days before the European tour of the Canadian electro, industrial pioneers, "The Machinists Reunited Tour", where two of the bands the set the origins of EBM, dark electro and industrial, FLA and Die Krupps, will meet and share the stages accross Europe.
Black Asteroid's mastermind, Bryan started as sound engineer working with Prince and, in early 2011, he decided to start Black Asteroid to showcase an exciting new sound and re-capture the techno world. Prior to the "Purge" remix he collaborated with Bill Leeb for his last single, "Methane Rain", in which Bill provided the vocals.
"Purge" remix came a while before the European tour and a short after the end of FLA's US tour. "The Machinists Reunited Tour 2022" is the point that genre legends Front Line Assembly and Die Krupps will be back on the road, again, in August, a repeat offering of their summer 2018 series of co-headlining shows.

Audiences can expect updated set lists from both groups, as Front Line Assembly have released the studio albums 'Wake Up The Coma' (2019) and 'Mechanical Soul' (2021) since last touching down on European soil from their home in Vancouver, Canada, while Die Krupps have issued 'Vision 2020 Vision' (2019) and the recent covers collection 'Songs From The Dark Side Of Heaven' (2021).

As on the first Machinists United tour, Hamburg-based Tension Control will open each show with a trademark set of old-school EBM bangers.

Having played guitar with Front Line Assembly in the US, the renowned Swedish musician/producer Tim Sköld (best known for his work with Marilyn Manson, KMFDM and Shotgun Messiah, plus his Not My God collaboration with Nero Bellum) will also accompany FLA on all European dates.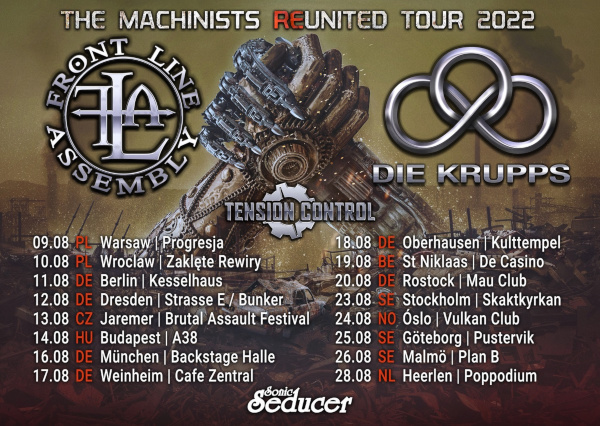 FRONT LINE ASSEMBLY | DIE KRUPPS
THE MACHINISTS REUNITED TOUR 2022
+ TENSION CONTROL
09.08.22  PL  WARSAW Progresja
10.08.22  PL  WROCLOW A2
11.08.22  DE  BERLIN Kesselhaus
12.08.22  DE  DRESDEN Strasse E / Bunker
13.08.22  CZ  JAREMER Brutal Assault Festival
14.08.22  HU  BUDAPEST A38
16.08.22  DE  MÜNCHEN Backstage Halle
17.08.22  DE  WEINHEIM Cafe Zentral
18.08.22  DE  OBERHAUSEN Kulttempel
19.08.22  BE  ST NIKLAAS De Casino
20.08.22  DE  ROSTOCK Mau Club
23.08.22  SE  STOCKHOLM Skaktkyrkan
24.08.22  NO  OSLO Vulkan Club
25.08.22  SE  GÖTEBORG Pustervik
26.08.22  SE  MALMÖ Plan B
28.08.22  NL  HEERLEN Nieuwe Nor *

*change of venue from previously advertised      
Info:
https://frontlineassembly.bandcamp.com/track/purge-black-asteroid-remix
http://www.frontlineassembly.com/
https://www.facebook.com/frontlineassembly
https://www.instagram.com/front.line.assembly.official/
https://www.facebook.com/blackasteroid
https://www.instagram.com/blackasteroid_official/
https://soundcloud.com/blackasteroid